Prince Albert II has visited San Demetrio Corone in Calabria, Italy, a village of 3,500 inhabitants. The friendly visit is part of regular travels to the territories historically linked to the Grimaldi family.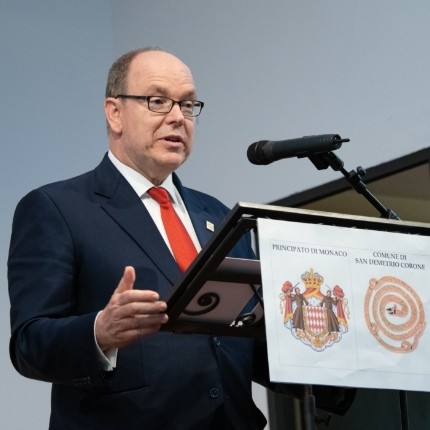 In the early afternoon of Thursday 9th May, Prince Albert was welcomed at the entrance to the village by the Mayor of San Demetrio Corone Salvatore Lamirata, unveiling a plaque identifying it as belonging to the network of Historic Sites of the Grimaldis of Monaco.
The barony of San Demetrio was granted in 1309 to Rainier I Grimaldi (approx. 1267-1314) by Robert I of Anjou, King of Naples. It passed to his son Vinciguerra who ceded it, along with the lordship of Cagnes, to his brother Charles, Lord of Monaco from 1331, Lord of Menton from 1346 and of Roquebrune from 1355.
The territory was repeatedly confiscated and conceded, before King Louis III of Naples returned the barony on 20th February 1421, by a dated letter from Aversa, to Ambroise, Antoine and Jean I, joint Lords of Monaco, in reward for the services of their fleet.
After the unveiling of the plaque, Prince Albert, guided by the Mayor and accompanied by members of the Municipal Council, visited the Sant'Adriano church, which dates from the 11th century and has the remains of Byzantine style ceramic decorations with animal and anthropomorphic motifs.
The Prince then unveiled a plaque commemorating his visit before receiving honorary citizenship of the commune.
During the visit, Prince Albert also met the mayors of Cittanova and Gerace (Calabria), municipalities which are also related to the history of a branch of the Grimaldi family, which the Sovereign Prince will visit at a later date.