Prince Albert took his children on their first official visit to Ireland last week, where he met with Irish President Michael Higgins and was recognised for his generous donation to the historic Old Library at Trinity College.
Sixty years after his parents' visit and a decade after his own first State visit with Princess Charlene, Prince Albert II returned to his ancestral homeland on Friday with Prince Jacques and Princess Gabriella by his side.
The tour began with a trip to UCD Michael Smurfit university, accompanied by Sir Michael Smurfit, Honorary Consul of Ireland in Monaco and Dean of the prestigious university.
Along with Ambassador of Ireland in Monaco Patricia O'Brien, the Prince was also taken on a guided tour of a museum dedicated to Irish literature before being welcomed for lunch at the official residence of Irish President Michael D. Higgins and his wife, Sabrina Coyne. There, the Prince was shown photos of Prince Rainier and Princess Grace's official visit to Ireland in 1961.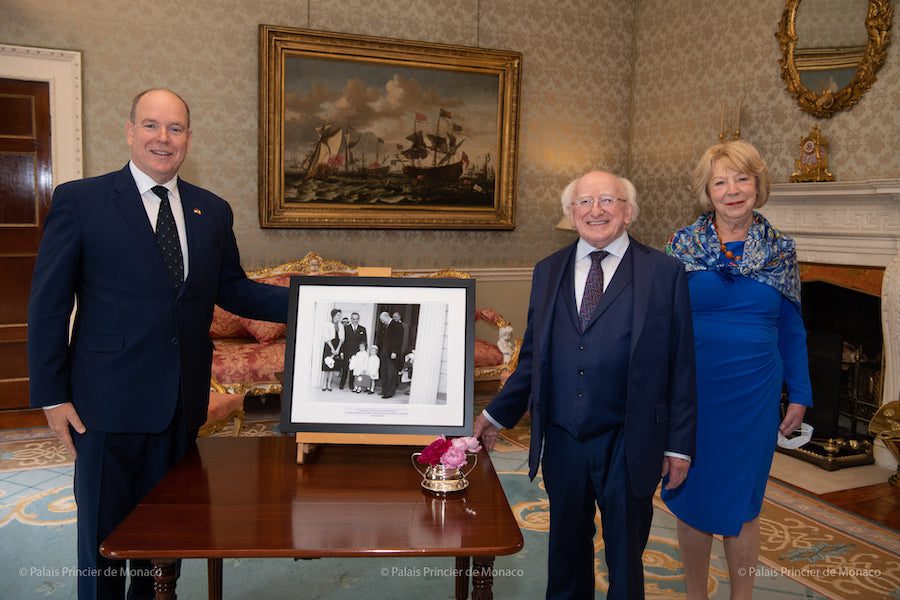 In the early afternoon, Prince Albert and his children, Hereditary Prince Jacques and Princess Gabriella, went to the Old Library at Trinity College where he was shown the Book of Kells, a 9th century Irish medieval manuscript famous around the world. This national treasure has been on display in the Old Library since the 1800s.
But the Princely family's trip was more than just a cultural visit. Prince Albert was at Trinity College for the official unveiling of two friezes in his name. One, in the dining hall, sets in stone the name of himself and his wife Princess Charlene. The other, in the Old Library of the university, recognises his donation of €1 million towards the €90 million restoration of the library, which will see the removal of all 750,000 of its books into storage.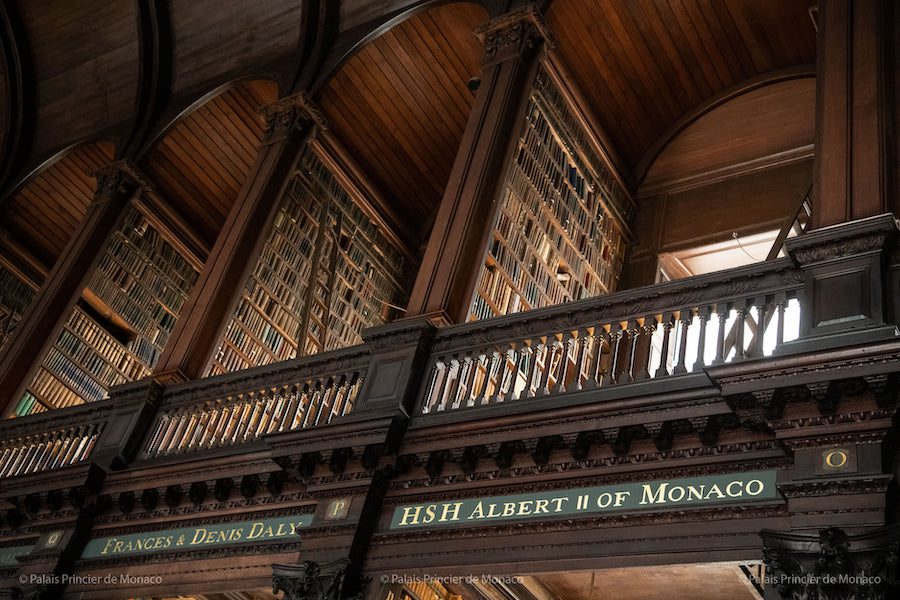 "It is with great pleasure that through this donation I follow in the footsteps of my mother who had a deep affection for Ireland and signals the link to Princess Charlene's forebears who were instrumental to the founding of Trinity," said Prince Albert during the ceremony. "It is a great privilege for me − with this benefaction – to be part of this ambitious programme to conserve the 18th century Old Library building, creating a sustainable protective environment for the many extraordinary treasures it holds for Ireland and the world."
During his visit, the Prince was also given a special viewing of the library's collections related to the work of his grandfather Prince Albert 1, who was a keen oceanographer and explorer.
Photos by Éric Mathon, Prince's Palace