Prince Albert II has notably become the first head of state to fly in an airplane run entirely on electricity generated by solar power.
Prince Albert took to the skies on Tuesday in a 100% electric plane piloted by Solar Stratus project founder Raphaël Domjan and developed by Slovenian manufacturer Pipstrel.
The Velis Electro aircraft took the Prince on a half hour flight from Nice Côte d'Azur airport to Monaco and back, which he clearly enjoyed as he stated upon landing: "It was a very nice flight, a little too short… It was fantastic to be able to fly without emitting CO2. The development of electric aviation must continue so that tomorrow's flights can incorporate the use of electric motors, whether powered by batteries or fuel cells."
The plane is the only fully electric model to be certified by the European Aviation Security Agency (EASA) and received its certification in June 2020.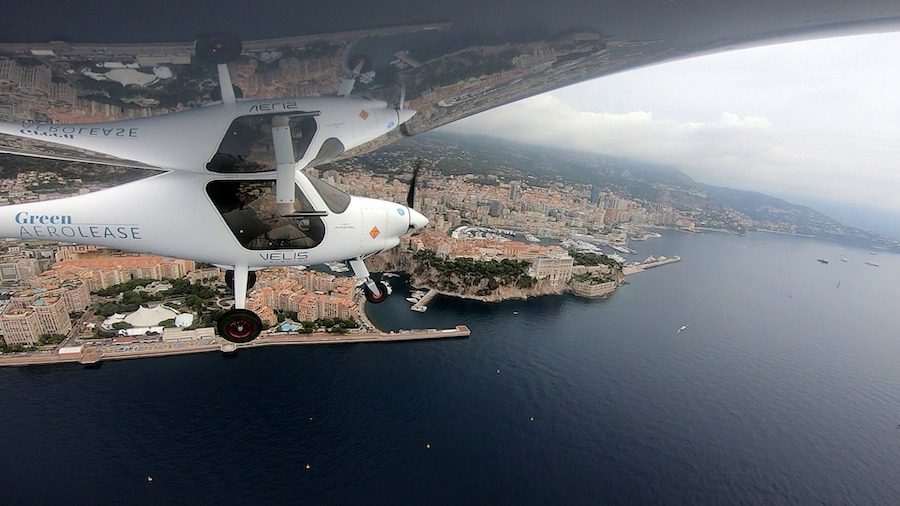 "In July 1910, Ferdinand I of Bulgaria was the first head of state to fly by plane. In 2021, Prince Albert of Monaco is, to our knowledge, the first head of state to fly on an electric plane," said Domjan after the flight.
Prince Albert and Swiss national Domjan have crossed paths before. The Monegasque Sovereign sponsored him on a previous trip around the world in a solar powered sailboat.
"We must also work on clean fuels, but I think there is a place for electric aviation that must be developed," said the Prince. "It may not be tomorrow or the day after tomorrow, but I think that in the long term, electric aviation will have its place."
The Pipistrel, which has a range of one hour, flew silently at an altitude of 1,000 feet (300 metres) at a cruising speed of 140 km/h.
The device consumed half of its battery in 30 minutes, "or the equivalent of a litre of gasoline, against 20 litres per hour on a thermal airplane of this size," remarked Domjan.
The Solar Stratos project saw a two-seater solar aircraft reach an altitude of 12,000 feet (3,758 metres) and aims to reach the stratosphere in 2023.
Prior to that, he would like to hit a benchmark of 11,000 metres, beating the record of competitor Solar Impulse, developed by fellow Swiss Bertrand Piccard.


Photo source: PlanetSolar Foundation