Prince Albert II has inaugurated the Monaco Pavilion at the Dubai Expo in classic 2021 style – virtually from a mini Pavilion on Port Hercule.
Minister of State Pierre Dartout and Prince Albert, both situated in Monaco, were joined by Minister of State and Managing Director of the Expo Reem Al Hashimi, who was in Dubai, for the ceremony on Friday afternoon.
The real Pavillion, Monaco 360°, opened on 1st October.
Inside the 10sqm miniature pavilion is an interactive booth that allows people in Monaco to talk to visitors in the Dubai Pavilion, as well as a model of the real pavilion.
Via this platform, the Prince was able to praise the United Arab Emirates (UAE) for their success in the opening ceremony and their continued work during the first two weeks of activity, while Al Hashimi stressed that her country is moving toward a common goal of achieving prosperity for their people and those around the globe. She expressed gratitude to Monaco and all the countries who are participating for their commitment to the exposition.
Both agreed that international solidarity was needed to move forward productively to achieve global development goals and enhance sustainability, and that the Expo 2020 was an excellent opportunity to help realise this objective.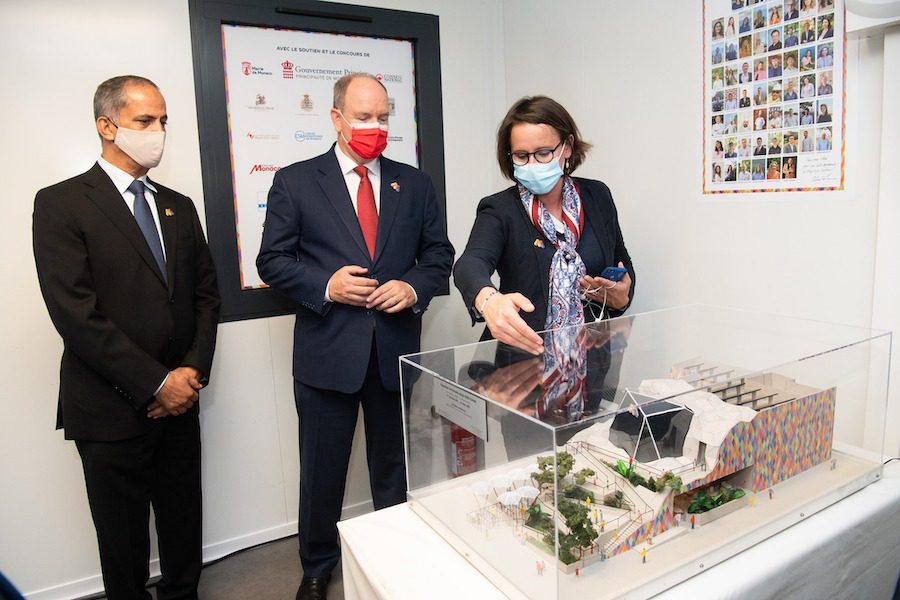 Inspired by a kaleidoscope, the Monaco Pavilion, under the theme Connecting Minds, Creating the Future, has incorporated The Rock and many other facets of the Principality to give visitors a taste of what Monaco has to offer.
It is spread over several levels and consists of an exposition area, a souvenir shop and a 'Café de Paris'. The two main exhibition "worlds" are the Garden of Opportunities and a 360º immersion show.
The first is a fantasy garden highlighting Monaco's special attributes. The scents of the region, such as pine and the sea, permeate the space whilst people walk through discovering the nation's arts, scientific accomplishments, innovative technology, international reach and environmental protection measures.
The second reveals Monaco's identity through history, culture and values that bind the country and its people together. Both are interactive experiences aimed at giving visitors a taste of the real Monaco.
Outside the Pavilion lies the Chemin de la Porte Nueve, full of typical trees and flowers designed by the urban development of Monaco.
The pavilion cost 52 million dirhams (€12.2 million) to construct and was built to convey an environmental message through the use of solar panels to generate its own electricity needs without harming the environment.
The Expo 2020 in Dubai will run from 1st October 2021 to 31 March 2022. The mini Monaco 360° Pavilion on Port Hercule will remain open to the public throughout this time.
On 13th November, the Principality of Monaco will celebrate its National Day at the Dubai Expo in the UAE.

Top photo by Eric Mathon/Prince's Palace