Princess Charlene spent a day in Abu Dhabi to support Monegasque race car driver Charles Leclerc for the last race of the Formula 1 season.
The Princess and the driver met briefly before the race, which was held at the YAs Marina Circuit, where she was able to convey her admiration for his achievements and his excellent season.
She also took advantage of her time there to meet with Jean Todt, President of the Fédération Internationale de l'Automobile (FIA) regarding future actions pertaining to road safety, specifically under the framework of the FIA High Level Road Safety Panel, which the Princess has been a member of since 2018.
Leclerc came in third place that day, and fourth in the season standings overall, surpassing his Ferrari teammate Sebastian Vettel.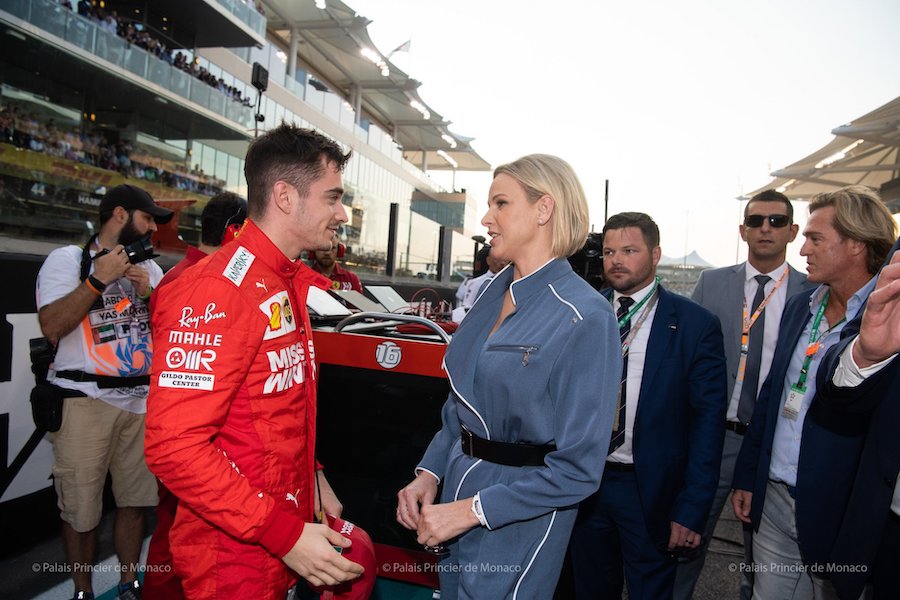 Smartly decked out in a charcoal grey one piece suit with gold necklaces adorned with her nearly-five-year-old twins' names, she looked stunning and quite relaxed, despite her hectic schedule.
In a rare interview, the former Olympian turned Princess recently opened up to French publication Point de Vue explaining that she was quite a hands-on type of parent, which leaves her often exhausted and fulfilled in equal measure. She also expressed her pride in the way they very supportively behave with one another, the fact that they speak fluently in both French and English and their flexibility with regard to travel and time spent abroad with both their parents. 
After the race, Princess Charlene returned home to the Principality.
Top photo: © Eric Mathon /Palais Princier