Water Safety workshops were organised by the Princess Charlene of Monaco Foundation for kids taking part in the Sainte Dévote Rugby Tournament on the weekend.
On Friday 21st April, ahead of the Sainte Dévote Rugby Tournament on Saturday, 85 children participated in aquatic rescue activities at the swimming pool of the Stade Louis II, with former Olympic swimmer Princess Charlene of Monaco also taking part.
The activities were offered by the Princess Charlene of Monaco Foundation and supervised by a team from the Académie Monégasque de la Mer, led by world renowned freediver Pierre Frolla, with the support of the Monaco Red Cross.
The children were part of the seven U-12 teams that arrived before the start of the tournament: South Africa, Georgia, Dubai, Abu Dhabi, Ecuador, Mauritius and Morocco. They took part in various drowning prevention and first aid workshops including resuscitation, ball games for non-swimmers, water draw, water polo, tube buoys, water course and lifesaving.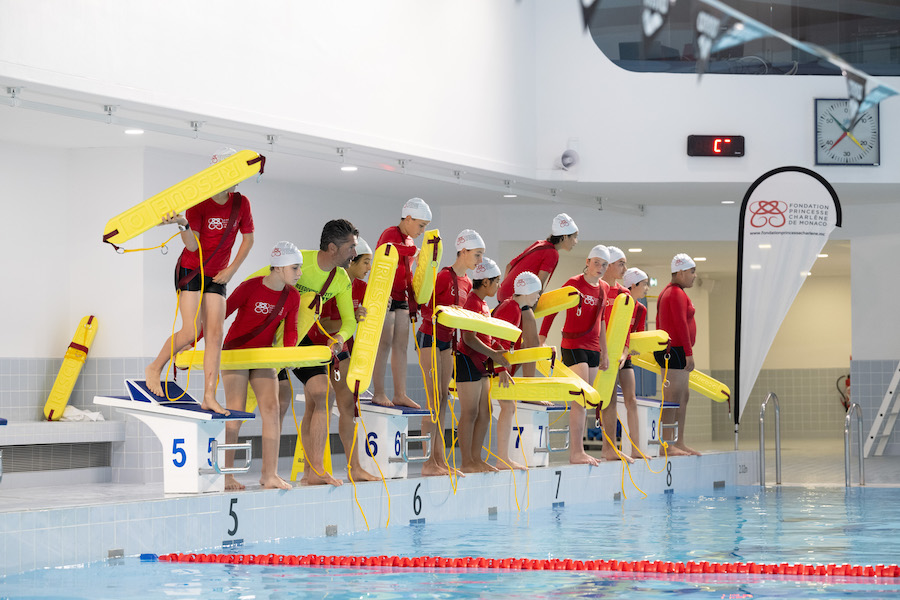 The workshops allow young children to learn first aid techniques and are a way for them to acquire the basics of rescue in a fun way.
Tyler Bush, Ambassador of the 2023 Sainte Dévote Tournament and captain of the Monaco Impi's team that recently won the Melrose Sevens Tournament in Scotland, and fellow Jamaican Conan Osborne, another Impi's player, attended the workshops and also gave their encouragement to the kids.
Also present was Gareth Wittstock, Princess Charlene's brother and General Secretary of the Princess Charlene of Monaco Foundation.
Sign up for the Monaco Life newsletter. For the latest news, follow us on Facebook, Twitter, and Instagram. 
Photo credit above: Eric Mathon / Palais Princier