Connected Success, a programme created by the Break Poverty Foundation to ensure that no young person gets left behind and supported by Princess Caroline and her AMADE Foundation, was launched in the Alpes-Maritimes this week.
The Connected Success programme brought together 65 young people who are under the care of Social Assistance for Children in Nice and presented them with restored computers and a reliable internet connection provided by Bouygues Telecom.
This small gesture could mean the difference between a child falling through the education system's cracks or staying in school.
"AMADE is enthusiastically associated with this operation, the objective of which is to fight the digital divide and prevent dropping out of school," said the Princess of Hanover, Caroline, and President of AMADE. "We also place a lot of hope in longer term support through mentoring." 
Since the start of the health crisis, the digital divide has never been more pronounced. It is estimated that in France, 970,000 children have been "lost to follow-up" since the pandemic began due to a lack of interconnectivity required for schoolwork and remote learning.
Despite schools being in session at the moment, there are many who have hybrid learning situations, which alternate face-to-face schooling with distance learning. This has put a fine point on the reality that a half million students do not have access to a computer at home or to the internet.
It puts these children at high risk of not just falling behind, but of disappearing from the system altogether.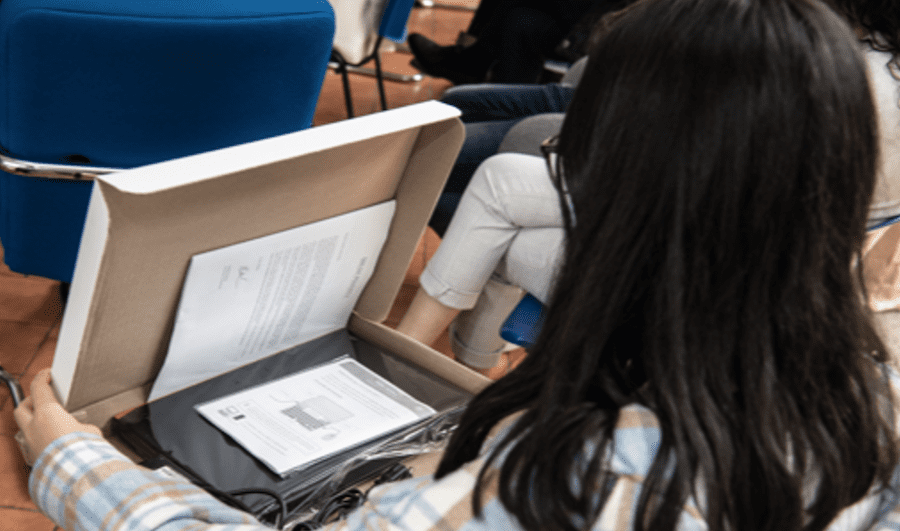 "Almost one in four disadvantaged families do not have the necessary computer equipment and internet connection to meet the educational needs of their children," said Denis Metzger, Founding President of the Break Poverty Foundation. "It is urgent to fight against this digital divide which is leading thousands of children to drop out of school. Through Operation Connected Success, we are reconnecting thousands of children with school, and with the hope of a better future."
Break Poverty launched Connected Success back in September with the aim of providing 5,000 disadvantaged children, mostly between 10 and 18 years old, a computer, connectivity and a mentor to prevent them from being left behind.
The system is carried out in partnership with AFEV, a leading French network for student educational mentoring, providing mentors and volunteers to support the young beneficiaries throughout the school year.
"Each week, the students engaged in mentoring help children and young people to gain self-confidence, make them want to learn and offer them an openness to culture," explained Mathieu Py, Territorial Delegate Nice-Cannes-AFEV.
AMADE (Association Mondiale des Amis de l'Enfance) was founded in 1963 by Princess Grace of Monaco and is today chaired by Caroline, Princess of Hanover. Alongside the Break Poverty Foundation, it helps to finance part of the equipment and support needed for 230 vulnerable young people identified by partner associations and Social Assistance to Children.
Top photo: Valérie Daher, Managing Director of Break Poverty, accompanied by Anthony Colombani, Chairman of the Bouygues Télécom Corporate Foundation, give a computer to a young girl entrusted to Social Assistance to Children, by Ministères sociales / DICOM / Frédéric Dides  / SIPA