Arguably the most famous and influential artist of the 20th century, Pablo Picasso made the Côte d'Azur his home for nearly three decades. On the 50th anniversary of his death, we look back at how his later life was sculpted by a new-found creativity brought on by his move to the land of sun, sea and sand.
Pablo Picasso's interest in the Côte d'Azur and its famous light began back in the 1920's when he, like many artists, writers and intellectuals, was living in Paris. The appeal may have remained entirely unexplored had it not been for World War II and the German occupation of the city he lived in and loved.
After the war, looking for inspiration and an escape from the dreariness of the post-war era, Picasso, who was in his mid 60s, and his lover Françoise Gilot made their way south, eventually landing in the South of France.
He was already a world-renowned artist whose accomplishments made him a household name, but the story doesn't end with a nice retirement on the beach. The region invigorated him, and he began a prolific period where he not only painted but started to dabble in ceramics and sculpting at the Vallauris studio of Georges and Suzanne Ramié. He was so enthralled by the village, he moved there a year later, and created his own space where he created beautiful pieces with his signature style, incorporating Greco-Roman touches from the region's history.
He felt a kinship to the area, finding it similar in ways to his native Spain, which may have contributed to his happiness, and often depicted bulls in his art, a symbol of Spain, yes, but also of Southern France, where bullfighting was still a popular pastime.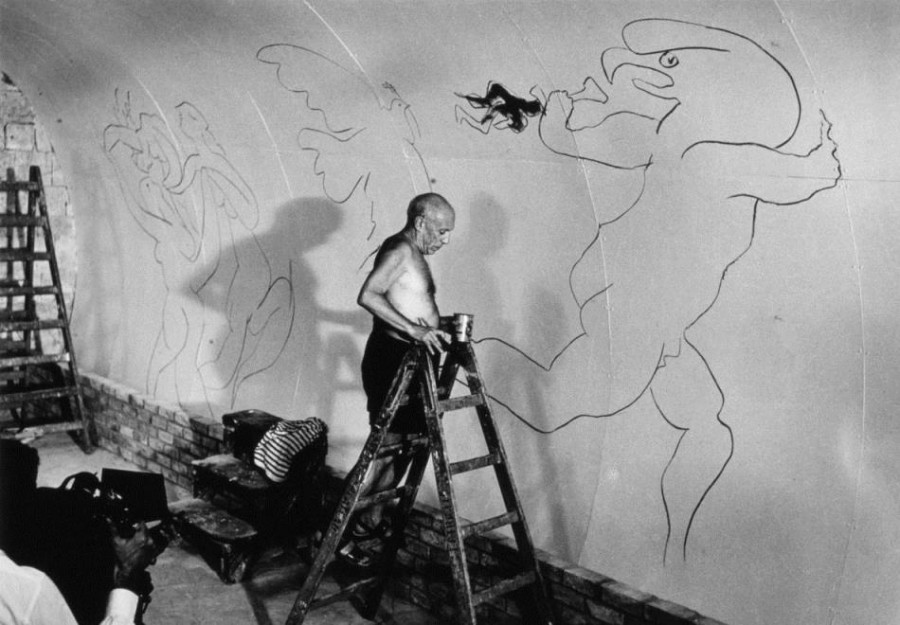 In 1952, he moved to Cannes with the woman he would spend the rest of his life with, Jacqueline Roque, before moving on to Aix-en-Provence and then settling in his last home in Mougins. Here he continued to be productive until the end of his life, with an estimated 50,000 works credited to his name.
Fifty years after his death on 8th April 1973, the impact of his presence is still felt locally. The Picasso Museum in Antibes, where he also worked for a time, supports his legacy and draws in tourists from around the globe.
Queues line up to see his La Guerre et la Paix fresco at the church in Vallauris as well as L'homme au Moutonstatue in the village square, and Paloma Beach in Saint-Jean-Cap-Ferrat proudly boasts of their connection to the artist, who used to spend time there with his family. In fact, the beach is named after Picasso's daughter.
Additionally, though not his own work, his image is a prominent part of the Andres Villers Museum of Photography in Mougins, where a series of photos of the artist are exhibited.
Even recently, stashes of Picasso works cropped up, including a case where an elderly couple in Mouans-Sartoux were convicted of concealing stolen property in 2016 after 271 unsigned Picassos were found hidden in a cupboard in their home for 40 years.
Most don't need an excuse to celebrate the life of Pablo Picasso, but on this milestone anniversary of his death, why not take time to retrace his footsteps and see the places he himself found so inspirational.
Sign up for the Monaco Life newsletter. For the latest news, follow us on Facebook, Twitter, and Instagram. 
Feature photo: Brigitte Bardot and Pablo Picasso.