A new agreement has been signed between two of Monaco's most important institutions to educate the population on the digital transition. Among the initiatives is training on how to use new technology and avoid scams.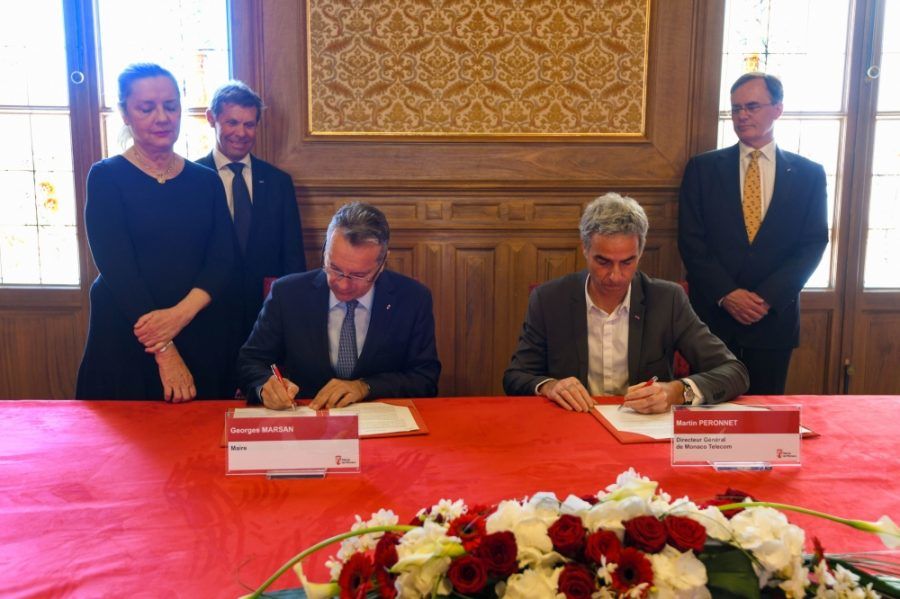 The deal was signed on Tuesday 14th May between Monaco Telecom and Monaco City Council, in the presence of Deputy Mayor in charge of the Digital Transition Nicolas Croesi, Mayor Georges Marsan and General Manager of Monaco Telecom Martin Péronnet.
The collaboration aims to support the Monegasque population in the better use of information and communication technologies on a daily basis. It will also help raise awareness among residents of the initiatives offered by the City Council, and the various advances and technological innovations.
Mayor Georges Marsan said in his welcome speech that it is "one more step towards the digital transition which is at the heart of the priorities [of the Communal Council]".
The partnership includes three main areas. Firstly, free installation and subscription of the remote phone line will be available from Monaco Telecom, allowing people with loss of autonomy to remain at home while being connected to a telephone alarm 24 hours a day.
Secondly, Monaco Telecom will run three to four workshops per year for members of the Club le Temps de Vivre, offering training in the use of telecommunication devices as well as preventive workshops on digital security, such as scams and phishing. The Club le Temps de Vivre, managed by the Monaco City Council, is open to retired people living in the Principality and offers them opportunities for outings, meetings and activities in a friendly and welcoming environment.
And finally, the Monaco City Council and Monaco Telecom have set up a series of thematic conferences for associations at the Maison des Associations (A Casa d'i Soci), the first of which will take place on Thursday 27th June. The dates and times of the conferences will be communicated by the associations directly to their members. In addition, Monaco Telecom will equip the Maison des Associations free of charge in order to improve its mobile and WiFi network coverage.
"The Town Hall, in its capacity as a local institution, confirms its desire to support the population in the digital transition… a major challenge for the next few years that concerns and affects everyone, especially with the development of the Smart City," said Mayor Marsan, adding that "no one should feel excluded, or a stranger to this approach. "