AS Monaco Basketball backed up Friday's win against reigning Euroleague champions Anadolu Efes with a battling victory against Roanne (86-80) on Sunday, solidifying their play-off credentials.
Throughout large parts of the season, Monaco have struggled to back up big wins in the Euroleague with victories against domestic opposition. This has, however, become less of an issue in recent weeks, and Sasa Obradovic praised his sides mentality post-match.
"After a big match of very strong emotions, like against Anadolu Efes, we have a strong sense of emptiness. It's difficult to remobilise, and we often lose this kind of match. This time we knew how to change our attitude at half-time and refind a level worthy of a Euroleague team."
Following a difficult first-quarter in which Roanne took an early lead (22-30), Monaco immediately went about reversing that deficit. Thanks to a Dwayne Bacon three-pointer on the buzzer, the Roca Team went into the break with a slender advantage (52-49).
The second-half was a more defensive affair as the home side once again exhibited their much-improved game management to win both quarters, albeit by a tight margin.
That mental fatigue, which is often crippling following a big European win, is being alleviated by some clever squad rotation by Obradovic. Once again, many big stars such as Mike James and Donatas Motiejunas were absent, but those who are coming into the side are making their presence felt.
Bacon, who Obradovic believes is more suited to the European game, was once again prominent (15 points), prompting the Serbian manager to laud his American star with high praise. "Of all the players I have coached, he is the strongest offensively."
Rob Gray who didn't feature at all on Friday also had a positive impact on his return to the side (13), and as did Paris Lee (13), who understandably featured more prominently in the absence of James.
Despite a solid team performance, Roanne ran Monaco close, only six-points separating the sides at the final buzzer (86-80). Obradovic, however, believes that a tight game, albeit more physically draining, serves a positive psychological purpose.
"It's not bad to win this way, a testing, painful way. It teaches us not to rest on our laurels and to work on our weaknesses."
Monaco next face Strasbourg at the Salle Gaston Medecin on Wednesday before a four-day break thanks to the cancelled Euroleague fixture against CSKA Moscow.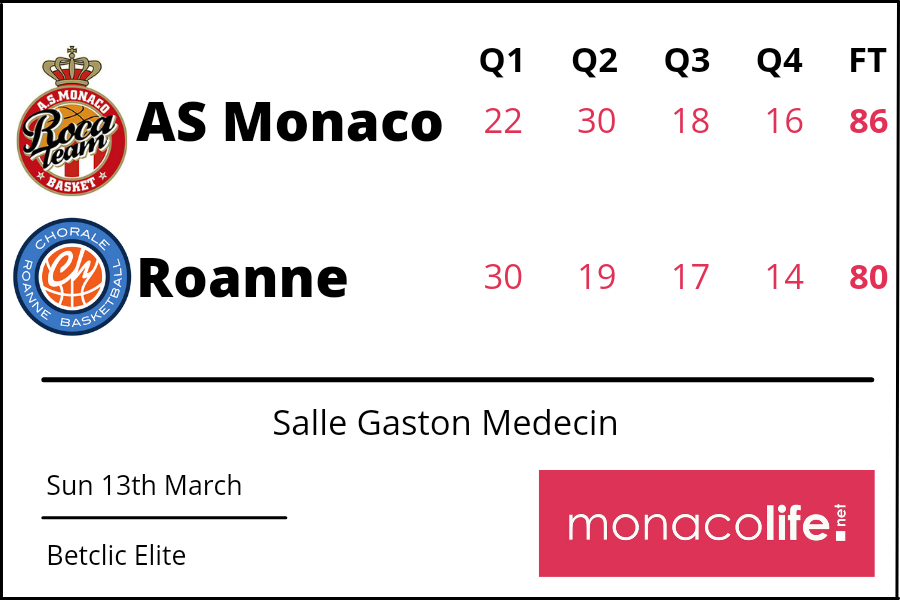 Photo source: AS Monaco Basketball