AS Monaco Basketball strolled to a comfortable 79-67 home victory against Le Portel on Sunday, as Sasa Obradovic's men took full advantage of their extended break.
The postponement of Friday's fixture against Lyon-Villeurbanne has clearly benefited the side, providing a gap in the packed basketball schedule. Obradovic, having replaced Zvezdan Mitrovic mid-season, has had little time to instil his ideas in his side. Obradovic was clearly grateful for this post-match, stating that, "We have had more time to train these past days. It is important to make the players understand what I expect of them in terms of their roles and the system."
Against the bottom side in the Betclic Elite, Monaco started poorly as they struggled to cut through Le Portel's stubborn defence. Monaco gradually worked their way back into the game in the first-quarter, largely thanks to the efforts of Leo Westermann and Ibrahima Fall Faye, the latter's 11 points enough to make him Monaco's top scorer in the fixture.
Ending the first-quarter with a slender lead, Monaco blew Le Portel away in the second with a monstrous offensive effort yielding 31 points, including an impressive 14 point streak that went unreplied. Paris Lee chipped in with a three-pointer, whilst Donatas Motiejūnas was prolific within the key.
The half-time buzzer brought to an end a dominant half from the Roca team, leaving them with the not so daunting task of managing their almost unassailable 19 point lead in the second-half.
Monaco comfortably navigated the third-quarter, managing to marginally extend their advantage, before losing their control on the game in the final quarter. It was not enough for Le Portel, who remain bottom of the table following the loss, whilst Monaco stay in second.
Although Obradovic was disappointed with the way that his side finished, he was nevertheless happy with a comfortable win in their first fixture of 2022. "There are lots of good things to hold on to. I am happy with our defence and the way in which we converted on the counter attack," the Serb said. "It would have been better if we had kept up the intense rhythm until the end."
Tuesday night fixture against Unics has been postponed due to Covid cases within the Russian side's squad. Obradovic therefore has yet more time to work with his players in preparation for Thursday's trip to Bayern Munich.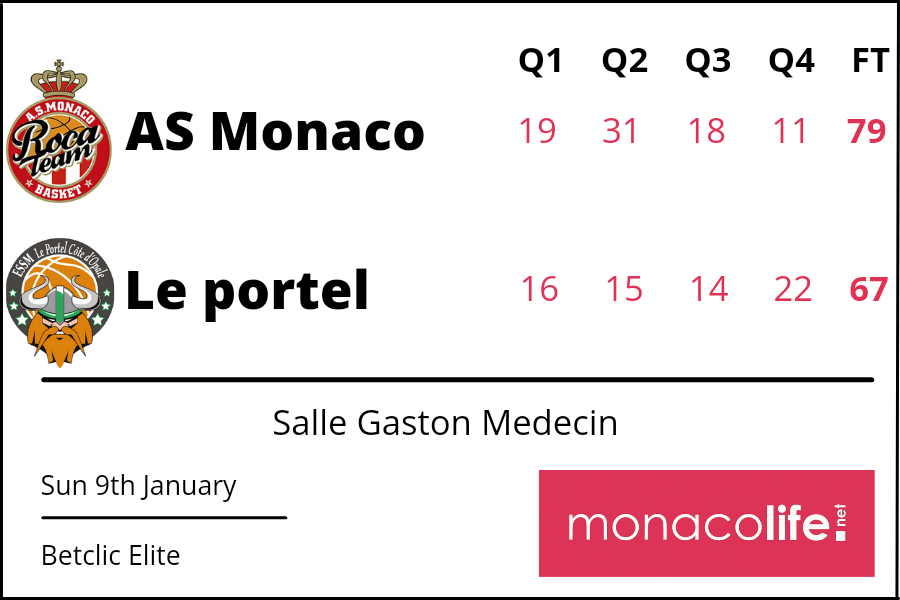 Photo source: AS Monaco Basketball