AS Monaco Basketball "learnt their lessons" from their poor start in the quarter-final against Strasbourg, as they dominated from start to finish against Pau-Lacq-Orthez (94-65) on Thursday.
The Roca Team's Yakuba Outtara told Monaco Life after their overtime victory against Strasbourg that in order to avoid falling into the same trap as they did in their quarter-final tie, they had "to impose their rhythm on the game".
There can be no doubt that they did that from the offset. Pau didn't spend one second of the match in the lead, as they failed to match the intensity and precision of their adversary. Although Pau undoubtedly came into the tie as the underdog, Monaco must be wary. The side have already pulled off the shock of the season, beating first-place finishers Boulogne-Levallois 2-0 in their quarter-final tie.
But unlike against Strasbourg, Monaco approached the game with a better attitude and their will and desire was evident during a first-quarter in which the tone was set, as everyone chipped in with their own point contribution.
Often relying on big moments from big players, this was instead a side where the collective triumphed. Outtara, whose contract situation beyond the end of the season is very unclear, backed up his man-of-the-match performance against Strasbourg with another convincing display.
It was thanks to his efforts, and the efforts of his team-mates, that this was a match in which there was never any peril. That will serve them well. Decreasing the levels of mental and physical exhaustion was an important part of the task with the second-leg coming up on Saturday.
Donta Hall and Mike James were pulling off their respective signature moves, the return of the former was particularly welcome as his dunks punctuated the tie with moments that got the fans on their feet.
At a canter, the match finished 94-65, as Monaco won each quarter on their way to a rout, which not only puts them 1-0 up in the series, but will likely deal a psychological blow to their opponents.
Post-match, coach Sasa Obradovic said, "It was a very good match on our part. Everyone put in the performance that they had to and I hope my players will be equally as serious in the next match."
Outtara added, "We were serious from start to finish. We have learnt lessons from the last match against Strasbourg. We mustn't ease up; we need to quickly turn the page for this second match in two days' time. There will be a reaction from them on Saturday that's for sure, and they'll play harder."
Although the tie has got off to a dream start for the Roca Team, maintaining that focus and intensity will be key in a series that is yet young.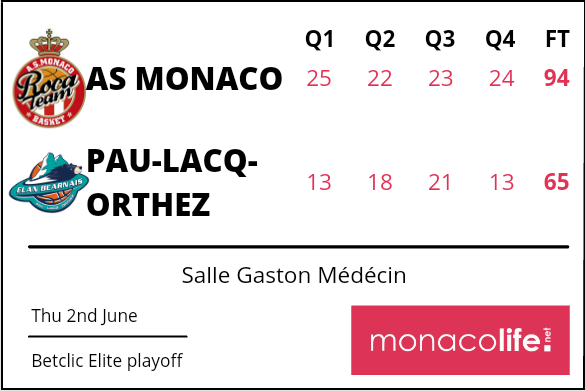 Photo source: AS Monaco Basketball