AS Monaco Basketball recorded a record-low scoring tally for the season as they were beaten comprehensively by Olympiacos (71-54) in the first-leg of their Euroleague play-off tie on Wednesday.
Coach Sasa Obradovic told Monaco Life pre-match that their good form going into the play-off would count for nothing, and that they should "put it aside", and so it transpired. Despite beating Olympiacos in the regular season, they were swatted aside by a dominant Olympiacos, who never yielded their tight grip on the fixture.
Obradovic also warned about the atmosphere inside the Peace and Friendship Stadium, which was at fever-pitch throughout. Monaco did manage to slightly dampen the mood in the first-quarter. A resilient Monegasque defence severely limited the home side's scoring opportunities, as they registered a mere eight points.
Roared on by their crowd, Olympiacos fought back. Aleksandar Zezenkov and Konstantinos Sloukas were prominent in an unreplied nine-point streak at the beginning of the second-quarter. That was just a sign of things to come, as Monaco struggled to keep pace with the runaway Greeks. By the end of the quarter, their lead had not just been wiped out, they also headed back into the dressing rooms with a seven-point deficit (33-26).
Thereafter, Olympiacos managed the game, gradually growing their advantage. The Roca Team's prominent figures of the last weeks and months were kept largely quiet. Mike James (10) and Donta Hall (10) finished as Monaco's joint-top scorers, but neither of them had the same level of influence as they have done in their recent streak that made them one of the most formidable sides in Europe.
Post-match, Obradovic discussed the lessons to be learnt from the tie. "For the second match, we need to manage our emotions better, keep control and avoid falling in the atmosphere around us," said the Serbian.
Paris Lee, meanwhile, was defiant ahead of the second-leg, which takes place in the same stadium on Friday. "We have the ability to respond much better. On Friday, we will have our backs to the wall, we recognise this kind of match."
A response from Obradovics' men is necessary to keep the tie alive coming into the home leg at the Salle Gaston Medecin next Wednesday.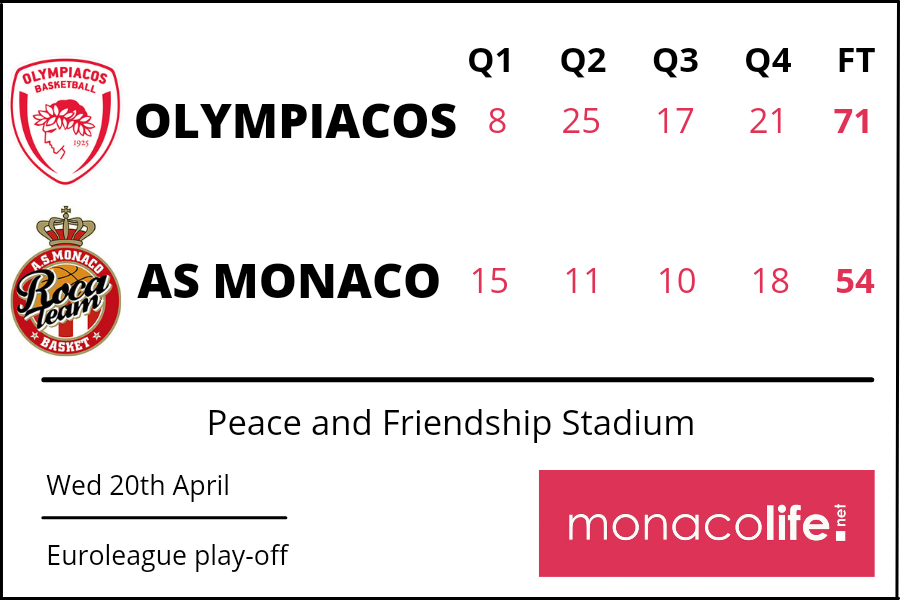 Photo source: AS Monaco Basketball