Another dominant display from AS Monaco Basketball got their domestic campaign back on-track, once again stating their play-off credentials with a 97-85 victory over Gravelines-Dunkerque on Sunday.
A lack of finesse in the opening stages saw the Roca Team trail early on. They did, however, take the ascendency in the latter stages of the first-quarter, finishing with a slender lead thanks to a Dwayne Bacon three-pointer on the buzzer (23-20).
That momentum was carried into the second-quarter, an energetic performance reaping rewards as the gap grew (33-22), before a shift put the home side on the back foot. Monaco collapsed in dramatic style before the half-time buzzer, conceding 16 points, whilst scoring only four of their own (37-38).
Any notions of a second consecutive loss in the Betclic Elite were nonetheless quickly dispelled after the half-time interval. Sasa Obradovic's men came out with a renewed vigour and determination as his side romped into an unassailable lead at the end of the third-quarter (71-59), Donta Hall inflicting the lion's share of the damage (18 points on the night).
Against a side that has improved in their game-management in recent weeks, Dunkerque struggled to wrestle back control of the fixture. Despite narrowly prevailing in the fourth-quarter, they couldn't eat into the home side's advantage in any significant way, Monaco sauntering to the win (97-85).
However, Obradovic wants his side to be even more dominant, stating post-match, "We need to get ourselves in a position where we can't even imagine losing, and for that we need a team at 100% both physically and mentally." The Serbian manager is nonetheless pleased with his side's improved consistency, adding, "It is always good to win. Especially since we know how hard it is to string wins together in the Betclic Elite and the Euroleague, even more so after the two tough away matches that we've just had."
Leaders Boulogne-Levallois remain tantalisingly out of reach of the Principality side, although the latter continues to exert pressure, whilst maintaining a firm grasp on their play-off spot. Attention now switches back to the Euroleague, where their play-off spot is much more precarious. A win against a visiting Zalgiris side on Thursday would certainly tighten that grip on the eight spot.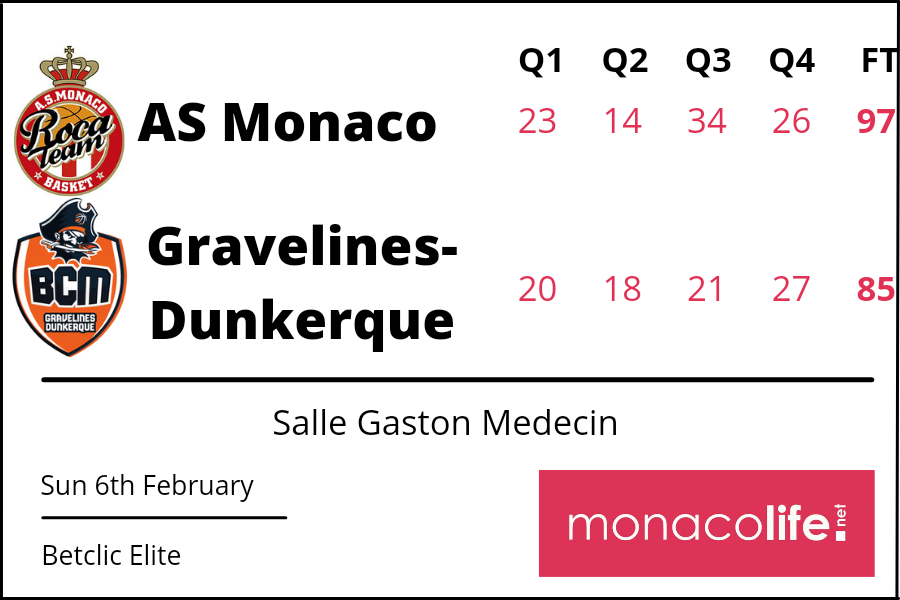 Photo source: AS Monaco Basketball