A comfortable victory against Bourg-en-Bresse on Saturday (93-84) keeps AS Monaco Basketball within striking distance of Betclic Elite leaders Boulogne-Levallois and Lyon-Villeurbanne.
The victory consolidates Sasa Obradovic's third position in the domestic division, although Le Mans can go level on wins if they win their game in hand. Regardless of the outcome of that match, Monaco remains on-track for reaching the end-of-season play-offs.
Like the last meeting at the Salle Gaston Medecin, Saturday's game was preceded by a pre-match show of solidarity as players lined-up behind a Ukrainian flag, on which the slogan "Stop the war" was inscribed.
Monaco's repeated ability to find Brock Motum and Donatas Motiejunas within the key was quintessential to the home side's success. The former had a particularly prolific match, registering 25 points on the night, including 19 in the first-half.
It was in this period that the fixture was decided. After a tight first-quarter, in which Bourg-en-Bresse briefly led, Monaco blew their opponents away in the second, the Australian Motum proving the difference.
Monaco went into the dressing room at half-time with a comfortable 17-point lead, the gap only needing to be managed in order to return to winning ways following the narrow defeat to Barcelona in mid-week.
Despite growing a lead of 20 points mid-way through the third-quarter, Monaco lost their grip on the game thereafter. Although the result was never really in doubt, a late Bourg-en-Bresse barrage ate into Monaco's advantage, taking the sheen off their victory (93-84).
That late collapse clearly weighed on the mind of Obradovic, who admitted post-game, "We didn't finish the match as we would have wanted." He was, however, complementary of how his side supported Motum's season-best performance, adding, "We knew he could be the key player. The guys did well to pick him out."
Monaco now have a sizable break in the schedule before welcoming Turkish side Anadolu Efes to the Salle Gaston Medecin on Friday, in what is yet another crucial Euroleague clash.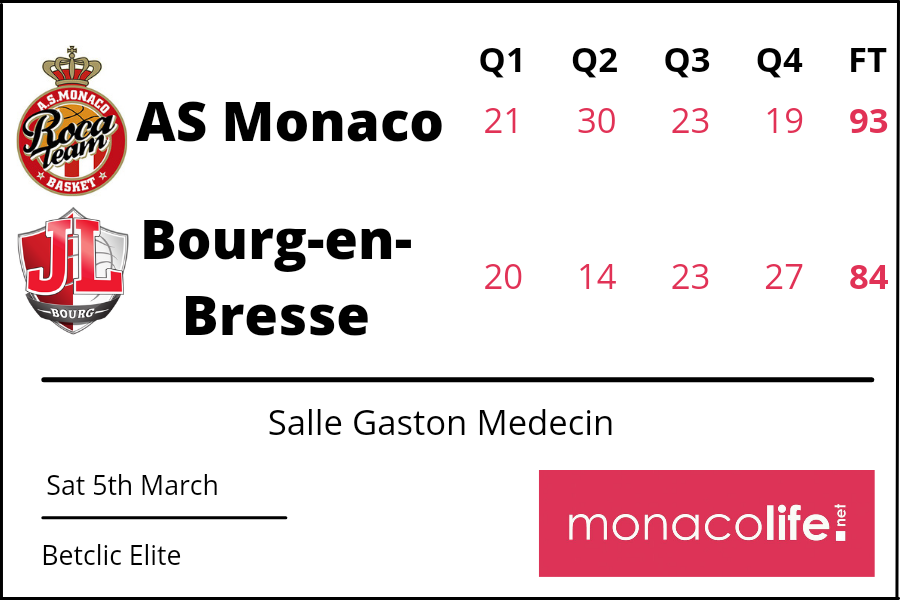 Photo source: AS Monaco Basketball