AS Monaco Basketball got their Betclic Elite final off to a perfect start, outperforming old nemesis Lyon-Villeurbanne on their home court and giving Sasa Obradovic's men a 1-0 lead.
Pre-match Obradovic told Monaco Life that his side would "have to be at the maximum" to allow themselves a chance. Amidst a fervent atmosphere at the Astroballe on Wednesday, the Serbian coach can be satisfied that his whole team did just that.
The victory rarely looked in doubt as Monaco grew an early lead before providing an exhibition in game management as they prevented their evenly-matched opponent from gaining the ascendency, maintaining a comfortable cushion.
The series is yet young, and there is still room for error, but the manner of the victory will rightly give Monaco confidence. Monaco, with Obradovic at the helm, lost the 2019 series 3-2. Both teams, which Yakuba Ouattara described as "the headline acts of the French championship" have since improved and blossomed on the European stage. But with this victory, as well as their qualification to the Euroleague play-offs, gives rise to a creeping feeling that Monaco may have displaced the mighty Asvel as the new powerhouses of French basketball.
Monaco didn't allow the home side to settle into any kind of rhythm as they dictated the tempo in the first-quarter. Lyon held the advantage for 13 seconds at the start of the encounter, but that was as good as it got for the reigning champions; eight unreplied points began to grow the gap that became impossible to close.
Later in that quarter, three unreplied three-pointers, the last of which was converted by Dwayne Bacon from a Mike James pass, grew the lead to 10. James, however, was a marked man, but in focusing on the damage that the emphatic point guard can inflict, spaces opened elsewhere and Monaco's other stars had the efficiency to capitalise.
But James couldn't be shackled for long, as he found space, his influence grew and so did Monaco's lead. By the end of the third quarter, the gap stood at 11 points, as James (17), Alpha Diallo (16) and Bacon (13) inflicted the most damage.
Although Lyon-Villeurbanne mustered something resembling a comeback in the final quarter, it was too little, too late as Monaco took the victory and the upperhand in this best-of-five series.
Going into the match Ouattara told Monaco Life that "It's 50/50. There isn't really a favourite." In this finely balanced series, Monaco have just tipped the temperamental scales in their favour. They will have to be prudent, however. With the teams so evenly matched, it won't take much for the scales to tilt the other way.
"It's important to win this first match, but the fight contitunes," said Obradovic post-match. The side's meet at the Astroballe for the second tie on Friday to do it all again.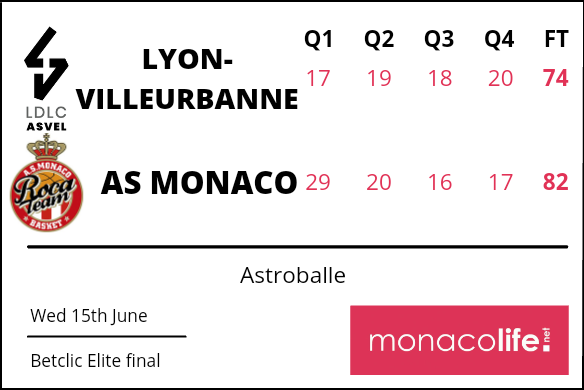 Photo source: AS Monaco Basketball