AS Monaco Basketball once again stated their play-off credentials as they beat Euroleague giants Olympiacos (92-72) on Wednesday, moving into the top-eight with three games to go.
Monaco's unrelenting charge towards the play-off positions has taken an air of inevitably in recent weeks. At times, particularly under former coach Zvezdan Mitrovic, they looked out of their depth, but their latest performance is yet more evidence of their suitability to the top level of European basketball.
The victory isn't a statement simply because they now occupy a play-off place, because they have won 10 of their last 11, including a six-game streak. It is also because of the calibre of opponent that they are defeating.
Greek giants Olympiacos are three-times winners of the Euroleague and eight-times finalists. They are a mainstay in the division, but that didn't prevent them from being rolled over by a contemporary challenger in the shape of a dominant, energetic Roca Team.
No-one within the Salle Gaston Medecin was under any allusions as to where this game was won. After a tight first-quarter, AS Monaco produced one of the most dominant quarters of basketball ever witnessed in the Principality (29-9).
There is an uncanny correlation between the performance levels of Mike James (25) and the rest of the team. When he shines, so do the rest of the team. His contribution to the second-quarter routing was sizable, and so was that of Paris Lee (13). Both were livewires throughout the night, with Lee's playmaking efforts in particular catching the eye (5 assists).
The Roca Team boasted a superior efficiency outside the key throughout the night (52% compared to 27%), exemplified by James' impressive 71% accuracy from seven attempts.
Heading into the break in cruise control, Monaco simply needed to manage to game in the second-half. Their efforts in the third-quarter grew their lead to 20 points, before a more pedestrian fourth-quarter saw the game end 92-72.
Post-match, Sasa Obradovic reflected on that incredible second-quarter. "The team played in a collective way. To manage to get 29-9 is incredible." On a more general performance note he added, "The players express their full potential, and give everything for the team."
Having reached the top-8, the Serbian coach now warns against any complacency before Friday's match against Baskonia at the Salle Gaston Medecin. "We need to remain focused on the remaining games. Baskonia are a very good team, but I believe in my players."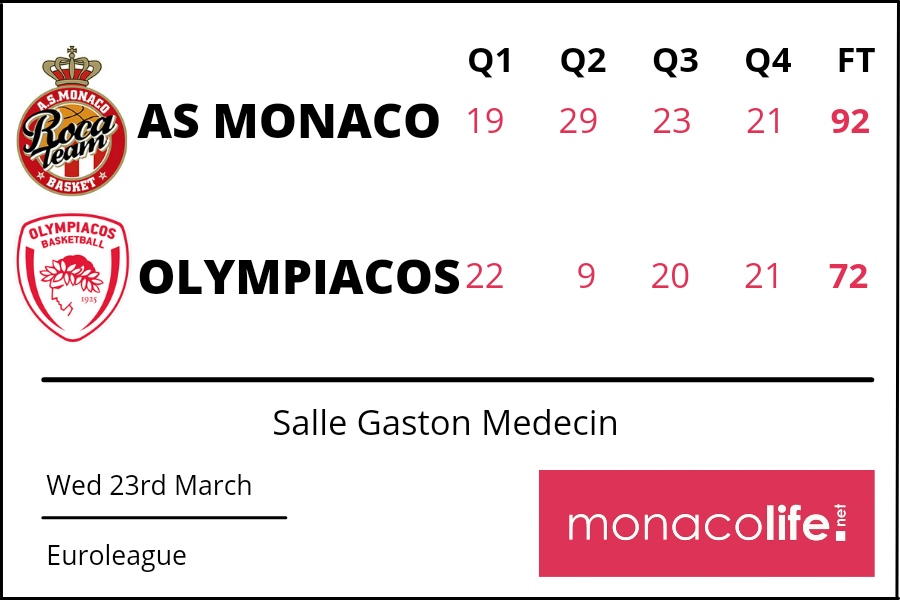 Photo: AS Monaco Basketball