In less than a week, Monaco will be hosting the historic visit of the President of the People's Republic of China, Xi Jinping. As a result, there'll be a number of security measures and disruptions in the Principality.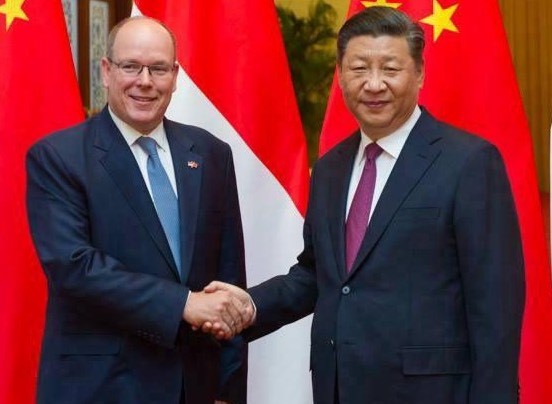 As expected, Monaco will be reinforcing security for the president's visit and that of his delegates. Today, they released a statement detailing the measure.
Two ministerial orders, n° 2019-225 and n° 2019-226, dated 13th March 2019 and published in the Journal de Monaco n° 8.425 of 15th March 2019 (www.journaldemonaco.gouv.mc), draw up the set of public security measures adopted.
These exceptional administrative policing measures concern:
– a ban on vehicles parking from Friday 22nd March 11pm to Sunday 24th March at 5pm, in the streets listed by Ministerial Order No. 2019-225 of 13.03.2019;
– a ban on the circulation of vehicles, on Sunday 24th March between 10.30am and 4.00pm, in various streets that may be affected by the procession route and detailed in ministerial order n° 2019-225 of 13.03.2019, including in particular :
Sector Fontvieille: avenue de Fontvieille
Charles III and Dorsale sectors: Place du Canton and Boulevard Charles III
Condamine sector: Place d'Armes, avenue Prince Pierre, Colle and Rocher streets and rue Grimaldi
The Rock sector: avenue de la Porte-Neuve and all the streets of Monaco-Ville
Area of ​​Ostend Avenue: Place Ste Devote, avenue d'Ostend, avenue Princess Alice
Sectors Hermitage and Monte-Carlo: Square Beaumarchais, Square St James, avenue de la Costa, avenue Henri Dunant
Pasteur sector: avenue Pastor
Sector of the Sainte-Dévote interchange: Boulevard du Jardin Exotique, Bd Rainier III, Sainte Dévote interchange
Any grouping or demonstrations in the above sections is banned on Sunday 24th March between 4am and 5pm.
Flights over the Principality and drones are also prohibited during this time.
In addition, there will be a zone of temporary prohibition of anchoring and navigation of ships, as well as helicopter flights in the Monegasque maritime and air space on Sunday 24th March between 10am and 5pm.
Also, the Condamine Market and the Oceanographic Museum will be closed this Sunday, and pedestrian and car access to the Rock by the Ramp-Major, the Porte Neuve and Fort-Antoine will be prohibited between 10.30am and 5pm. The Rock remains accessible by the elevators of the Chemin des Pêcheurs Parking where the Line 1 terminal of the Monaco Bus Company will be relocated.
The itineraries of the city bus lines and intercity bus lines will be changed and passenger traffic at the Monaco SNCF station will be restricted between 9.30am and 5pm.
"The Prince's Government counts on the understanding of all of the residents and calls on their help to make this day a complete success," said the government in a statement.