Glamour was back in full force Thursday as Monaco staged the Monte-Carlo Gala for Planetary Health, this year for the first time ever at the Palace, where the Princely family welcomed celebrities and VIPs for the exclusive Prince Albert Foundation charity event.
It was the fifth edition of the Monte-Carlo Gala for Planetary Health, the year's largest fundraising event for the Prince Albert II of Monaco Foundation, and American actress Sharon Stone was the night's Guest of Honour, receiving the Lifetime Achievement Award for her years of work towards humanitarian efforts and the empowerment of women. The 63-year-old looked luminous in a dramatic lilac coloured gown that trailed gracefully behind her as she made her way up the "red" carpet in strappy black heels.
"It is a joy and an honor to share this evening with my long-time dear friend and compatriot His Serene Highness Prince Albert of Monaco," said Sharon Stone during her acceptance speech. "We have known each other our entire adult lives and once again our friendship deepens as we share this common goal. It is with great humility that I accept this honour to serve at His command."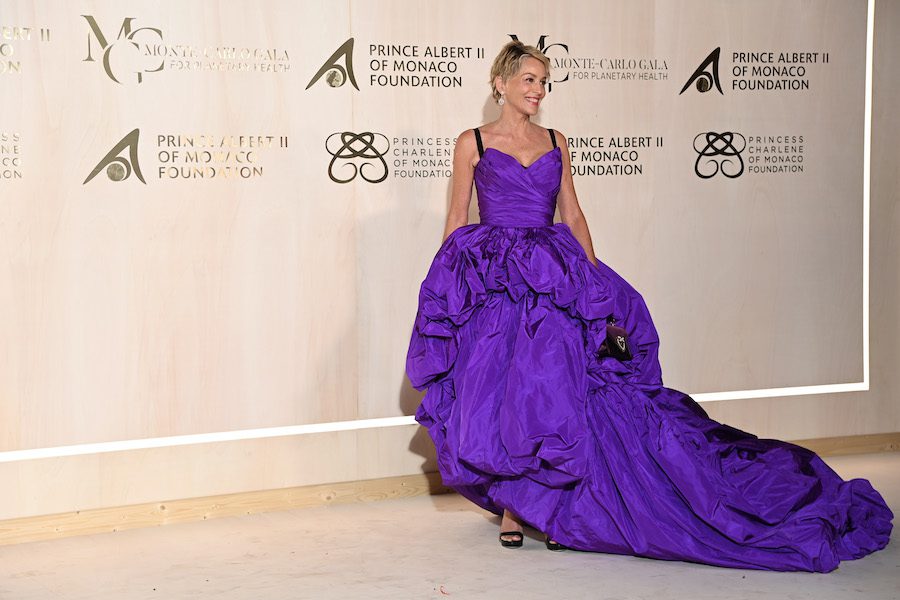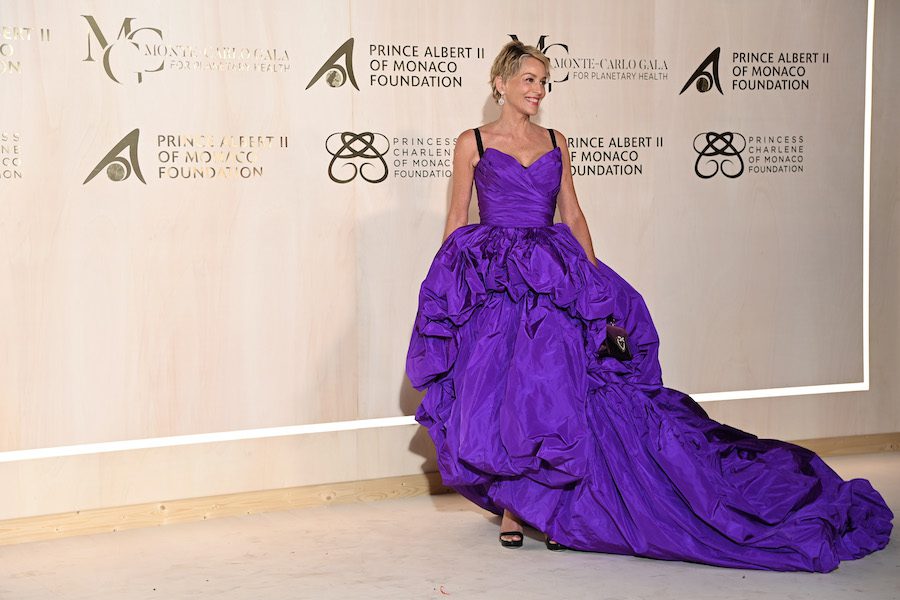 In reference to the health of our world and ourselves during the pandemic, Stone added, "One of the things that happens most directly during these times that we stay alone is that we understand the importance of being present. When you see what's happening to our environment, we understand most predominately what being present in ourselves and in our world means."
Though perhaps known best for her work in films such as Basic Instinct and Casino, Sharon Stone has been honoured with a Nobel Peace Summit Award, a Harvard Humanitarian Award, a Human Rights Campaign Humanitarian Award, and an Einstein Spirit Award, among others. Her role as producer in the documentary My Name Is Water contributed to both awareness and funding towards clean water, wells, rainwater harvesting structures, and more in rural Sub-Saharan, Africa.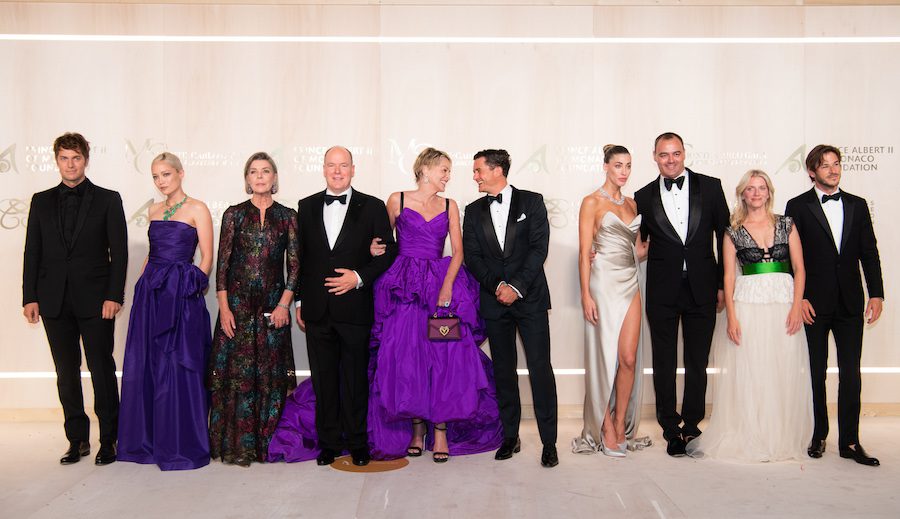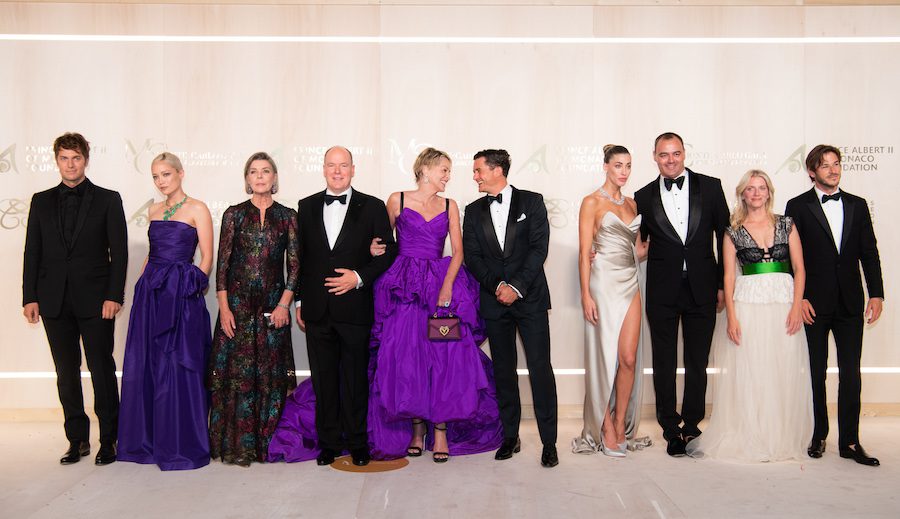 Stone was joined by British star Orlando Bloom, who made the appearance without fiancée Katy Perry and looked dashing in a traditional tuxedo, as well as model Victoria Silvstedt, who looked stunning in a baby pink gown with a matching cape and sky-high silver sandals.
Prince Albert II was joined by his sister, the ever-elegant Caroline, Princess of Hanover who debuted her new grey bobbed hairstyle and wore a beautiful brocade gown.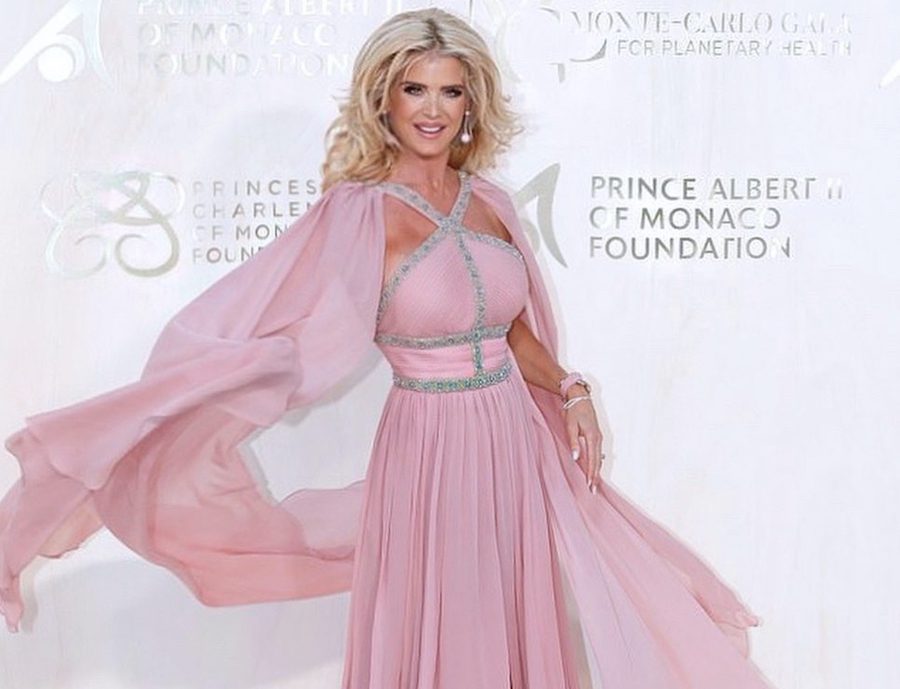 Prince Albert addressed the audience with a reminder of the continuing theme of the Gala – the protection of our environment and the impact of climate change: "We must refuse to close our eyes  faced with situations that concern us all, whatever our circumstances and wherever we live…the deterioration of the ocean has devastating effects on the coastal population and on humanity as a whole…plastic pollution contaminates the food chain and contaminates each one of us…that the disappearance of the most fragile ecosystems, such as the corals, will deprive us of essential resources in the future."
This year, the Prince's Foundation joined forces with the Princess Charlene of Monaco Foundation, which is committed to both saving and inspiring young lives with educational and development initiatives through sports.
Unable to attend the gala in person, the Princess sent a message from South Africa, saying: "My Foundation and the Prince Albert II of Monaco Foundation joined forces a few years ago to develop a number of projects directed to clean our Mediterranean sea of plastics, and more largely, oceans around the world. I was not able to join this evening, but I would like to thank you all for your support and generosity. It is my strong engagement and determination to support these projects, as we have an immense responsibility towards our future generations with the state of the Planet they will inherit from us."
Auction items this year included an arctic expedition to the North Pole with Prince Albert, a custom-made Van Cleef & Arpels sapphire and diamond pendant created from the Ocean tiara of Princess Charlene, a Porsche Taycan Turbo S (the very first electric Porsche) from Prince Albert's personal collection, and a studio visit and creation of custom artwork from Jeff Koons.
Proceeds go towards helping the Prince Albert Foundation fulfil its mission to help develop marine protected areas and protect threatened wildlife species, as well as promote actions to mitigate the impact of climate change and acidification on the ocean and to fight against plastic pollution.
Sharon Stone joins a prestigious list of past honourees – Leonardo DiCaprio, Orlando Bloom, Robert Redford and Sting.
RELATED STORIES:
"The Prince's involvement makes all the difference"
By Cassandra Tanti/Stephanie Horsman. Top photo: Caroline, Princess of Hanover, Prince Albert II of Monaco and Sharon Stone, by Eric Mathon Palais Princier