On an evening at One Monte Carlo, in a room filled with people who exhibit both exceptional talent and a deep care for humanity, there could be only to walk away with the top prize. In the end, it was Captain of the South African 2019 World Championship Rugby Team, Siya Kolisi, who was awarded this year's Peace and Sport Champion of the Year.
Siya Kolisi has had quite a year. Not only did he lead his Springbok's to victory, making him a household name in the rugby world, he was also ambassador to a programme which donated photovoltaic lamps to over 100,000 South African families who live without power, he helped expand his hometown school, he bestowed sport's equipment to his childhood rugby club and he created a national campaign to provide 262 schools with digital tablets – the exact number of points his team scored last season.
The 28-year-old is no stranger to want. Growing up in Zwide township, he recalls often being hungry and deprived, not an uncommon occurrence in these enclaves where unemployment is high and opportunities are few. But he overcame his disadvantages through determination, and now he is actively involved in showing other kids from his hometown that they can, too.
His hard work has paid off, culminating in being honoured with this prestigious award.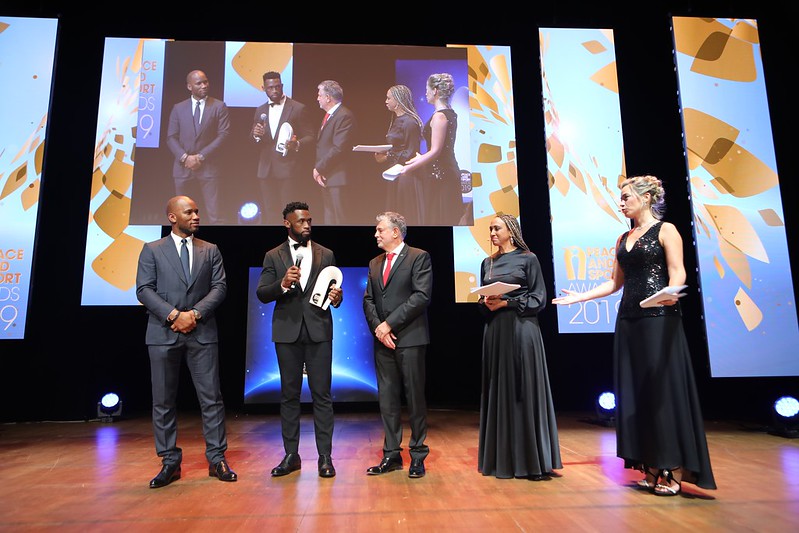 "The Peace and Sport Awards are a unique opportunity to focus the world on sport's initiatives for peace,"said Joël Bouzou, President and Founder of Peace and Sport. "From grassroots NGOs to governments in the world of sport. We all have a role to play and we must use this wonderful tool of sport for peace. I would also like to congratulate Siya Kolisi, Champion of the Year, who, like Nelson Mandela, has shown a unique power of sport to bring people together."
The evening also paid tribute to several others who embody the spirit of Peace and Sport.
The CSR Initiative of the Year was given to the Danone Nations Cup, the largest children's football tournament in the world, with more than two million participants. The event aims to encourage children to become agents of positive change in their communities.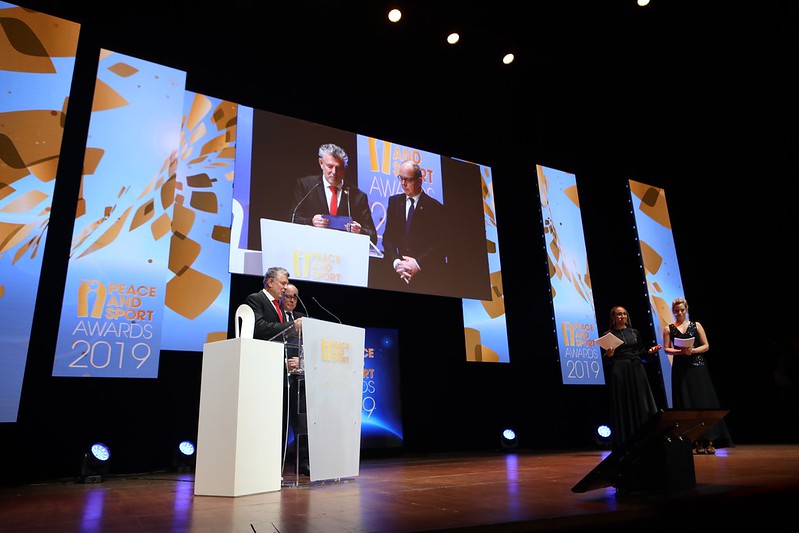 The NGO of the Year was awarded to GOALS Equal Opportunities from Haiti Football. This initiative focuses on quality education and rural inclusion to reduce illiteracy and increase school attendance for rural youth in Haiti.
Innovative Action of the Year was given to Fundación Olímpica Guatemalteca for their Records Vs Recordsprogramme. This inclusive initiative encourages participants to set sports records that are converted to local currency. The funds raised through the involvement of the whole society were used to open a new sports facility, where life skills are passed on to more than 500 young people from vulnerable communities to reduce delinquency and violence.
Diplomatic Action of the Year was won by the National Olympic Committee of Bosnia-Herzegovina and the two cities of Sarajevo and East Sarajevo for the organisation of the 14th European Youth Olympic Winter Festival (EYOF).
The Sports Organisation of the Year went to Saint-Omer Cricket Club Stars (SOCCS). Founded in 2016, this club mixes young refugees from Afghanistan and Pakistan. The Association's mission is to use cricket as a means to overcome the high migratory tensions in the Hauts-de-France. region The Saint-Omer Cricket Club has made a significant contribution to the integration and well-being of refugees in the community.
The Development and Peace through Sport of the Year Program was given to India's Naandi Foundation, creators of The Toofan Games. One of the largest social welfare organisations in India, The Toofan Games enable community educators to broaden the positive impact of sports programs and promote gender equality.
The Special Jury Prize went to FC Barcelona Foundation. Robot Pol is an initiative led by the FC Barcelona Foundation, in partnership with the Eric Abidal Foundation. It is part of the 'Paediatric Emotional Wellness Program' and is based on a robot using an audio, video and remote control software system. It gives bedridden children a chance to have an immersive experience and interact with players during workouts and games.
Finally, a posthumous award was given in memory of Guo Chuan formerly part of Monaco's own Team Malizia, who was lost at sea in 2016 attempting to break the world record for a solo ocean crossing.