AS Monaco Basketball often do things the hard way. Monday was no different, as they recovered from an awful first half (29-47) to beat Strasbourg (82-80) in overtime in typically dramatic circumstances.
Having lost the first leg of the quarter-final tie at the Salle Gaston Medecin last week, Monaco fought back with an overtime victory in Strasbourg to take it to a deciding tie. Gifted another life, the Roca Team looked to have wasted it as a lack of intensity allowed the visitors to take the ascendency.
But as so often has been the case with Monaco this year, a different team returned from the dressing room. As Sasa Obradovic told Monaco Life, "In the first-half you see one team and then in the second, another one. We were way more aggressive."
The comeback in the second-half was incremental rather than bombastic. There were sprouts of recovery in the third-quarter, but whenever Monaco stepped on the accelerator, Strasbourg had the legs to fight back.
But the same can't be said in the final quarter, where an exhausted Strasbourg side were simply over-run by the Roca Team. However, the sheer distance that Monaco had to cover to get back into the tie meant that parity was only restored late-on. Naturally, Strasbourg found a second wind as they fought for their place in the semi-final and the teams matched each other blow-for-blow.
A Mike James two-pointer with just four seconds left on the clock levelled the scores at 72-72 and took the game to overtime for the second time in just three days.
The killer blow came deep into overtime, when at 77-78 a Donatas Motiejunas two-pointer, followed by a Dwayne Bacon two-pointer gave Monaco a three-point advantage from which Strasbourg couldn't recover. Despite a valiant performance from the valiant underdogs, Strasbourg lost (82-80) on the night and 2-1 in the series.
Post-match, Obradovic joked that "these games shorten the life of a coach". He also recognised the entertainment value of such games, but was nonetheless disappointed by how his side began the encounter. He told Monaco Life, "On the one hand, it's good for the fans, but this isn't the way, I don't know this way and I don't teach this way."
Ultimately, Monaco's strong mentality allowed them to launch yet another comeback, which is becoming almost a trademark signature. They will, however, want to avoid falling into the same trap when they face Pau-Lacq-Orthez in the first leg of their Betclic Elite semi-final at the Salle Gaston Médécin on Thursday.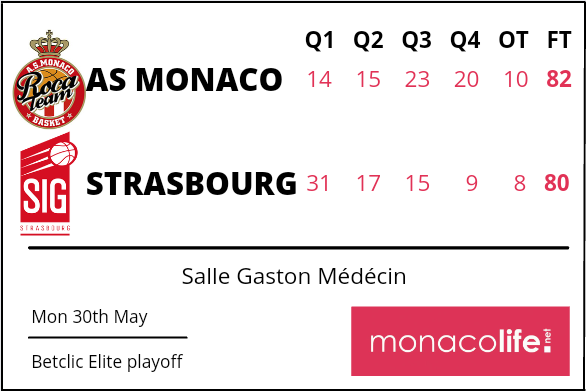 Photo by Luke Entwistle, Monaco Life