The government has several public works projects on the go, as well as traffic alterations which will affect circulation in the coming weeks and months. Here is a recap of what to look out for.
A number of changes are happening in Monaco to either improve quality of life or to accommodate upcoming events and they are all starting now.  
The biggest of these has been launched by the Urban Planning department. A project to renew telephone networks, public lighting, sanitation and water supply on Avenue d'Ostende from Avenue Princesse Alice to the Place Sainte Dévote began on 7th June .
Though the works are extensive, the primary players involved, including Monaco Telecom, the Société Monégasque des Eaux and the Société Monégasque de l'Electricité et du Gaz, will, with the assistance of the Department of Urban Planning, put in place measures to minimise the impact on both the environment and the inhabitants.
The project will be phased in along the bus lanes to allow two lanes of traffic to run as normally as possible in both directions. Additionally, acoustic barriers will be put in place using all the latest technology to minimise dust and noise.
The project will be in two phases, the first of which started on 7th June and will run to 22nd October. This will renew the public lighting and sanitation networks. The second phase, running from 22nd October to 25th February 2022, will establish separate sewage lines.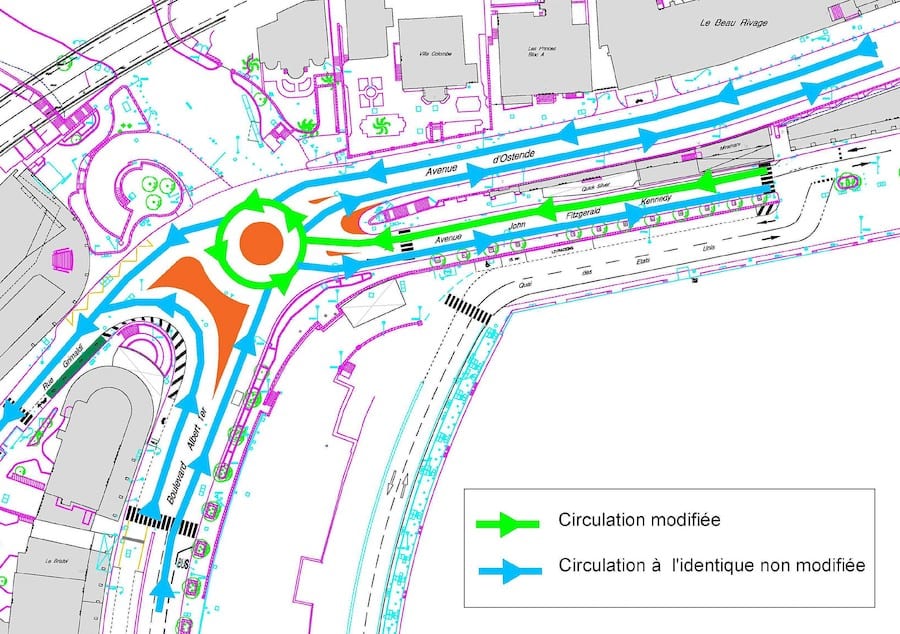 Next up, the Department of Urban Planning has altered the traffic pattern around Place Sainte Dévote to test a new circulation route. From 12th June until after the Monaco Yacht Show at the end of September, traffic on Avenue J F Kennedy will be two way and a roundabout will be installed at Place Sainte Dévote.
The intention is to streamline traffic and prevent inconveniences caused by the frequent closure of the Route de la Piscine during events.
Finally, preparations for the International Jumping Show are starting and from 14th June, when adjustments will be made to the Darse Sud, the location of the event. After the 17th parking will no longer be permitted on the port's main road.
Then, from 28th June, the Quai Albert I and the Esplanade des Pêcheurs will be the site of the public reception facilities and the facilities for horses, therefore limiting access to those areas.  
Traffic plans and arrangements will be implemented from 14th June to maintain accessibility during this period.
This will gradually return to normal after the show on 4th July, with a complete return to normalcy by the 9th July.


Top photo by Michael Alesi, Government Communication Department