Prince Albert has marked the 120th anniversary of Monaco's police service, the Sûreté Publique, during a ceremony at the Oceanographic Museum of Monaco which included the unveiling of a commemorative hymn, digital portrait and stamp.
This year, 2022, marks 120 years since Prince Albert I created the police force, Sûreté Publique, in Monaco.
On Friday 1st July, Prince Albert II and Controlleur Général Richard Marangoni were amongst those to address the commemorative gathering at the Oceanographic Museum of Monaco, including the artists who presented their diverse pieces created specifically for the occassion.
The ceremony, which was associated with the centenary of Prince Albert I's death, began with Richard Marangoni recognising the work of his colleagues. "I pay particular homage to all personnel for what is, on a day-to-day basis, difficult, onerous and dangerous work," he said. "But it is our vocation, our life and our honour. Behind the uniforms, these are men and women who are devoted to the protection of the people."
Prince Albert II continued by praising the "reassuring, protecting force" that is the Sûreté Publique. He concluded by thanking the Sûreté Publique for their service and saying that they have all his "support and trust".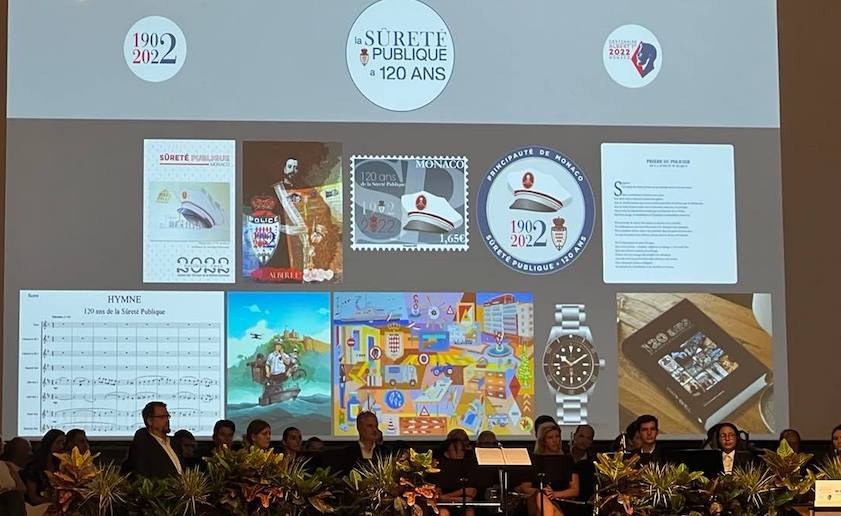 One-by-one, the artistic pieces were presented, or performed as was the case with the Sûreté Publique prayer, which was first performed at the St. Georges Day mass this April and again during the ceremony by Father Julien Gollino. The priest revealed that the piece was inspired by the Sûreté Publique's motto "Loyalty, vigilance, bravery". The prayer was followed by a new hymn created for the institution, which was played by an orchestra.
Three commemorative Sûreté Publique greetings cards were also released, alongside a digital portrait of Prince Albert I, founder of the Sûreté Publique. As with many important events that take place in the Principality, the postal service has also released a commemorative stamp, which shows the iconic hat of a Monégasque officer.
A double-sided medal was also unveiled as was a cartoon strip, the script of which was written by the Sûreté Publique themselves. The grandest unveiling of the event was left to Claude Gauthier, an artist who served in the Sûreté Publique for over 27 years. He unveiled a large painting that features the symbols of the institution, as well as its motto inscribed in Latin.
Two special edition Tudor watches and a 460-page book detailing the illustrious history of the Monégasue institution rounded off the works and objects that will commemorate what is a special year for Monaco's police force.
Top photo: Manuel Vitali, Government Communication Department