As is tradition, the Club Suisse de Monaco gathered on the evening of 1st August to celebrate Swiss National Day.
This year, the event took place in the lush Jardin Méditerranéen of the gorgeous Monte Carlo Bay Hotel and Resort in Monaco, with the magnificent backdrop of Riviera's blue sea. Here, nearly a hundred guests, friends of Switzerland and members of the Club Suisse de Monaco celebrated in classic red and white style.
During the evening, President of the Club Suisse de Monaco Arik Röschke and guests welcomed more than 20 new members to the club with great applause.
Among the guests of honour at the evening were Andreas Maager, Consul General of Switzerland, accompanied by his wife Claudine, and Dr Philippe Brunner, National Councillor and member of the Commission for External Relations and Head of Radiology at the Princess Grace Hospital, accompanied by his wife Dr Claudette Brunner. One of the highlights was a performance by Françoise Cellario, who sang the Monegasque national anthem, followed by a joint rendition of the Swiss national anthem.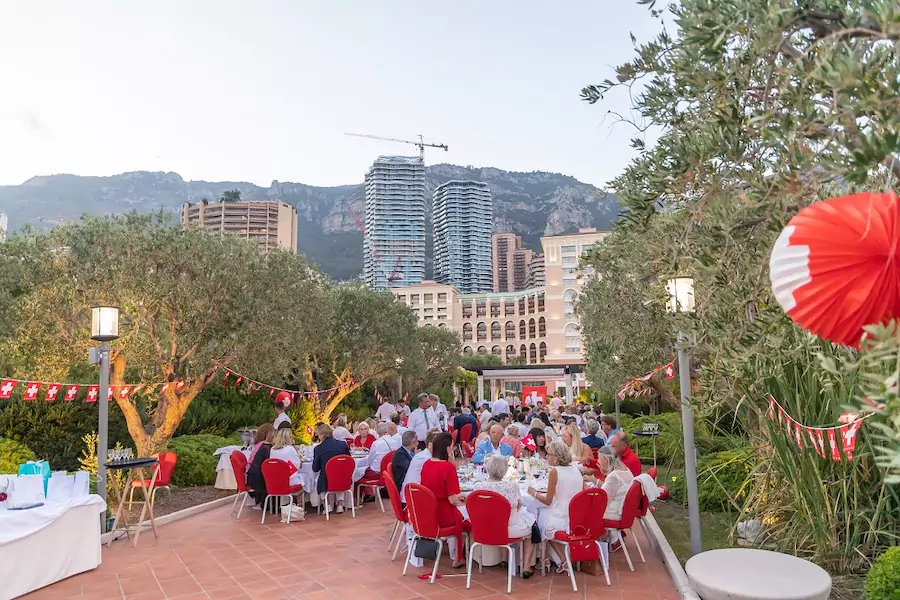 A delightful dinner was served al fresco in the marvellous garden framed by the green of the olive trees, all decorated in red and white. The evening was enlivened by the much-anticipated tombola, with some great prizes up for grabs this year, after which guests danced and laughed late into the evening to the sound of live music.
The Club Suisse de Monaco was founded in 1949 and is one of the oldest associations in the Principality. Its aim is to maintain social and cultural relations between Swiss and Monegasque people, as well as other nationals living in or visiting Monaco. By organising informative events in the fields of economics, politics and health with high-level personalities, the Club aims to promote exchanges providing a showcase of Swiss know-how and values.
Do you have an event that you would like us to promote? Contact editor@monacolife.net. 
Photos credit: Romain Lechevalier