Monaco Life caught up with Giovanni Paolo Risso, the new president of the Italian entrepreneurs association AIIM. So what does the future look like for this important business networking group? Well hold on to your hats, because there are some serious changes ahead.
It's a beautiful day here at the Monaco Yacht Club Paolo, can you share with us your story of how you came to be in Monaco?
I used to come to Monaco with my parents when I was a kid, because my father had a lot of clients here from the shipping industry. We would come socially, on invitation, and then we set up a company 35 years ago. After a number of years I decided I needed a new life so I moved here to Monaco, and now I have been a resident for 17 years. I have three adult children, and I started a real estate consultancy company worldwide.
Congratulations on becoming the new president of the AIIM, tell me about the association and why it is so important?
The AIIM was created 15 years ago by a group of friends who were entrepreneurs in Monaco, including myself. We started gathering all the Italian entrepreneurs living in Monaco together to have a common place to meet and talk, to meet local authorities and present ourselves to the government as an institution of entrepreneurs.
How has the AIIM changed over the years?
We have come a long way in 15 years. The association now has almost 200 members and there is huge potential to keep growing. The former chairman remains a member of the board and is also an honorary chairman because of his dedication. But we felt the need for change in the way the association proposes itself to members.
There were some interesting changes to the board as well?
Over the past six months we have listened to the members' opinions of what we should do. There are 12 board members and for the first time in 15 years we had 20 candidates during the recent election, so it means that the members really wanted to get involved. We now have six members of the board who are completely new. We have two ladies, which isn't enough female representation but it is something, including Federica Nardoni Spinetta, who organises Monte Carlo Fashion Week, as the secretary general. Then we have Alberto Vitale who is the treasurer, and he is a well-known jeweller and diamond merchant in Monaco.
So a new board with fresh ideas. What differences will the members see?
What we want to do is change the way the association conducts business. We used to organise dinners every 45 days in the same location at the Salon Bellevue at the Café de Paris, with an average of 40 to 50 members at each event. Recently, we organised an evening at Twiga to offer something more fun, while still promoting the exchange of contacts and creating business relations. There were 120 members attending. So this was a sign that people wanted something different.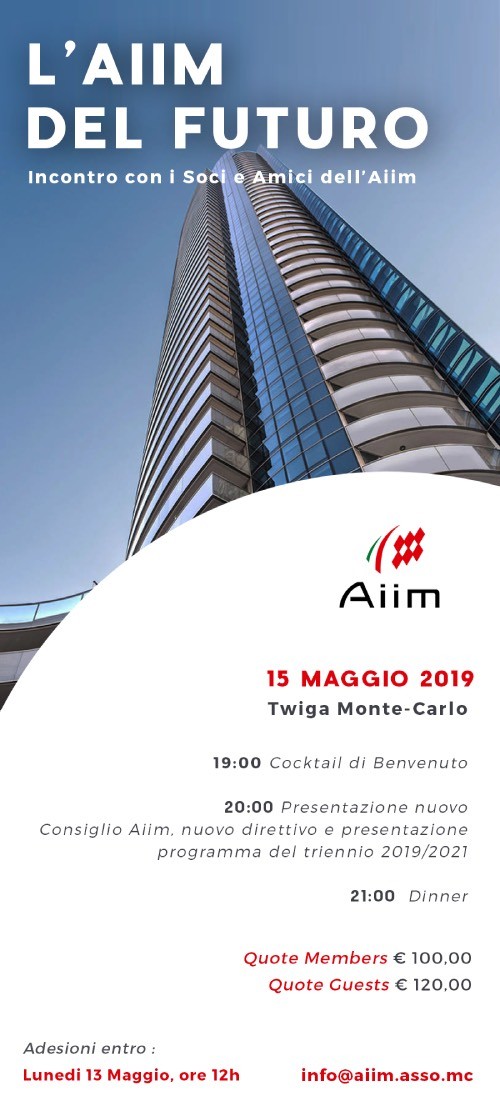 Now, what we want to do is firstly create more events. In fact we are going to have another one at Twiga on the 15th May. We also had a gala dinner every five years, but we have decided to make it an annual event each November. We are going to have many more events that will allow the members to get together, such as a summer dinner, Christmas party, etc.
Then we want to create various divisions, for example in real estate, banking, and tourism. Because this will allow the board of directors and members to participate in events that are relative to them and where they can network properly. We will also have new members give a presentation of themselves each year. And we have in mind an engines and motors event inviting racing stars. What we really want is to make the AIIM fashionable.
Is the AIIM exclusive to Italian nationals?
Well this is also something that has never been done in the past, we want to open our doors to other associations, such as the Greek association, the Argentina Association, the Baltic Association. We really want to broaden the scope of our existence and make it more attractive for people to become a member.
We want also want to exchange more contacts and cooperation with various institutions, like CREM and the Monaco Economic Board.
We will have a bilateral meeting with Genoa, to exchange business and network with entrepreneurs there. We will do the same for Milan, Rome and Turin.
There is much to look forward to, and we have some great support from the Ambassador to Italy Cristiano Gallo.