When Formula 1 driver Michael McKee wrote to Prince Rainier III in 1960 asking to open a new gallery in the Principality, no one would have believed the result would be a vibrant place for the contemporary art scene that still thrives today.  
Tales of former racing car drivers abound in a place like Monaco, where the Grand Prix has taken on legends of mythic proportions, but not many have taken such a volte face as Michael McKee.  
RACING YEARS
McKee was a racing driver of the old school, who took part in the Monaco Grand Prix Junior in 1960, Le Mans and Goodwood, racing alongside the likes of Stirling Moss and Graham Hill. His promising career ended early, not due to a tragedy like many drivers of his time, but due to a flurry of amazing opportunities.  
"At the end of the 1961 racing season, I decided to retire from motor racing," says McKee in his as-yet unpublished autobiography, "not because I had lost interest, but because I had developed a number of businesses and wanted to expand them for the future." 
BIRTH OF MONACO FINE ARTS
One of these businesses was a budding career in art. McKee had already dabbled in art in a small way, buying up works by 19th century students from a local art school. This led to the opening of a gallery in Norwich to showcase these and other works, then another in London.
Wanting to expand his horizons, and on a whim knowing that Prince Rainier III was interested in making Monaco a cultural hub, McKee wrote to him and asked if he could open a new gallery in the Principality.
That simple letter made into the hands of the Prince and before long, McKee had been invited to come to Monaco where he met with the Prince's chief minister, Pierre Notari, who secured a space for him on Casino Square. It was a windowless hole in the wall that had been a former ladies cloakroom for Le Sporting d'Hiver, but McKee knew a good prospect when he saw one and leapt at it.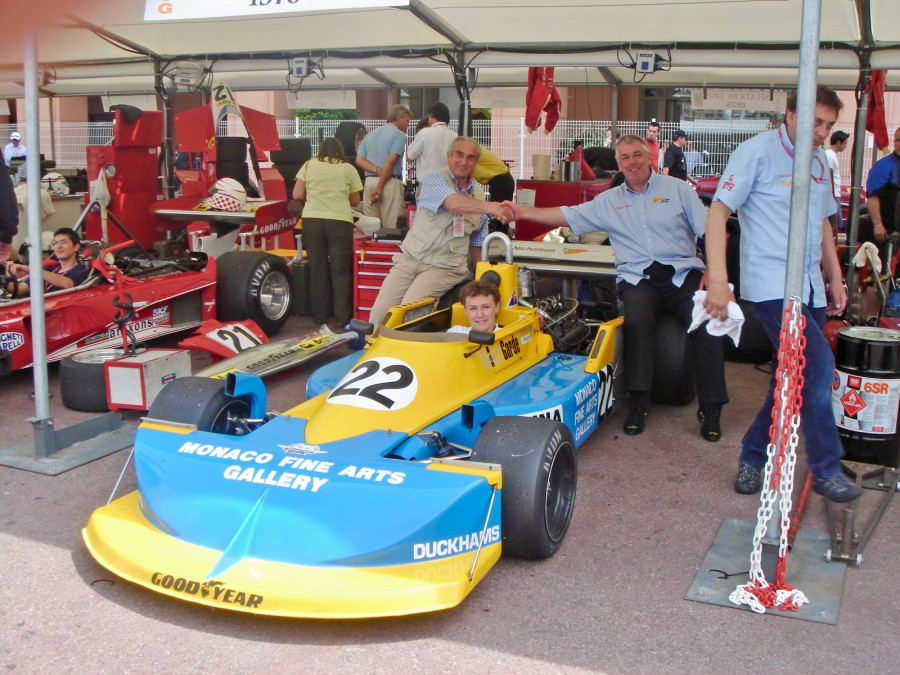 CELEBRITY CLINTELE
This hole in the wall became Monaco Fine Arts, which opened its door in 1976 with glamourous patrons who included Prince Rainier and Princess Grace, who were great supporters, David Niven, Frank Sinatra and Cary Grant. The gallery featured an eclectic – and exclusive – mix of works by established contemporary artists sharing wall space alongside impressionist masters, such as Renoir. It was soon a place that art lovers from all walks could appreciate.  
That being said, Monaco's clientele was far different than London's. Here they wanted more pieces in the modern art vein, which meant McKee had to decide what made the cut.  
"I admit that when it came to choosing works to display in the gallery, I had to rely on nearly 50 years of experience," said McKee. "Obviously many artists would come into the gallery offering their work. On average, we had five people a week coming in and we probably ended up accepting two a year. I was selling between 80 and 90% of paintings by modern living artists because they were a lot easier. You could ring them up and commission work that exactly suited the client's needs." 
The gallery quickly became so popular that McKee was even asked to sponsor a Formula 1 race car driven by Ronnie Petersen at the 1976 Monaco Grand Prix; a rare example of a small private business advertising at an enormous event where big corporate sponsors reign.  
McKee's interest in racing, and art, continued until his death in 2016 at the age of 82, just a few years after selling Monaco Fine Arts. The building has now been demolished and replaced with One Monte-Carlo, but the gallery still thrives at its location on Avenue Henry Dunant under the direction of Evelina Giannoulidi.  
Sign up for the Monaco Life newsletter. For the latest news, follow us on Facebook, Twitter, and Instagram. 
Photos supplied and owned by the McKee family