Monaco Life speaks to Marta Grigorieva, the local artist behind a new children's book which follows Napo, an adventurous Cavalier King Charles Spaniel, and young artist Allegra, as they explore the unique culture and historic landmarks of Monaco.

Where did the idea for the book come from?
It was soon after the birth of Prince Jacques and Princess Gabriella that I began to work on a storyboard for the book. I have dedicated The Secret Life of Napo in Monte Carlo to the young prince and princess, as they were my inspiration.
I decided to branch out from my usual portrait and figurative painting and find another way of expression in the creative process.
While traditionally, my painting medium is oil on canvas, I decided to use watercolours for the book. From there, the process just flowed – the story affected the image and, in turn, the illustrations improved the story. It is a story about an artist and her dog; the book is another art form that allows the full expression and display of an artist's imagination.
Were you responsible for both the writing and illustrations?
Yes, through my illustrations and descriptive prose I've created a delightful experience for both children and adults. It focuses on the Principality of Monaco, promoting international and diverse friendships, the discovery of sports and modes of transport, as well as a touch of history and culture, highlighting the country's main landmarks. I call it "The city sketches", as it would be in a study for painting.
Who is the character of Napo based upon?
I first noticed the Cavalier King Charles Spaniel in Renaissance and Old Masters paintings when I worked at Sotheby's in New York and I always wanted to own one, as it featured in numerous portraits of children and families. So, for 17 years now, I have had Cavalier King Charles Spaniels and I am always impressed at how intelligent and kind they are, with lovely personality traits. They are affectionate, sociable, playful, adaptable, fearless, noble, non-aggressive and curious.
In the book, Napo – a Cavalier King Charles Spaniel, belongs to an artist named Allegra. Napo has adventures while Allegra is busy doing her painting. Napo is inquisitive, observant, curious, gentle, intelligent, loyal, helpful, likeable and a little mischievous.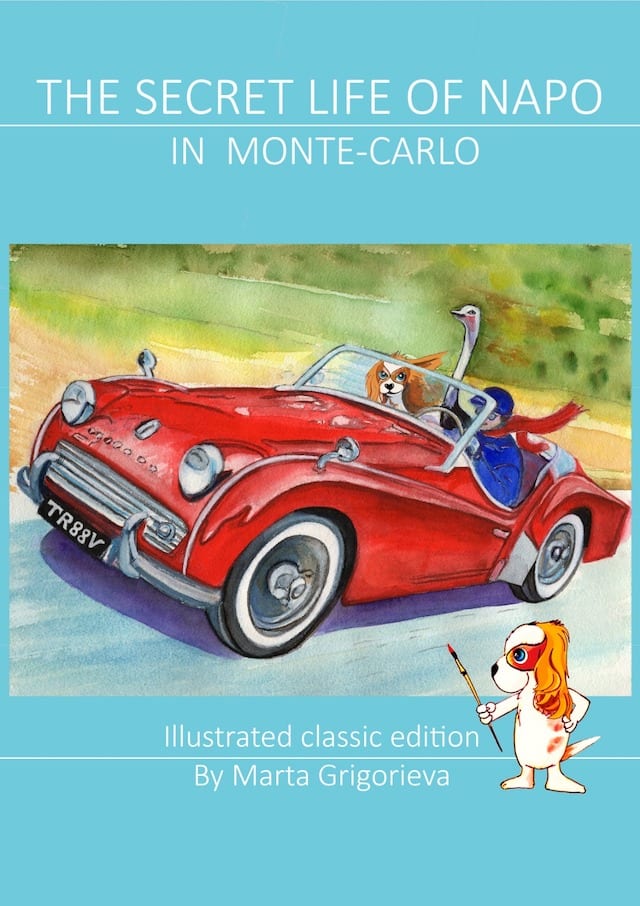 Why did you choose this particular story line?
I think It is important for children's books to promote good manners and behaviour and teach something valuable, as well as entertain.
The book follows Napo and Allegra as they explore the unique culture of Monaco and surroundings. Their adventure will take you through beautiful landscapes and historic landmarks as an introduction and a fun guide to the second smallest country in the world.
I believe there are mentions of our news site, Monaco Life, in the book. Can you tell us how you integrated that into the story?
Napo does not read newspapers, but he likes his iPad and visits the Monaco Life website regularly. As travel is limited at the moment, I invite everyone to visit Monaco in person or in their imagination for a Covid staycation by reading the book and Monaco Life.
The Secret Life of Napo in Monte Carlo is about "Monaco life" in the winter. It is a metaphor, of course: a talking and walking dog becoming child-like, observing, discovering, and learning.
Not leaving your country does not mean limiting your holiday horizons. One can read Monaco Life or, during a staycation, follow Napo on his adventures to other surprising summer and winter destinations.
What is your favourite part of the book? 
My favourite part of the book is Napo's secret, but you will have to read the book to find out what that is!
This is part of a trilogy. Can you tell us about the other books and when you hope to publish them?
The Cavalier King Charles Spaniel is a British breed so our next destination is London. The Amazing Adventures of Napo trilogy includes Monaco, London and New York.
In each city, Napo meets various animals who become his new friends, and together they explore locations and discover the highlights of these cities.
You have a partnership with the Princes Grace Hospital Centre in Monaco, can you tell us about that?
Both of my parents were doctors and I have seen how hard my mother worked for 45 years, helping numerous patients. I offered to donate my book to children in the paediatric department of Monaco's Princess Grace Hospital Centre, it is just my way of contributing.
Hospitalised children and their parents will be able to enjoy reading the book and, once recovered, they may take the book home. There is also a drawing/colouring option at the back of the book, so children can enjoy that also.
What other hopes do you have for Napo?
I hope the book will be welcomed in schools for kids to improve their English vocabulary and to learn a few Italian and French words along the way.  Napo has three hearts on his face, he is the epitome of love and exudes affection for the whole family.

The Secret Life of Napo in Monte Carlo is available on Kindle (e-book) and Amazon (paper edition).