Monaco Life rounds up the best places to exercise outside and in, from the smart workout stations in Port Hercule and Fontvieille to the celebrity-taught yoga classes at the Metropole and the Principality's raft of ultra high-tech gyms. 
The legacy of well-being and wellness go back well over a century in Monaco, to when the first baths were built in the Condamine neighbourhood in the late 1800s. Then came a thalassotherapy centre in 1908, which would be developed and renovated throughout the 20th century to become what we know today as the luxurious Thermes Marins Monte-Carlo. 
Today the Thermes Marins Monte-Carlo offers a 6,600sqm space dedicated to wellbeing. Alongside its innovative spa centre – solarium, sauna, hammam, jacuzzi and cryotherapy treatment rooms –   the Société des Bains de Mer (SBM) establishment also boasts a heated, open-air saltwater pool that hosts various aquatic aerobic workouts. In the adjoining fitness centre, members can enjoy pilates and stretching classes as well as bike-based activities. There's also the option to have a private session for an additional fee.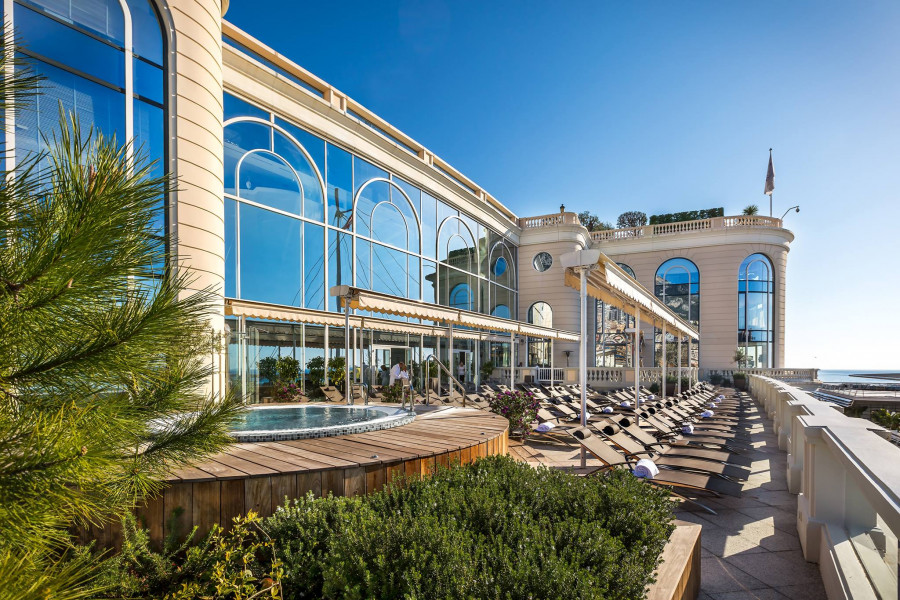 This spring, the Hotel Metropole and its Spa by Givenchy are forgoing the "traditional" and offering a thoroughly modern take on the art of yoga. Rebel Karma Yoga, a method based on Yoga Sculpt and Power Yoga, incorporates weights into its positions to ramp up the effects of this popular discipline: it's a "2.0 version of yoga".  
The classes are being led by celebrity trainer Val Kahl three times a week – Tuesday, Wednesday and Thursday – for €95 per session. She's created two distinct workouts: the signature Rebel Karma Yoga, which she describes as a "punchy session that mixes Vinyasas, cardio, abs and core, calisthenics and pilates with weights"; and the gentler rhythmic Yoga Flow that follows a more contemporary style. Kahl moved to the region a little over a year ago and will continue her classes at the Hotel Metropole until mid-May. 
Within the SBM portfolio are the health and fitness centres at Monte-Carlo Beach and the Monte-Carlo Bay Hotel & Resort. Both offer personal training sessions for guests within their "next generation" facilities.  
The Monte-Carlo Beach Spa is set to reopen in April 2023, when patrons can rediscover the unique setting of this address – between the sea and a peaceful pine forest – at private yoga, meditation and pilates classes. The outdoor Olympic-sized saltwater pool with two diving boards will open for business at the same time. Even if you're not a guest, this is a brilliant place to spend an afternoon with friends and family.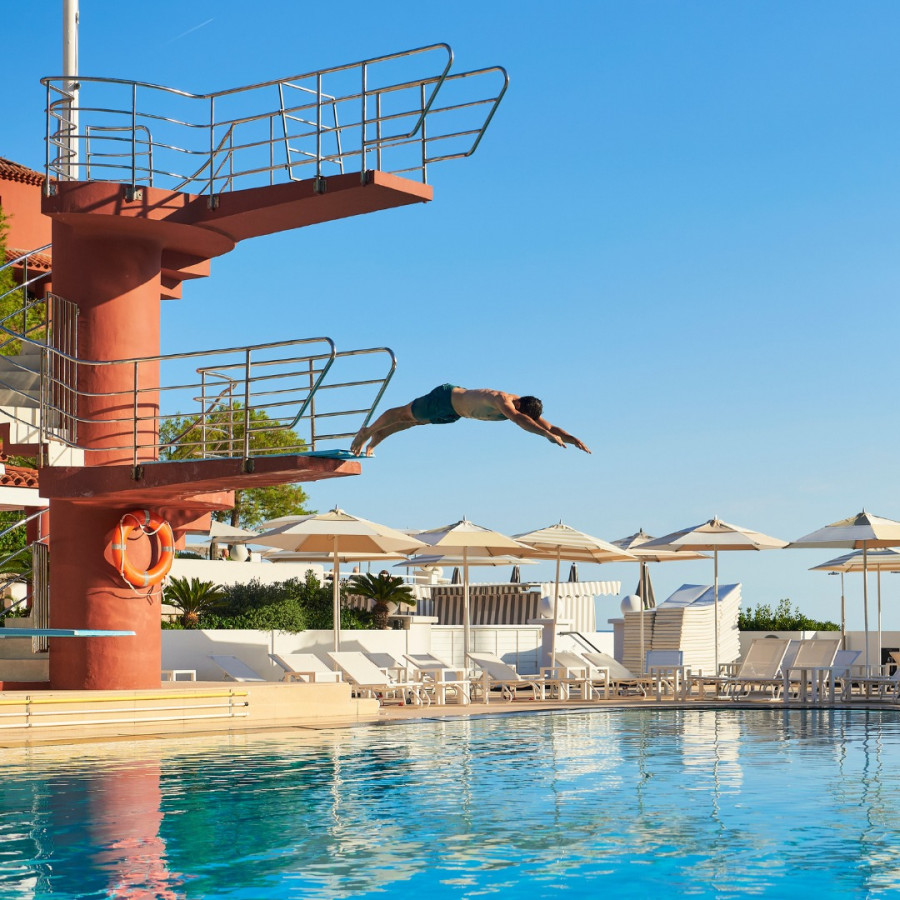 Access to the Monte-Carlo Bay Hotel & Resort sports facilities – a fitness room equipped with Technogym machines and weights as well as an indoor pool – are open to the public for a fee, but are free of charge for guests.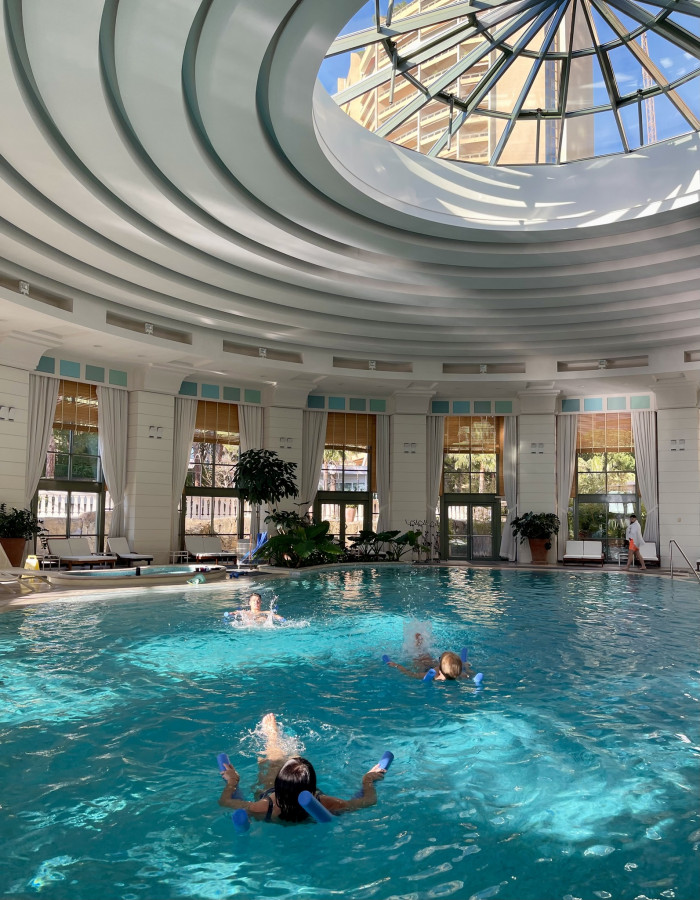 The sophisticated private gym at 39 Monte-Carlo (photos below) is fully dedicated to pursing peak performance, whether that be for someone embarking on their fitness journey or a professional athlete at the top of their game. Its trainers are all highly qualified in their respective areas and include figures such as Brazilian Jiu Jitsu great Jerry Monier and former gymnast French Rudy Guillard. Group sessions are run alongside the high-spec gym and feature everything from HIIT to Ballet Barre, high intensity spin classes to mini-trampoline workouts, and boxing combined with strength training to conditioning circuits and bootcamp training.  
Over at The Forge, the focus is on the body and not the machines. It calls itself a "personal training lab" with everything from kickboxing and traditional boxing to Tacfit and Flowfit. The Forge is the only certified centre in the region for the training of these two latter workouts. Yoga and ballet-inspired sessions are also a core feature of this site and many of these classes are taught by Anja Behrend, a former dancer with Les Ballets de Monte-Carlo.  
For something at the more modest end of the scale, down on the port is the publicly owned and managed Hercule Fitness Centre, which opened nearly five years ago next to the popular Stade Nautique Rainier III municipal swimming pool. It operates a busy programme of classes for all abilities – BodyPump, BodySculpt, spinning and HIIT, for example – with an annual membership costing €1,100 for adults, making it a cost-effective option for those commuting into Monaco and who want to fit in a quick session at lunch or after work. Concessions are available for students, public service workers and over 60s. 
But if the great outdoors get your pulse racing, then head down to one of the two MonaMove fitness spots in Port Hercule and Fontvieille. These are digitally equipped smart spaces that allow users to, once they have downloaded the app, create their own workout according to their fitness level and track progress over time. Around 100 exercises, complete with video tutorial, have been designed by former professional rugby player Sébastien Chabal for these exact facilities, and have proved vastly successful with Monaco's sporting population since they opened four years ago.  
And let's not forget the incredible geography of Monaco as a naturally hilly, coastal nation. Run from the beach in Larvotto up to the Prince's Palace or take a route high up to the Tête du Chien in La Turbie for a stunning panorama of the French Riviera. A fitness trial near the Jardin Exotique provides gym equipment along its route while the more dedicated urban trial runner might want to take on the task of Course des Escaliers in Beausoleil. This race, taking place on 18th March, calls on runners to tackle 427 steps on five staircases in a demanding 350m challenge.  
Sign up for the Monaco Life newsletter. For the latest news, follow us on Facebook, Twitter, and Instagram. 
 Main photo courtesy of SBM