Discover Monaco's first perfume cocktail list at the new Equivoque rooftop bar, where aroma and flavour are married in an elaborate and interactive menu. Here's how it works.
With its location on avenue d'Ostende, the Miramar Hotel offers incredible views of the harbour, the glistening Mediterranean Sea, and the plethora of luxury superyachts that it houses.
Above this nautical-themed boutique hotel sits a unique bar experience, recently launched and never seen before in Monaco, but one that has been trending around the world.
"We don't put the ingredients on the cocktail menu, only the aroma, because we want the guests to choose the cocktail based only on the emotion that they are experiencing at the very moment they smell the perfume," says Antonio.
Given the strong link between the senses of smell and taste, the concept is novel, but not altogether surprising.
Perfumes are made up of head notes, heart notes, and base notes, just as cocktails are made up of different, identifiable parts.
At Equivoque, guests are presented with a box of aromas that have been specially crafted by experts in the perfume capital of the world.
"The perfumer in Grasse made for us six different fragrances, and each fragrance is like one of our cocktails," adds Antonio as he sprays an aroma onto a scent strip and asks us what we think.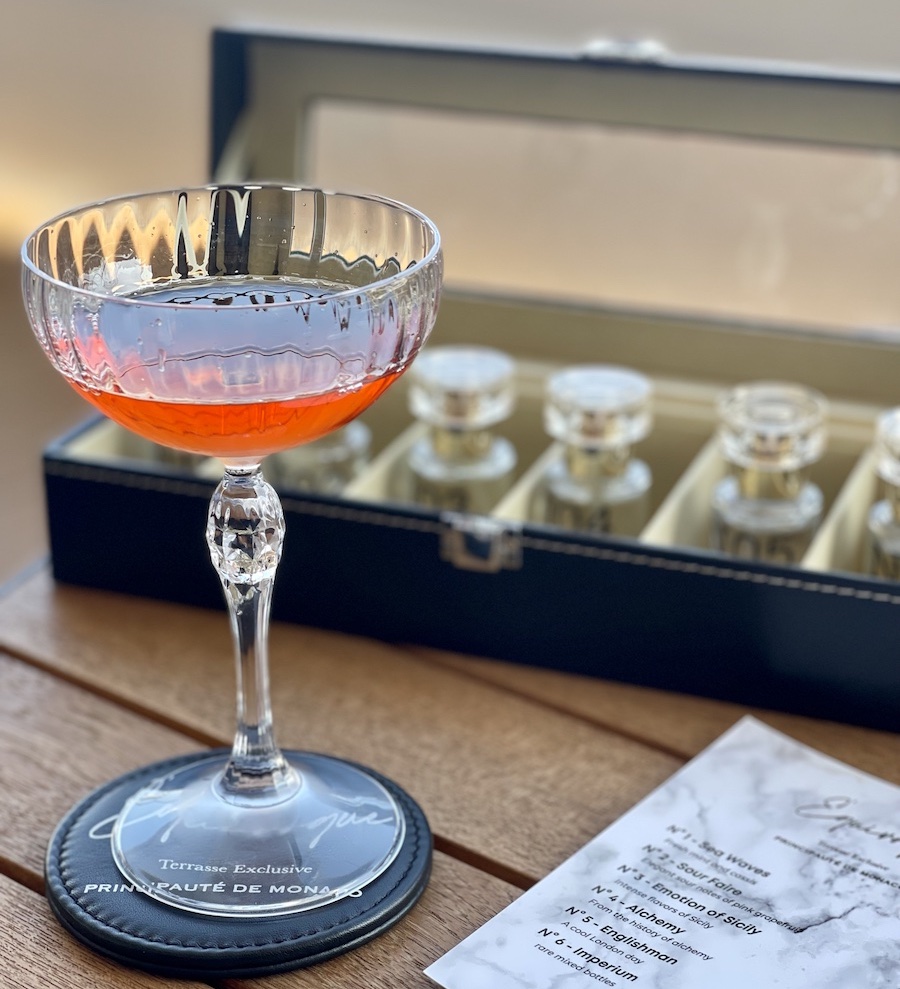 Each fragrance has its own unique smell and personality: some are sweeter than others, some have an obvious almond or aniseed note, others a crisper, cleaner finish. Everything that we identify is explained by the charismatic Antonio.
Based on our favourite, we are presented with a cocktail. I am thrilled to find mine mimics a Manhattan, one of my all-time go-to drinks.
But not only are smell and taste heightened at Equivoque, the sense of sight is also elevated as mixologists present the cocktails with imagination and flair. For example, mine is presented in a glass shoe, the smoke flavouring the alcohol as he swirls the glass and pours it into my cocktail coup from a height. The drink itself is well balanced with the bitter tones that I had enjoyed in the aroma.
I wonder if I would choose the same next time.
"The scent can change depending on the day, your mood, your memories," explains Antonio.
While the rooftop bar was inaugurated only recently, the hotel itself has been open since August 2021.
After a four-year full renovation, the long-standing Miramar has been given a new life with 14 rooms inspired by the marine world, offering guests to Monaco a much-needed boutique alternative.
"In most big cities, there is often a boutique hotel or a modern city hotel that has affordable rates for people who need to come for two to three nights, but who still expect a decent quality and an individual approach and stylish design," says owner Gleb Tskhovrebov.
"Sure, other hotels offer more services than us, but they are all the same. This is refreshing, stylish and more personal."
Equivoque is open from Tuesday to Saturday. In addition to cocktails, the terrace bar offers raw fish dishes and gourmet bruschetta.
See more of Equivoque in our Instagram videos below…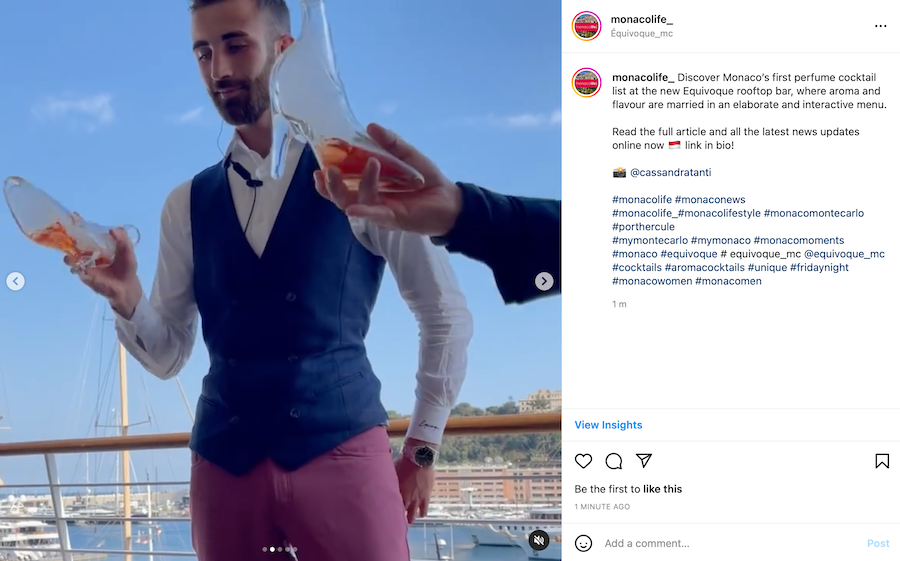 Feature photo of Gleb Tskhovrebov by Monaco Life