Daniela Spanier is on a mission to create and strengthen links between the people of Monaco and Latin America. She tells us more about the root of her ambition in life, and reveals exciting details about the upcoming Mystical Bolivia AMLA gala in September.
The Monaco Latin American Association (AMLA) is a non-governmental organisation designed to promote cultural dialogue, solidarity and cooperation, and exchange of ideas and "dreams" between the Principality of Monaco and the countries of Latin America.
AMLA's focus is on providing a platform and a community for Monaco residents to discover Latin American sociocultural heritage and lifestyle, through a series of charity events ranging from galas and workshops to music auditions and conferences.
Monaco Life: Can you tell us about yourself and where it all began?
Daniela Spanier: I've been very international since a very early age. I was born and grew up in Bolivia. I had a diplomat father and a mother who always worked with international organisations. In Bolivia and in Latin America in general, we're very social, but especially in Santa Cruz where I grew up. Since it's a small place in a poor country, the society was quite small and the social engagements were quite important.
My grandmother was always in Rotary, and I grew up with charity fashion events where even I had to parade when I was seven or eight. My grandfather was also in the Rotary and the Lion's Club. My grandmother was also a co-founder of the university and a director, so I grew up like this… in an academic family where mainly the women were academic and socially engaged.
I always say that if I'm ambitious and if I have the capacity to dream, that it's never too late, and this is thanks to my mother who allowed me to take every possible private lesson in everything I wanted, from gymnastics to piano, and this led me to think that there is always more I can go for, that there is more that I can do.
If I have to define myself, I am very forward-looking. I have a vision and I never think it's too late to change things. I think every day is a starting point. I believe you don't have to look at what's before to actually set a new trend because it's all a sequence. You can choose to use the sequence from yesterday or choose to start one from today. I believe the sky's the limit.
On the other hand, growing up like that makes you feel like you are missing something, because if there's always more you can have, it means you're never full. That's something I've had to work on the last 15 years. Now my ambition is coming from a place of wholeness.
What brought you to Monaco? What was your vision coming here?
I grew up in Bolivia and went to German school, then when I was around 11, my mum got a job at the UN in New York, so we moved to New York until I was about 13. We then went back to Bolivia and I started at the international school in Santa Cruz, before moving onto La Paz (capital of Bolivia). At 18, I went to study in Germany, as I speak German.
I then moved to Switzerland where I was working in private banking, then as a head-hunter, and back to private banking. This is where I met my husband… and he brought me to Monaco, though our first dates were not ideal. We didn't really match. But after six months, he proposed and we moved to Monaco.
I did know Monaco because my dad lived in Nice and he brought me here where I saw the cathedral, the palace, the aquarium… so I knew Monaco, but I didn't come looking for Monaco. I've made my life here and made amazing friends. It also slowed me down being here. I wasn't constantly running after the next big position. I have three kids, I had to settle down, but I must say, I found myself in Monaco.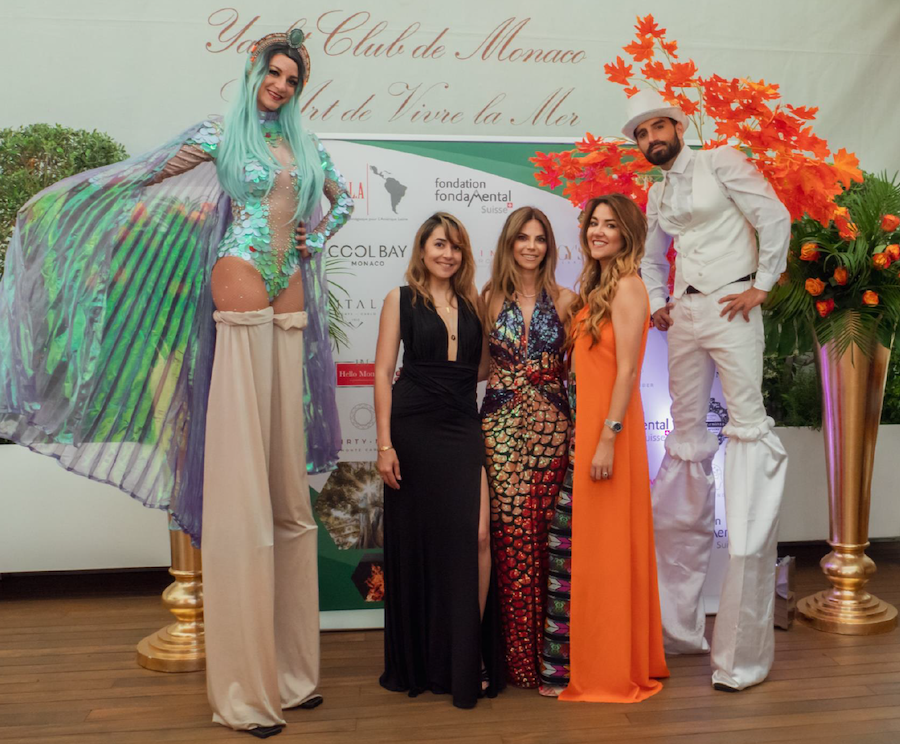 It must have been difficult to go from a very academic, female-driven family, and the banking industry in Zurich, to a place like Monaco where your focus was being a mum. How have you managed to balance that innate drive to succeed with the reality of what is here in Monaco?
It was difficult for me to find value as a female, because I always competed with men. I took on men's roles, but I still am quite feminine and sensitive and emotional… so it has been a release, though at the beginning it was difficult. When I first arrived, there wasn't anything for children, either, they didn't have 'Munchkins'.
It was liberating, but it took years. At the beginning, I didn't speak a word of French. With nothing to do for children, it was boring and quite shocking because when I walked down the street I didn't see any men. I saw only women with babies at the park.
After a few years, I learned French and 'Munchkins' opened and I started making friends and it was nice. I accepted my role. My husband was always travelling so it wasn't easy.
In 2017, I met these three Latina girls and we were like, 'Why don't we open an association?' For me, after five years in Monaco, I felt like I was going to have a chance to "be" professionally something.
Can you tell us about the Mystical Bolivia gala?
The AMLA Gala events honour a different Latin American country every year. This year in 2022 we will immerse Monegasque and international guests in the unique DNA of the Bolivian cultural melting pot.
We are bringing No Finish Line (NFL) to Bolivia next year, so we're exporting Monaco to Latin America at the gala so people can see what Bolivia is really like.
The gala will be held on 17th September at the emblematic Monaco Yacht Club, starting with a sunset cocktail with Bolivian drinks, traditional cocktails and live cooking by Bolivian barmen and chefs who will be happy to tell our guests the stories behind them, just as the artists attending the auction will do.
We will also connect by Zoom to the No Finish Line organisers in Santa Cruz, who will be launching the NFL during the international exhibition Expo 2022. It will be an opportunity to introduce our iconic NFL Ambassadors living in different parts of the world.
Cocktails will be followed by a dinner animated with folkloric dances (los Tinkus, la Diablada, los Caporales, los Tobas), a fashion show, unique music performances, more storytelllng by our celebrities and lots of fun discovering and sharing culture.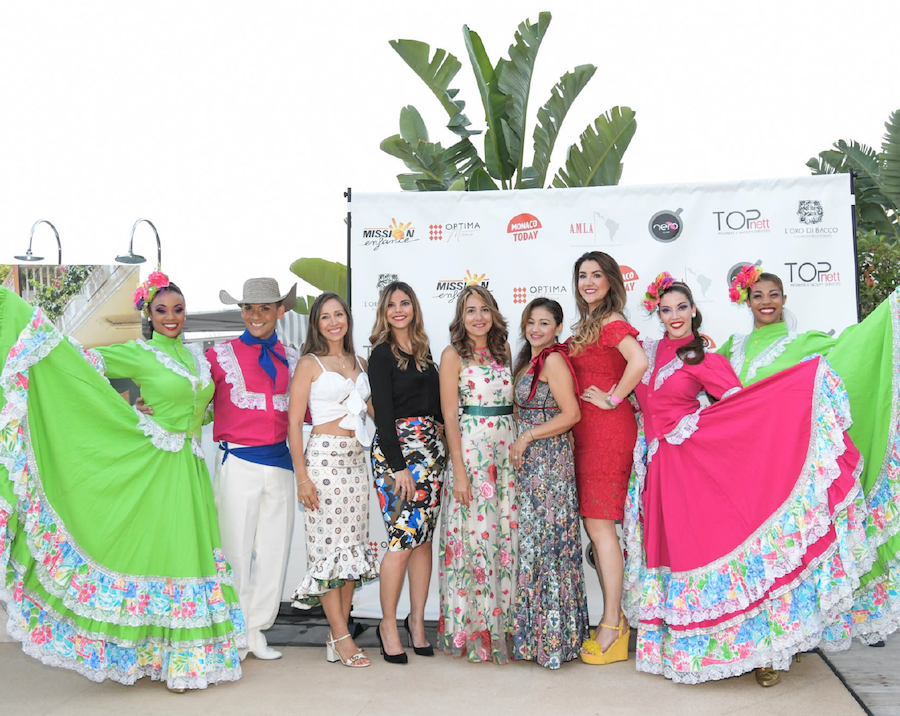 Why did you create the AMLA association?
I am privileged to have been able to study and have parents who pushed me to try things and grow. So, I wanted to give something back. I'm a proud Latina and I'm also aware there are some cliches. Even though in Monaco it is much less, you do experience a little bit of racism and categorisation being Latina. I had to clarify that there are Latinos in good positions all over thew world. I wanted to be a door between Latin America and Monaco.
We originally wanted to help local charity organisations because we thought it was a good way to make sure the money got to where we wanted it to go. We chose organisations we knew personally, or that had contact with people we knew locally. This means we can hand-pick the little projects we are interested in.
Long term, I hope to one day explore economic options. A dream is to send a Monaco delegation to Bolivia, like they did with Brazil; to look at us as access to Latin America.
How are you building the profile of AMLA?
Building a community through an association is difficult. AMLA has been successful because of the quality of the events we do. Our events don't make people feel like they are there to impress or to be seen. People are literally there to have fun. We want to be open to everyone! We want people to experience the Latin American way… being amongst friends, listening to nice music, with good cocktails, decorations and other nice people. The idea is to awaken interest in Latin America. We do need to position ourselves as more than just parties though, and this is the next challenge.
Moving forward?
I see myself as a window to an association with a proven track record. I want to build membership, anyone can join, you don't have to be from Latin America. The idea is to say 'you come to AMLA, and AMLA hooks you up with the world'.
By Cassandra Tanti & Stephanie Horsman