With a 100% pass rate, the International School of Monaco is able to boast an exceptional pass rate in what can only be described as an extraordinary year.
Many of these students have been accepted into the UK's leading universities, including King's College London, the University of Exeter, UCL and two into Oxford.
Monaco Life spoke to three students: Jett Nunn, Tommaso Pelanconi and Marina Nalbantis, about how they made it through the most challenging school year in living memory, what they thought when the Bac exams were cancelled, and what their hopes and dreams are for the future.
Monaco Life: What were the biggest challenges you faced during lockdown?
Jett: I went away with my family to the countryside as soon as lockdown started so I was very isolated and didn't see any of my friends for three months. The school was very quick to organise online interactive schooling, and I think it worked really well. I was working even more than I would have in class, perhaps because I was alone or because I was extra motivated to get good grades, but it seemed to work really well for me. It would be great, in fact, if my university has something like this next year.
Tomasso: I found lockdown easier than a lot of other people simply because, as Jett said, the school adapted very quickly to the situation. I didn't feel insecure at all about taking the exams in these conditions, because I felt like the classes we were having were almost identical to the ones during a normal school year, they were just behind a screen. There was a little less interaction, but I was alone in my room with no distractions, so I found it quite beneficial.
Marina: We had online classes for a little while and that was a bit difficult having to look at a screen all day, but the school definitely made a big effort to help us and the teachers were available at all hours if we had any questions.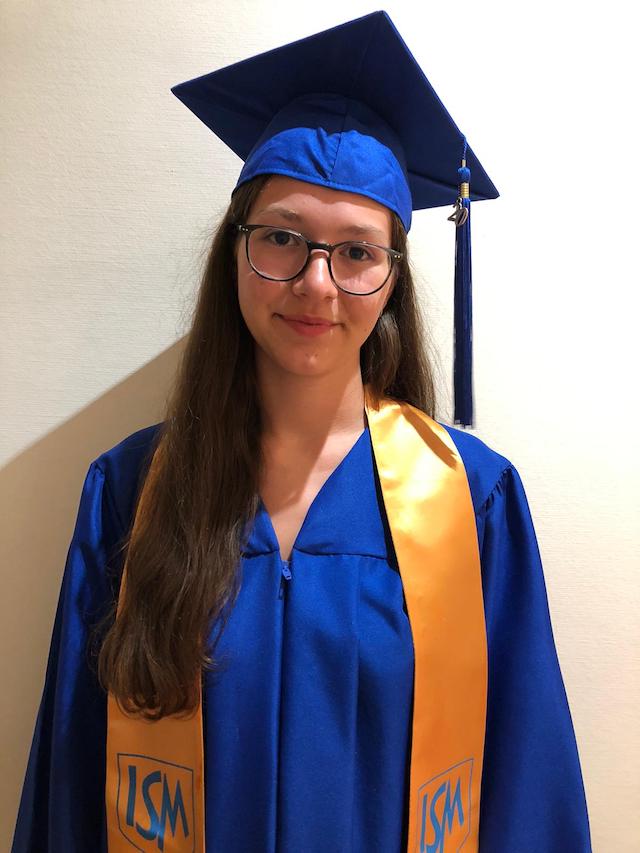 How did you feel when you learned that the International Baccalaureate results would be based on an average of the school year and not final exams?
J: I wasn't happy at all. In January, we had mock exams and I didn't study very much for them so my grade was just ok. From then on, I started working extra hours every day, revising, for the end of year exams. So when I heard we wouldn't be doing them, I was devastated. I felt like I had really been rising up since January. But I did all I could to make sure my grades were representative of the work that I had put it.
T: In all honesty, I was quite disappointed with the grade simply because it was below my average of the last two years. But I am sure there was a long discussion about it and that was probably the best option that they had for teachers, schools, students and universities.
M: When the exams were cancelled in mid-March, we didn't know what was going to happen, whether we would get our diplomas or what they would be based on, so that was quite stressful. Obviously, everyone is nervous about exams but when they are suddenly cancelled, you expect it to be a huge relief, but it's not. All the work we had been doing for two years, all that build up, was for nothing. It was a very strange feeling.
There's no doubt this was a difficult situation, but you've all managed to achieve great results and were accepted into some very good universities. Can you tell us about that?
J: I was accepted into Exeter, St Andrews and Cass in the UK. But I decided to go to Esade in Barcelona because I prefer the course and living in a large city, and the school there is very good.
T: I was accepted at Cass for all the courses I had applied for. Outside the UK, I got accepted into ISC in Paris and Esade in Barcelona, and I also decided that Barcelona would be the best option for me simply because the country and the city are amazing. It also allows me to learn a fourth language and widen my potential in the future.
M: I was nervous about getting my results despite the fact I had a conditional offer from Oxford, but as soon as I saw the numbers, I was relieved I was in. I will study law, and I am excited to learn more about human rights law. When I was in Year 9, one of the mothers at the school started a philanthropy course and I have been involved in that ever since. I was president of the philanthropy club during my last year at ISM and so I think that's really directed me towards helping other people and looking at human rights law as a way to affect positive change in people's lives.
What was your experience like at the International School of Monaco?
J: Overall, I had a very happy schooling. My parents weren't extremely concerned with my grades, even though I did end up doing quite well, they just wanted me to be happy in school and ISM gave that to me. I enjoyed school, I made amazing friends for life, and had very good relationships with all my teachers. I think every time I come back to Monaco I will go to the school and speak to my teachers. It was great.
T: I think the key asset of ISM is the fact that it is a truly international school. We were able to make friends and have conversations with people from all walks of life, from all across the globe: Russia, Germany, US, Europe, Asia … even if they are not originally from there, they all lived there and have travelled a lot, and it is always very enriching to have people around you from multiple diversities, it makes you more open minded. In terms of the school itself, since it is quite small, we were able to get really close to our teachers and approach them even in a break or lunch time and ask them anything. They were always there, hands open to help us, which I found extremely useful. I think it is the relationships we had with students and teachers which made the school a really nice place to study.
M: It was definitely a good experience. The school is so supportive and there is such a close network with parents, teachers and students. It is a very supportive environment and they do a lot more than just academics, they support our wellbeing and our education outside of the classroom.
What are your dreams for the future?
J: I am still slightly lost for what I want to do, but I am not going to stop searching until I find something that I just love doing.
T: Honestly, I think we are still too young to give a very specific answer, but hopefully in five or six years, when we have done work experience and completed university, we will be able to have a clearer idea. But for me, in the future, I really just want to wake up in the morning and be happy doing what I'm doing. Because as long as that's the morning routine, I don't think it can get any better.
M: I am looking forward to meeting leading professionals in their field. What I love about law is that it's so versatile.
You had a different kind of graduation on 25th June – a virtual graduation – followed by a small get together at Stars n' Bars. Were you disappointed you couldn't have the traditional send off?
M: Of course, it was disappointing not to have the big graduation event like normal at the Hôtel de Paris, but I think the online graduation was really lovely. It was really nice to see some faces again and share that moment together. The messages from Prince Albert and Nico Rosberg made it extra special.

Top photo: Tommaso Pelanconi and Jett Nunn