From cold soups with broth extraction and king crab, to lasagne and sugar-free meringue, guests of the new restaurant Yannick Alléno at the Hermitage Hotel are being treated to "simplicity" in modern cuisine.
He is a Rockstar of the gastronomic world, celebrated for his visionary approach to the culinary arts, twice rewarded three stars in France, holder of 14 Michelin stars, and member of the exclusive circle of the greatest chefs in the world.
With restaurants in Paris, Courchevel, Seoul and Dubai, his latest venture means that lovers of fine food need only travel as far as the Hermitage Hotel in Monte-Carlo.
On Tuesday 18th May, local press including Monaco Life were joined by Minister of State Pierre Dartout, National Council President Stéphane Valeri, SBM CEO Jean-Luc Biamonti, Hermitage Hotel General Director Louis Starck and government ministers for an exclusive introduction to Yannick Alléno at the Hermitage Hotel.
On the remodelled Mediterranean garden terrace of the hotel, surrounded by olive trees, citrus fruits and jasmine, Yannick Alléno laid out his gastronomic vision for Monaco in eight perfect plates.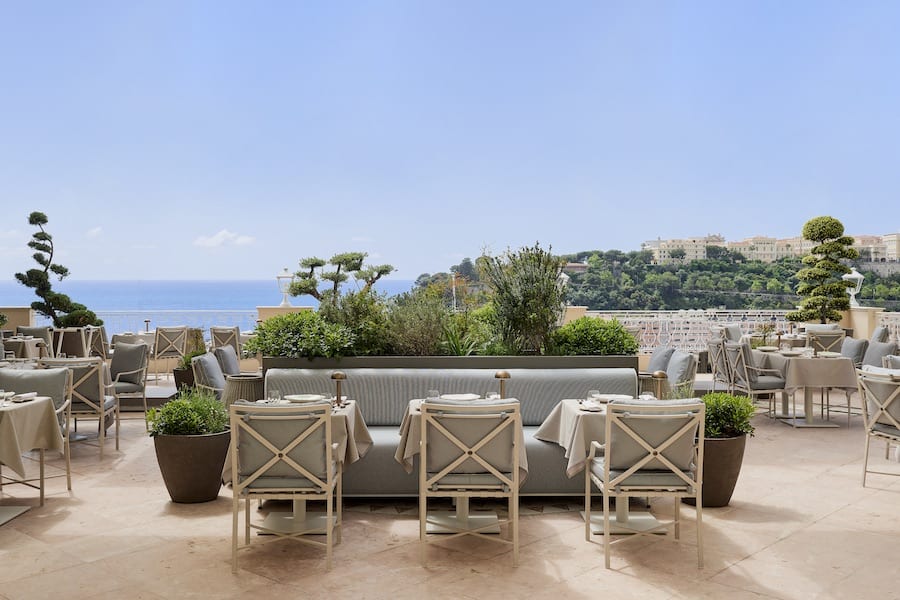 Joined by five of his staff from Paris, Yannick Alléno walked into the kitchens of the Hermitage Hotel four months ago to start a new chapter in the life of Monaco's prestigious palace, forming a powerhouse team with the chefs and staff of the former Vistamar.
"They are very happy for the opportunity to have a new challenge," Yannick Alléno tells Monaco Life of his new team. "My priority was to be accepted by them and I feel that this has happened. After a certain period of time, they started to trust us."
Trust is essential in the high-performance kitchens of Yannick Alléno, whose charismatic nature masks a burning compulsion for perfection. His dishes are elegant, precise and instantly understandable.
Yannick Alléno calls it "simplicity".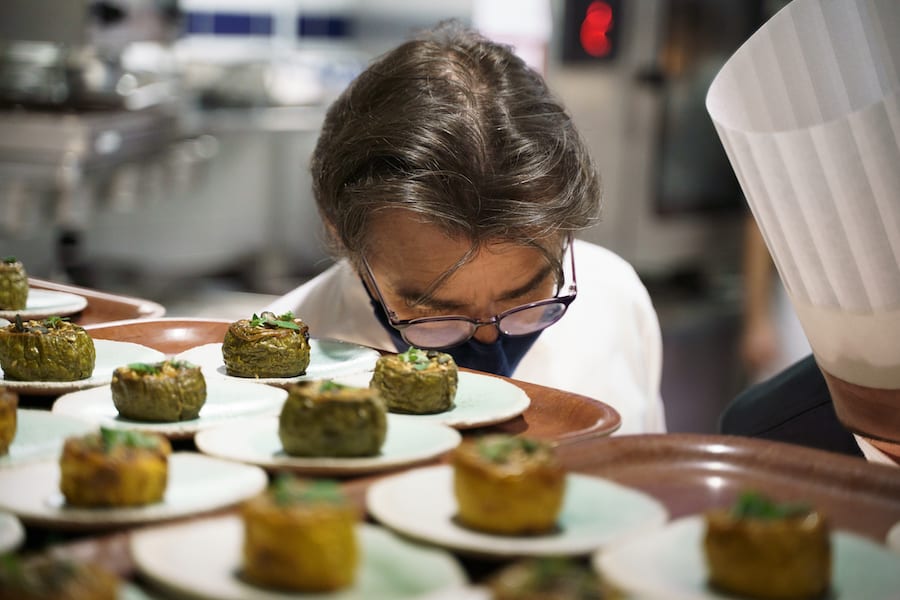 Drawing on Monaco's location, the weather, and the clientele, the chef has created cold pea soup with wild strawberries, lobster in cold bisque with roasted pistachio whipped cream, and cold vegetable ravioli with his trademark extraction broth and olive oil – clean, uncomplicated, renaissance cuisine.
"I think we are losing certain things," says the chef. "Cold dishes, for example, have disappeared from the menu. But what do you want to have when the sun is shining and it is hot? Just a salad, or cold fish with a light sauce, a cold soup with a flavoursome broth… dishes that also give your metabolism what it needs? That is the direction that I like to go in."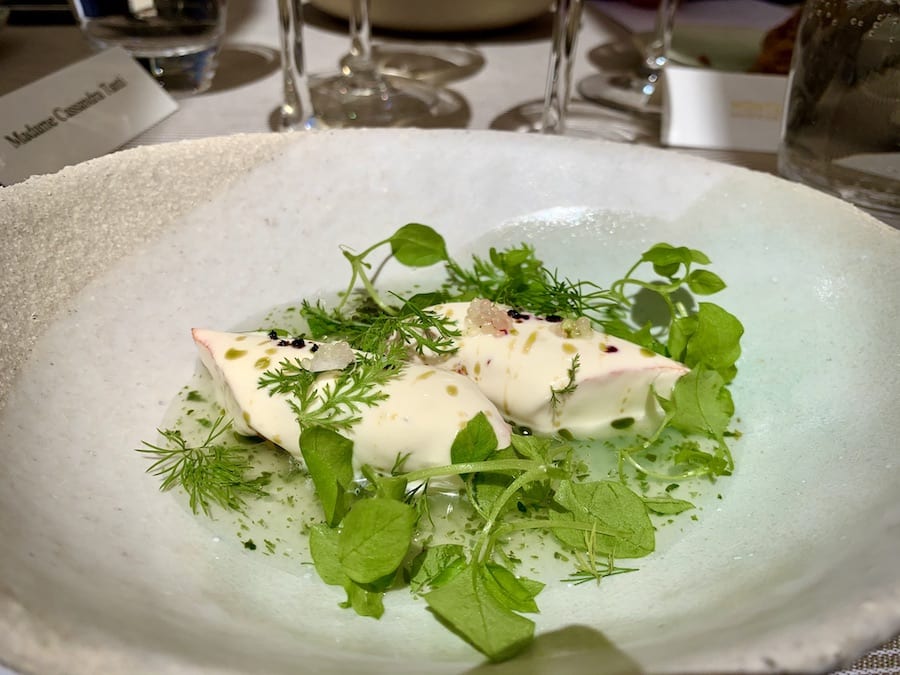 That "comfortable simplicity" extends to the hot dishes at the Hermitage, where his signature steamed cheese soufflé and blue lobster spaghetti sit alongside rack of lamb with lemon balm and 'Luigi Taglienti's' lasagne (Michelin starred chef from Milan).
"We created the menu with our customers in mind," says Yannick. "I thought to myself, 'If I live in Monaco, what kind of restaurant do I want to go to?'. There are a lot of exceptional restaurants here, many starred restaurants, but for every day, what do you have? People who live here are also looking to find a place that is simple and comfortable. It is very tough to do simple."
In 2013, with the help of French scientist Bruno Goussault, Yannick Alléno created a unique and revolutionary process called 'Extraction', which allows for the concentration and perfection of flavours. In regular kitchens, the concentration of flavours is achieved by evaporation using heat. Extraction, on the other hand, uses correct cooking temperatures to preserve the elements from destructive heat and brings the products to the fore so that they render and develop their purest flavours without the need to add any fat or other ingredients. Alléno's modern sauces are a blending of several 'Extractions'.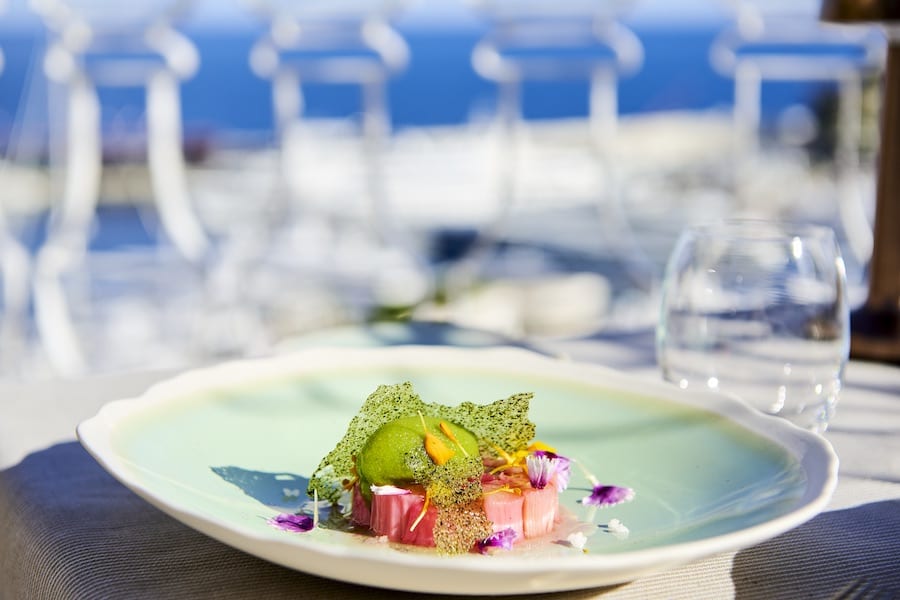 His avant-guard approach is summed up in the sugar-free desserts that he creates: Candied crust rhubarb with herbed sorbet, Monte-Carlo mousse with strawberries in vanilla, and gluten free almond paste crisp with cherry jelly.
Creative, technically perfect, structured and delicate, Yannick Alléno's dishes are served in a particular sequence to offer the diner a majestic experience of flavours.
And with menus from 68€, the chef aims to make gastronomic cuisine available to everyone, even in the Principality of Monaco.
"When I was a commis chef at Le Royal Monceau in Paris, I wanted to impress a young lady at a one-star restaurant," reveals Yannick. "It was December, and of course the maître d' sold me a truffle menu. I had to pay what I get in one month for that meal, and trust me, I was afraid to go back into a restaurant again. That is what we have to break. The three stars are too far away from the expectations of normal people, we have to make it accessible to the younger generation, to everyone.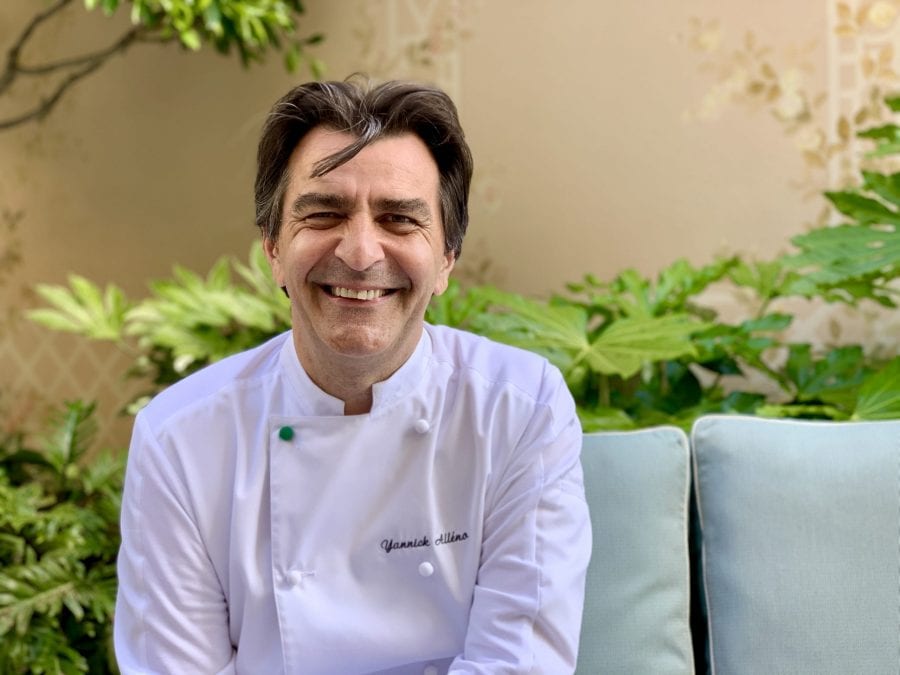 "The positive thing that Covid has taught me is reality – there are no Chinese, Japanese or American tourists right now, so what are we doing? We have to bring back our conversation with our neighbours and say: 'Sorry, we have made a mistake, sorry we forgot about you. If you would like, you can have a 12€ starter, or if you want caviar, you can have caviar."
Within the year, the Hermitage Hotel will flourish even more at the hands of Yannick Alléno's designer from Paris, Chahan Minassian, who will transform the restaurant into a Mediterranean version of the Pavillon Ledoyen – Yannick's six-starred establishment in Paris – complete with open kitchen.
"The Pavillon project is what I love," says the chef. "I love to be behind the counter and in those conditions. A table is a circle, and it is very difficult to go inside a circle, for the service and for a chef. But when you are in front of people, you are in the life of people, with discretion of course. It is a different kind of relationship."
His flagship restaurant Alléno Paris was awarded three Michelin stars after just seven months of opening. His two other restaurants within the Pavillon Ledoyen, the sushi restaurant L'Abysse and gastronomic counter Pavyllon, were awarded two stars and one star respectively in equally impressive time.
It is clearly only a matter of time before Chef Yannick Alléno is delivered another Michelin star in Monaco.