The Grand Medal Albert I has been awarded to Ban Ki Moon during a special ceremony at the Oceanographic Museum of Monaco. He was one of three recipients to receive the coveted award, which recognises those who have been particularly socially or scientifically involved in protecting the seas.
The Oceanographic Institute has been presenting this prize for over 70 years and this year's recipients were Ban Ki Moon, Lisa A. Levin and Violaine Pellichero, who all have contributed in different yet equally important ways to the defence of our oceans through awareness and sustainable management.
Ban Ki Moon is best known for his role as Secretary General of the Union Nations, where he was a huge proponent and advocate of environmental protection. Now, as a private citizen, the South Korean is still active in several projects worldwide through his foundation. He was chosen as the recipient of the Mediation Section Laureate, reflecting those political and economic decision makers who have the highest level of commitment to guarding the sea.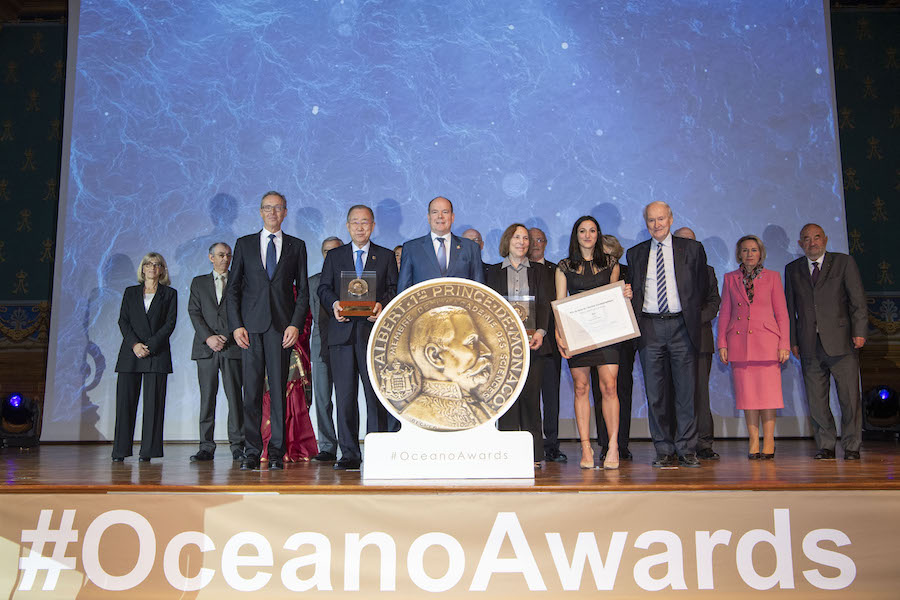 The Science Section Laureate, awarded to the person who raises consciousness about the direct impact humans have on the environment through scientific means, was awarded to Professor Lisa A. Levin. As a prominent oceanographic biologist, she is studying the impact of climate change on sea beds in both deep and shallow waters to assess what effects are being felt.
Violaine Pellichero, winner of the Thesis Prize, was given this award for her seminal dissertation entitled Study of the Dynamics of the Surface Layer and Surface / Ocean Interactions in the Southern Ocean under Sea Ice.  
Prince Albert I, great-grandfather of HSH Albert II and namesake of the Grand Medal, was a life-long devotee to the study of the oceans. He founded the Oceanographic Museum in Monaco to highlight his keen interest, and was the inventor of several techniques and instruments used in exploration.
Previous winners of the Grand Medal Albert I include such well-known names as Jacques-Yves Cousteau, Leonardo DiCaprio, Erick Orsenna and Paul Portier.
Top picture: Ban Ki Moon, Prince Albert, Lisa A. Levin and Violaine Pellichero