In February, Irina Peterson will embark on the adventure of a lifetime. She will be one of 300 carefully selected women across the globe to take part in eXXpedition and the only woman representing Monaco. Her mission: to collect ocean debris for research purposes. Her goal: to help save the most endangered marine species on the planet.
Irina, co-founder of Broth by Design, spoke to Monaco Life about why she is willing to put her life on the line for an all-female research mission.
Monaco Life: Can you tell us how it all began?
Irina Peterson: As a young girl growing up in communist Romania, every Sunday morning I would watch Jacques Cousteau's documentaries, mesmerised by the underwater 'Silent World'. Even though we had a black and white television at home, when I closed my eyes I could see the vivid colours of the marine life and it was all so incredible to me. This legendary French navigator transported me to the ocean and allowed me to escape that grim childhood and have my own dreams.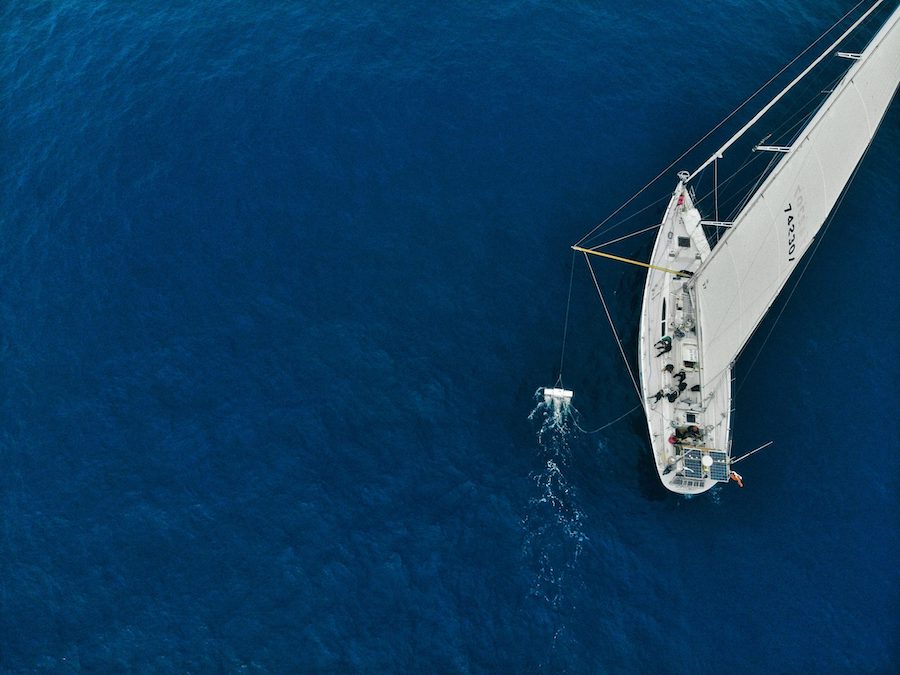 When did you decide to take that dream and make it a reality?
Months ago, I discovered eXXpedition, a concept created by eco warrior Emily Penn. Her ambitious plan is to organise round the world sailing trips, taking a total of 300 women on 30 different voyages with a professional crew through some of the densest ocean plastic accumulation zones in the world. Plastic pollution will be studied onboard the research vessel while samples will also be sent to three of the most important marine institutes in the world – Plymouth, Georgia and Hawaii. Those institutions, in turn, will share their findings on the impact that microplastics and chemicals have on our bodies and our health.
So, I applied and the process took about six months. Finally, I was told that I will be part of the expedition I wanted, which is the trip from Galapagos to Easter Island. I was also informed that they had chosen me over 10,000 candidates, so when I realised I had been selected from such a large pool of people, and that I was the only woman who will represent Monaco on the expedition voyages, I realised that there is a much bigger story to be told, one that connects to my own personal story and brings forward practical solutions which are within the means of each one of us to do.
And that's how Ocean Amazon was born. I also decided to create a documentary that will show my whole trip, including the 20-day expedition as well as the volunteer work I will be doing on Galapagos island with the Charles Darwin Foundation for 12 days prior to boarding the boat and – once I arrive on Easter Island – I will be meeting with local communities to understand and document the challenges their environment faces.
So, I am now learning how to film with an iPhone and a small submersible camera and will hopefully have enough material to create a beautiful story.
Through the Ocean Amazon documentary, I am hoping that we can give our children a story that they can share with generations to come, just like that little girl watching Jacques Cousteau in Romania on a Sunday morning.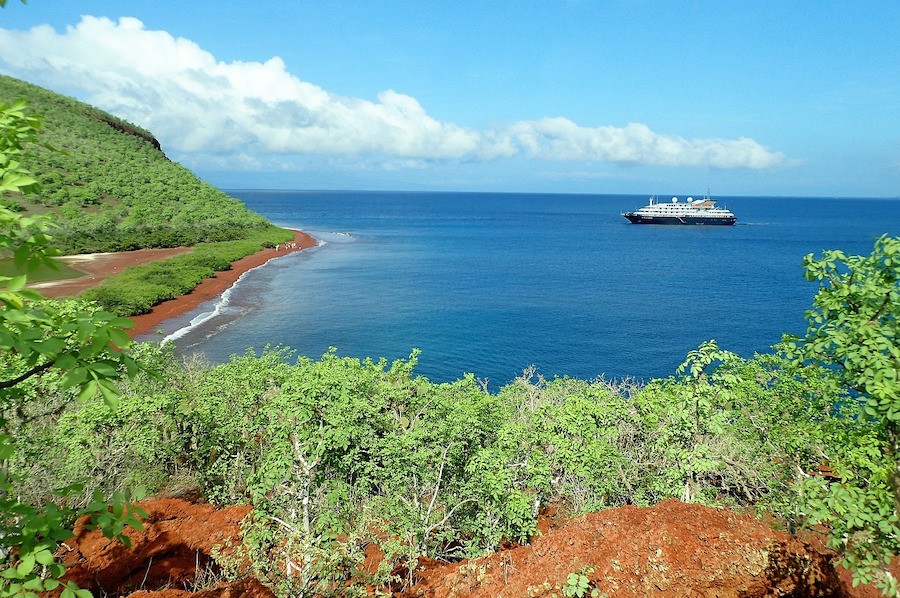 What was the application process like?
Once I submitted my interest to be part of the crew, I received a very detailed questionnaire followed by psychological tests and I also had to prove my sailing skills. Having sailed for over 15 years at various levels (including sporting regattas) and representing the Yacht club of Monaco, of which I have been a member for as many years, I had to certify that I have a certain skill level, especially because this particular leg – San Cristobal in Galapagos all the way to Easter Island – is very difficult to sail. We have the Humboldt current, crossing the South Pacific Gyre, an area of ocean currents that led to the creation of a large plastic accumulation zone, providing unique findings for our scientific research. But we will also be in an area that is not highly navigated, so if anything goes wrong there are very few vessels, for example, to provide quick intervention. Therefore, our group of 10 selected female crew has to be prepared to help the professional sailors on board.
I also had to create a short video describing what I intend to do after the expedition, how I will be an active ambassador promoting the values of the expedition.
Why is it important that this is an all-female expedition?
Firstly, you agree with me that it is unusual, but it shouldn't be. It should be more common to have a female-strong crew, but its uniqueness helps to raise awareness, to encourage more women to become navigators and agents of change.
Another goal is to show the link between the toxic chemicals that are found in the ocean and their impact on our health, particularly female health, including fertility, immunity and decreased IQ in children.
Last but not least, 85% of household decisions in terms of purchases are made by women, so if we get women to be more aware about the choices that they make every day – cosmetics, food, avoiding single use plastics or other harmful packaging – this will be a fantastic success.
You have received a lot of support from Monaco so far, for example Monaco Impact donated a cheque for your expedition. How are you using that support?
It is a great honour and privilege to be the only woman from Monaco taking part and one of my missions with Ocean Amazon is to give a voice to our country's environmental concerns, as well as the Prince Albert II Foundation and its specific practical solution projects. The foundation is one of the partners supporting my project and they already have a long-standing partnership with the Charles Darwin Foundation, whose headquarters are in the Galapagos and with whom I will be volunteering.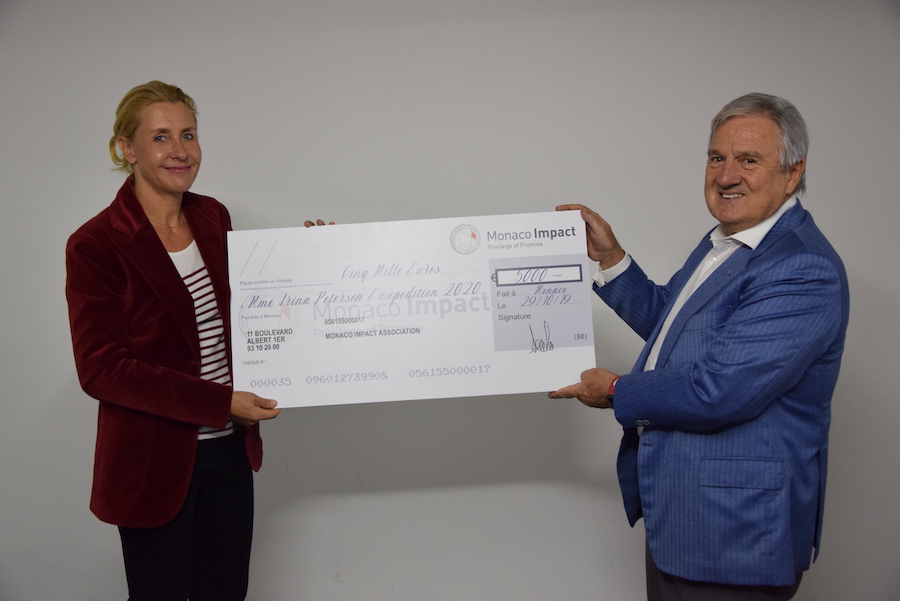 There are a few sponsors, and Monaco Impact is one of them, for which I am very grateful. The Gustavia Yacht Club is another, also the Monaco Yacht Club which very generously organised a dinner conference on 5th November and offered the proceeds to Ocean Amazone. They are also helping with sailing training and communication, and there are other partners who support Ocean Amazon. The proceeds will go in a few directions: to help cover my participation in the expedition, to help create the documentary and generate media coverage, and to support my Ocean Amazon initiative to save the vaquita – a porpoise of which there are only 10 to 12 believed to be still in existence in the Gulf of Mexico. When I chose my logo for Ocean Amazon I wanted to incorporate the most endangered marine animal, because I thought if humanity is able to save it then it shows what we are capable of and gives us hope for all the other endangered species.
Recently I discovered that a voice much larger than mine – Leonardo DiCaprio – is involved in a project to save the species. He produced a documentary called 'Sea of Shadows' which has been broadcast by National Geographic. It is an incredible documentary showing how this small porpoise has become a victim of the drug cartel in Mexico, and various groups including Sea Shepherd, activists and journalists are trying to save it while dealing with corruption. I highly recommend people watch it.
Following in those footsteps will be an Ocean Amazon documentary, so that is where some of the proceeds will also go.
Do you know who else will be joining you on the expedition?
I met a few of the other ladies in London when we had the global media launch in September. One is a rockstar in terms of fashion activism, her name is Carry Sommers, a co-founder of ethical campaign Fashion Revolution in the UK. There is a contemporary artist named Claire McClusky from Ireland, and she wants to show how the state of the ocean impacts our emotions. There is an important eco-activist from Chile, an avid sailor who works with refugees from Syria… so they all have very diverse and interesting backgrounds and we are united in this common passion for the ocean.
Do you consider yourself an eco-warrior?
Firstly, I want to reveal the fact that I am an imperfect human and an imperfect activist. I drive a car that is not electric; I still purchase food items in single use plastic sometimes because it is convenient or there is a lack of choice; I eat meat although I try to reduce my consumption and be responsible about it; I fly, because I have an active life and a business that's growing. This is all to say I am imperfect and I forgive myself for that and, while realising my imperfections, I am also committed to putting one step forward every day and trying to make a difference. For example, I have a little dog and when we are out walking, I take a big bag with me and pick up trash. Now, my friends do the same.
I don't think it's positive to just point fingers at each other and highlight the things we are not doing right, but rather celebrate every positive action that we are doing. I like to lead by example in that way.
You are never too small or insignificant to make a difference.
When does the expedition begin?
I chose 02/02/2020 as a symbolic date to depart Monaco. Then I go to the Galapagos where I will spend 12 days doing volunteer work before I join the other six 'sailor sisters' to board in the Galapagos on the 15th February.
Follow Irina's expedition:
Facebook: https://www.facebook.com/oceanamazone/
Instagram: @oceanamazone
Website: https://www.leetchi.com/c/ocean-amazone