Marta Grigorieva has forged a career creating the most difficult of all painting genres – realist portraits. The Russian native spoke to Monaco Life about her most famous subjects and how she approaches the difficult art of portrait painting.
Monaco Life: When did you decide to become a painter?
Marta Grigorieva: I am originally from St. Petersburg and since the age of 10 I wanted to paint, but I went to music school studying violin and piano. Then I studied economics, and later fine arts after moving to New York, where I subsequently worked at Christie´s and Sotheby´s. In New York I had a privilege to study with the leading American portrait painter Nelson Shanks. I left the corporate world and decided to pursue painting full-time in Italy. Obviously, all the corporate experience is still useful today. But essentially, I enjoy creating art and giving joy to people in that way.
What brought you to Monaco?
I was in London and my clients introduced me to Sir Stelios Haji-Ioannou. When I came here his friends commissioned his portrait for his 45th birthday. Then Stelios commissioned a portrait of Frank Sinatra and Luciano Pavarotti for an apartment that he had just purchased here. From there, painting requests just started flowing in, and I gradually moved from London to Monaco. That was eight years ago.
What was it like to create a portrait of Sir Stelios?
The portrait was to be a surprise from his friends so I was given a selection of photographs and we chose the one with the best composition  – he was looking like a "commandante" holding the wheel of a sailing yacht. But as a serious businessman, I could not portray him as he was in this picture – in a baseball cap, t'shirt and no shoes. So, I flew to St. Barths to take photos of him while he was navigating a sailing yacht. And that's how it often works, it's never an interpretation of just one photograph, rather many details are taken from various  photos in addition to meeting in person to make a complete portrait.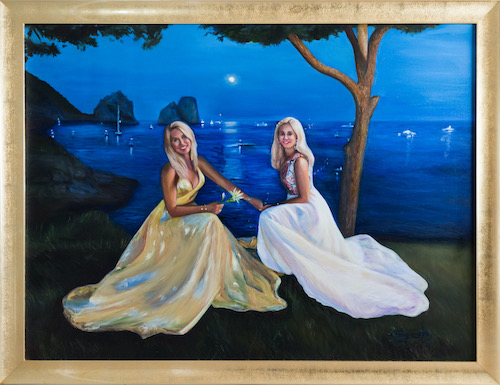 Have you painted any other well known personalities?
I recently completed a portrait of Dr. Elena Ambrosiadou, called a 'Fairytale'. It is a large painting, 130 cm by 170 cm, depicting a landscape in Capri Island. It is from a picture taken at the wedding of Espen Oeino and Sabrina Monteleone during a full moon eclipse. Dr. Elena Ambrosiadou is on the right and on the left is Norwegian veterinary Doctor Trude Mostue. It took me 10 months to complete it. I actually painted for an extra month after I was paid in full because I knew I could do better, searching for more harmony in painting, improving personality likeness as well as retouching the sea waves . This was a very challenging painting because the photo was taken on an iPhone in the middle of the night, and I had to replicate that happy, joyful moment.
What technique do you use in your painting?
I paint with oil on canvas, academic painting with Impressionist colours. So, it is a direct approach to painting without a preliminary drawing or study. It is really interesting because it looks like an Old Master painting yet you can see it is painted today, as the colours are vibrant in that Impressionistic palate.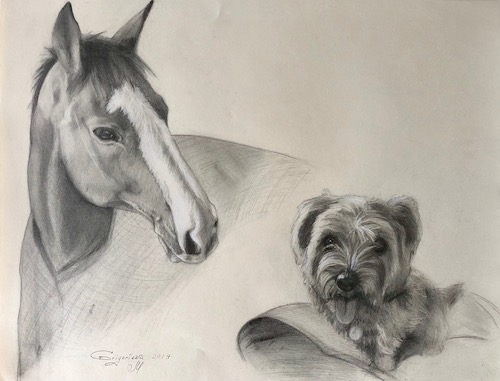 I see you also do animal portraits, are they popular?
Indeed, I had an exhibition at the Yacht Club of Monaco in May 2019 as part of a family office conference from London and I was asked to make a portrait of a horse and a dog for the organiser of the conference. While in London I went to the countryside to photograph the horse and dog and made a drawing; it was a black and white portrait of these two wonderful animals. Sadly, the dog has since passed away, but he has now been immortalised in this painting. I also had a client who lives in the Odeon Tower requesting a portrait of their dog named Lily. I called her Lucky Lily because she was found with a homeless person in Juan les Pins, and the couple brought her to Monaco. Now she has a perfect life and is a very important part of their family, and they all admire her portrait in their family collection.
Would you prefer to paint people or animals?
People are more challenging of course, but I do prefer to paint people. I also enjoy painting landscapes; driving out of town to paint en plein air is more of an exercise.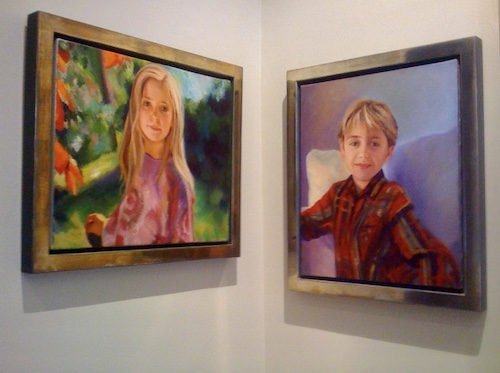 What does it feel like, after working for months on a portrait, to finally hand it over to the person who is the subject of your work?
I have a very big responsibility in painting portraits but handing it over, finally, is a wonderful experience. It's a celebration, essentially.
Tell us about your philosophy in terms of how you approach your work as an artist?
I lost my father when I was 18 and I realised that life is precious. I want to paint because I wanted to leave a legacy, and I know my paintings will survive me. My paintings are held in private collections throughout Europe, Russia and the US, and they are usually positive. I never paint when I am unhappy or in pain. I try to recover, and only work when I feel good, so there's a positive vibe resonating off the canvas.
What's next for Marta Grigorieva?
I am about to release an illustrated e-book I created about Monaco for children and adults. It's called 'The Secret Life of Napo in Monte Carlo', and it's about a dog who runs away and explores the region, meets new friends, and discovers the local culture and landmarks throughout his adventures.
Top photo: Marta Grigorieva with her painting, Dr. Elena Ambrosiadou is on the right and on the left is Dr Trude Mostue