Three Michelin star chef and 'leader of modern cuisine' Yannick Alléno has officially opened his restaurant the Pavyllon at the Hôtel Hermitage, endowing the people of Monaco with an unprecedented sensory experience.
It was during an exclusive press lunch on Saturday 23rd April that Yannick Alléno, holder of 13 Michelin stars, unveiled his new pride and joy – the Pavyllon at the Hôtel Hermitage.
It is the climax of an affair that began two years ago when Alléno accepted an invitation by General Manager Louis Starck to be guest chef at the Hermitage, eventually taking over the hotel's Vistamar restaurant in May 2021.
Now, following an extensive renovation, the Pavyllon is an exciting display of the chef's bold and creative vision for fine dining, a mirror of its Michelin starred sister, the Pavillon, in Paris.
"I felt like it was the right time to bring fine counter dining – serving up good food, fast – to Monaco," says Chef Alléno. "It encourages people to interact and makes them feel involved, as well as being a vibrant, companionable and theatrical experience."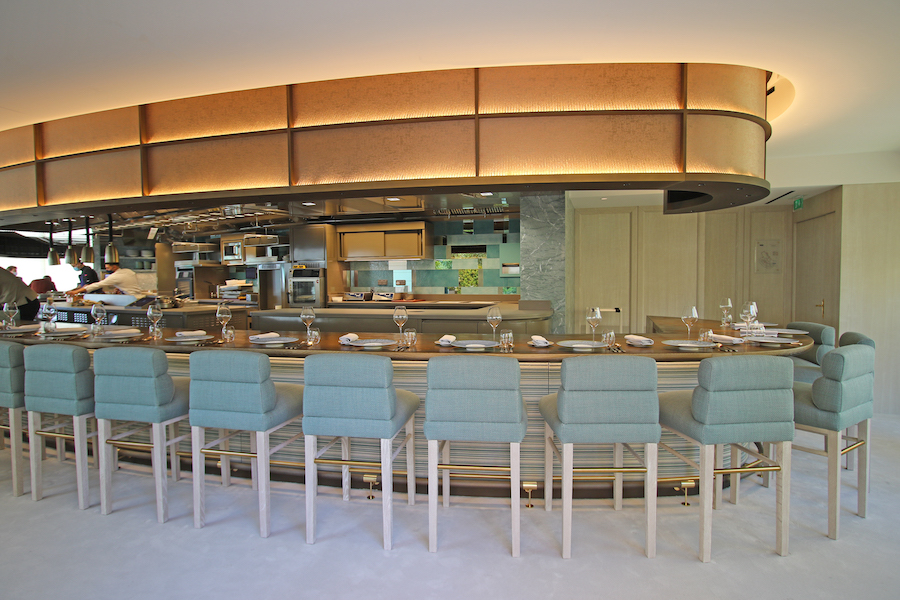 Free from the constraints of traditional gastronomic dining, guests are invited to sit around a large bar, the counter serving as a bridge between kitchen and dining room, where guests are encouraged to talk freely to the chefs as they add their finishing touches to the plates.
It creates a relaxed and convivial atmosphere, where sophistication and attention to detail align with the simple desire to have fun.
Yannick Alléno on a plate
This 'leader of modern cuisine', who boasts two restaurants with three Michelin stars, is among an elite circle of the world's greatest chefs, driven by a passion for creativity and innovation; a man who constantly pushes the boundaries of fine dining.
His ambition, he says, is not to add just another Michelin star to the one he has already achieved here, "my ego is fine", quips the 53-year-old. But he would like to win more accolades with a Michelin Green Star, a relatively new award that highlights restaurants at the forefront of sustainable practices. He plans to achieve this by using fish that complies with the Mr. Goodfish programme and fresh produce from the Hôtel Hermitage Monte-Carlo's own gardens.
"The Mediterranean is overflowing with colour and gardens," says Alléno. "We enjoy working with gourmet local produce to make ethical, tasty cuisine."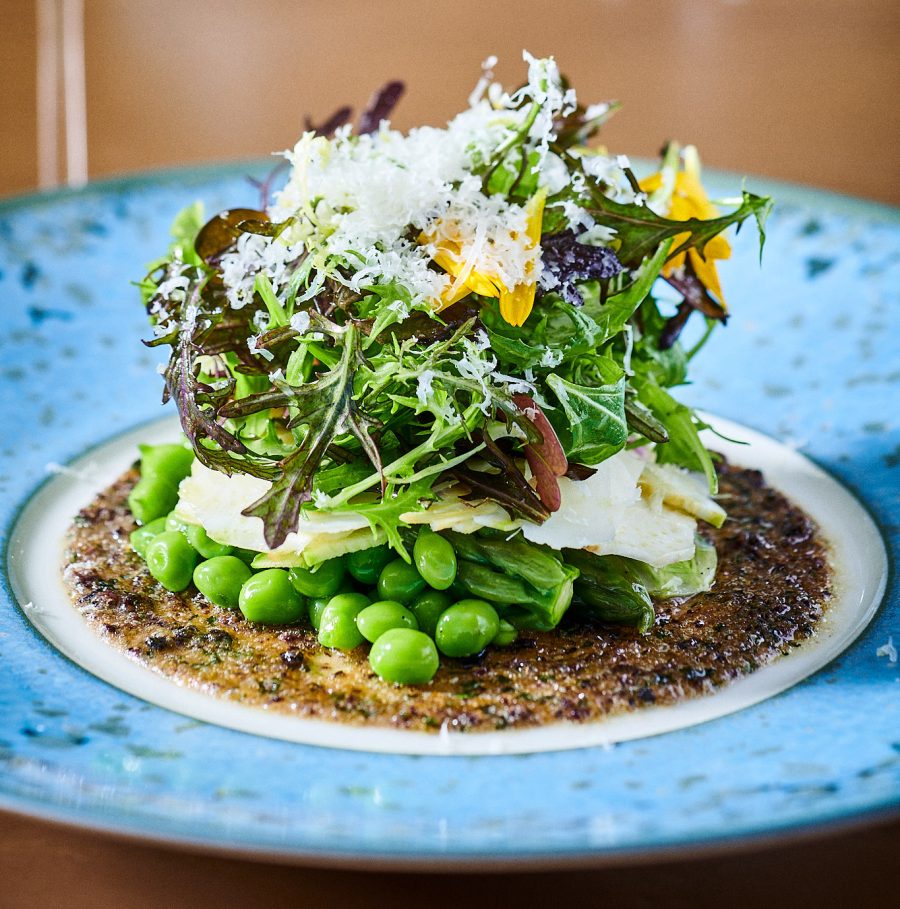 His menu at the Pavyllon takes on a Mediterranean accent while showcasing some Parisian favourites: a simple mesclun salad is transformed with fresh peas kissed by the Riviera; his signature 'badaboum' egg, expertly poached, is cut open by Chef Alléno himself to reveal a surprise centre of rich caviar, complimented by the earthy tones of smoked crème fraiche; the 'surf and turf' with beef tartare and fish carpaccio is topped with another decadent amount of caviar; the langoustine ravioli displays perfection in one simple bite.
Among the main dishes are roasted red mullet in crispy zucchini leaf upon a collision of mango and tomato 'fondue'; and a melt-in-your-mouth wagyu feuille à feuille, featuring thin slices of beef layered with mushrooms, seared and served with a famous Alléno sauce. It is, quite frankly, like tasting a piece of heaven.
The desserts all feature Yannick Alléno's unique sugar substitute – birch water – that has been extracted from trees. We tried the crispy frozen feuillantine with almonds and wild strawberries, and chocolate fondant tart – both a testament to the bounty of natural flavours available to us in the environment.
A home within a restaurant
Yannick Alléno called upon interior designer Chahan Minassian to forge the personality of Pavyllon Monaco, just as he had done at Pavillon Paris.
The designer, who normally works exclusively on residential projects, gives guests the impression they are entering the comfortable universe of a private residence – undoubtedly a private Monaco residence, but a home nonetheless. Soft furnishings, turquoise and cream tones, and various textures encourage guests to melt into the surroundings and relax.
This collaboration between chef and interior designer appeals to all the senses: taste and smell are awakened by the contemporary cuisine; solicited sounds spread around the counter, of clinking plates and cheerful conversation; the warm feel of the dark oak counter and soft textured armchairs, wall fabrics and floors; and finally, the views – of the compositions on the plates, the exceptional setting, and the chefs moving in dance-like synchronisation.
Outside, the garden terrace maintains its incredible views of the sea, the Palace, and Port Hercule.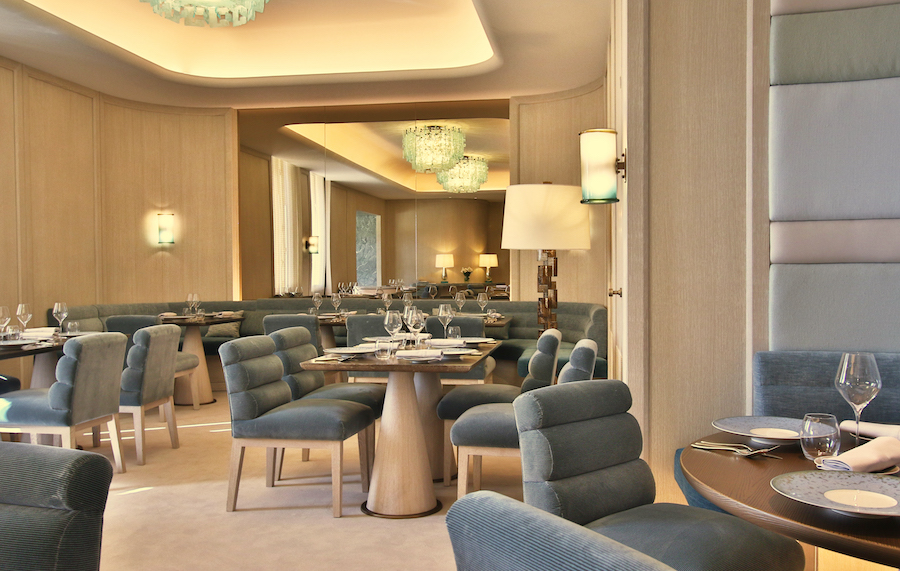 Why Monaco?
Yannick Alléno, who has restaurants in Paris, Courchevel, Marrakesh, Dubai and Seoul, says it was an obvious next step for him to open a restaurant in Monaco. "The Principality has always played a pioneering role in gastronomy, largely thanks to Alain Ducasse," says the chef. "Being in Monte-Carlo is special, it's an achievement of sorts."
Conversely, it is an achievement for the Principality to have Yannick Alléno here, especially at the Hermitage Hotel. His presence reinvigorates the "grand dame" of Monaco and puts her firmly on the gastronomic map.
From the food, to the concept, to the techniques… at every turn it is obvious that Yannick Alléno just loves to rewrite the rule books, and Monaco is all the better for it.
The lunch menu, served within an hour, features three dishes for 68€, the five-course Monte-Carlo tasting menu is priced at 145€, and the seven-course Hermitage tasting menu is 235€, all excluding wine. Dishes can also be ordered à la carte.
Click on the gallery below to see more photos of Pavyllon…
Top photo of Yannick Alléno by Monaco Life, all other photos by Monte-Carlo SBM
SEE ALSO:
Interview: Leader of 'Modern Cuisine' Yannick Alléno