A month after the elections, Mayor Georges Marsan and his colleagues have been made official. The next four years will see considerable developments in infrastructure and the "quality of life" of Monaco residents. 
This marks a historic sixth term as mayor for 66-year-old Georges Marsan, who has held the post since 2003 and ran unopposed in the March elections.  
In his first official speech of the 2023-2027 mandate, Marsan said that this time round he would oversee a major restructuring of the municipal council and introduce a number of new departments with their own dedicated delegate. Among them: Quality of Life, Environment and Sustainable Development led by Marjorie Crovetto; Youth, Gender Parity and Equality under the aegis of Chloé Boscagli Leclercq; and Revalorisation of Real Estate Heritage headed by François Lallemand. Others include culture, communal and public green spaces, and events and leisure.  
Marsan had further news to share with those gathered at the townhall, such as his intentions to improve childcare for young children in the Principality with the opening of three new crèches at the Palais Honoria, Ida and Bel Air premises. He also spoke about plans to revitalise Monaco's markets, notably the Condamine, as well as the creation of an artisan's market on the Rock and a "summer village" on the Port Hercule.  
Under Marsan's tenure over the next four years, Monaco will see the opening of an extra auditorium at the Académie Rainier III, a sports hall at the Saint-Charles swimming pool complex, the new Espace Lamartine (coming this September), a media library and the new Espace Léo Ferré (within the next two years). 
See the full list of councillors below: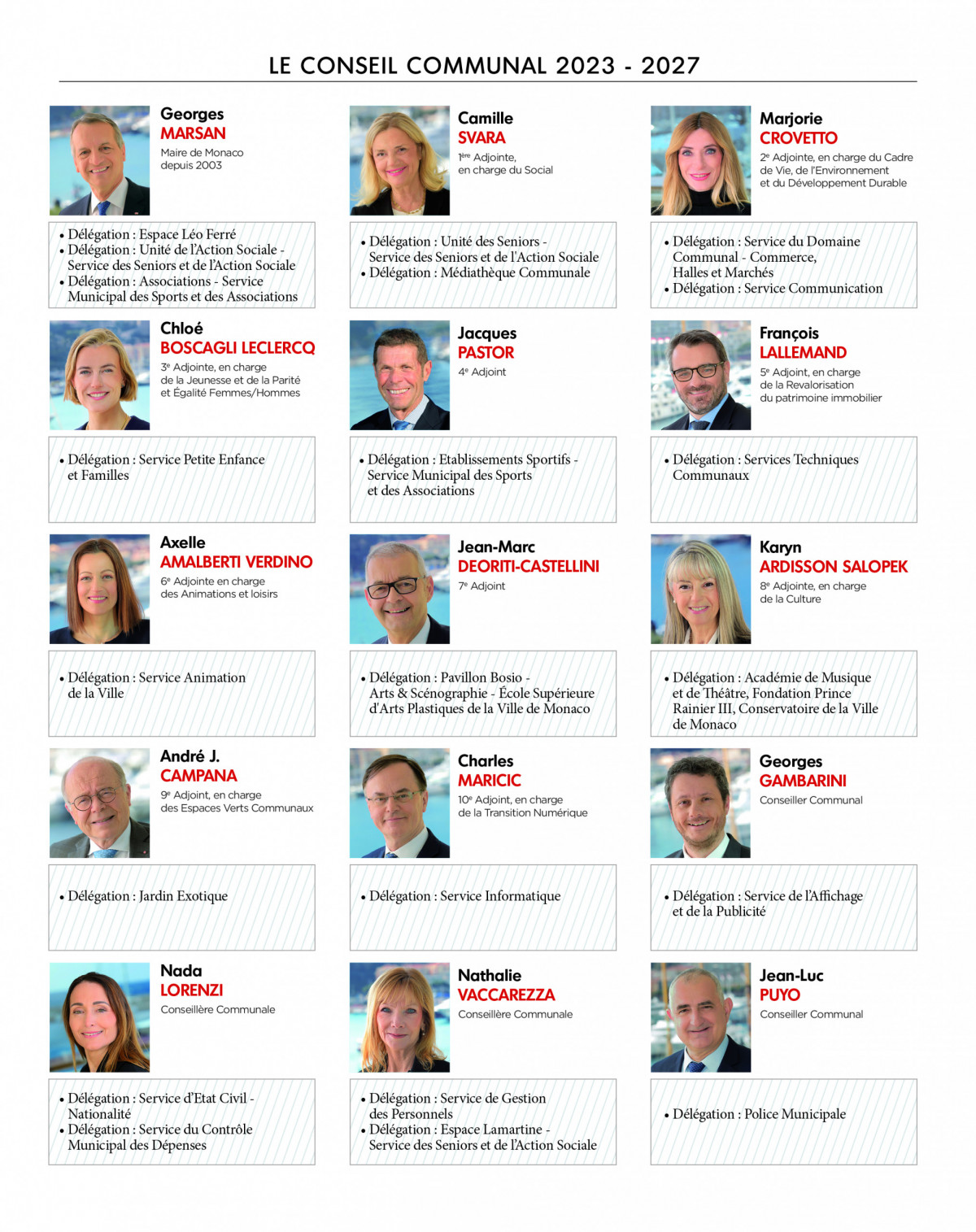 Read more:
Sign up for the Monaco Life newsletter. For the latest news, follow us on Facebook, Twitter, and Instagram.  
Photo credit: Mairie de Monaco / Ed Wright Images