For consecutive seasons, AS Monaco Basketball have made the Euroleague playoffs, this time booking their place with four games to spare with a victory over Valencia (90-76) on Friday.
Baskonia's defeat on Thursday left the door open for Monaco to secure an early qualification for this year's playoffs, having pulled off the same feat in their debut season. However, the manner of this year's regular season success was completely different.
Last season, the Roca Team's progression was dependent on a late run and the expulsion of Russian teams due to the war in Ukraine. The serenity with which they accomplished the task this year is emblematic of a team that is now well and truly at home at the highest level of European basketball.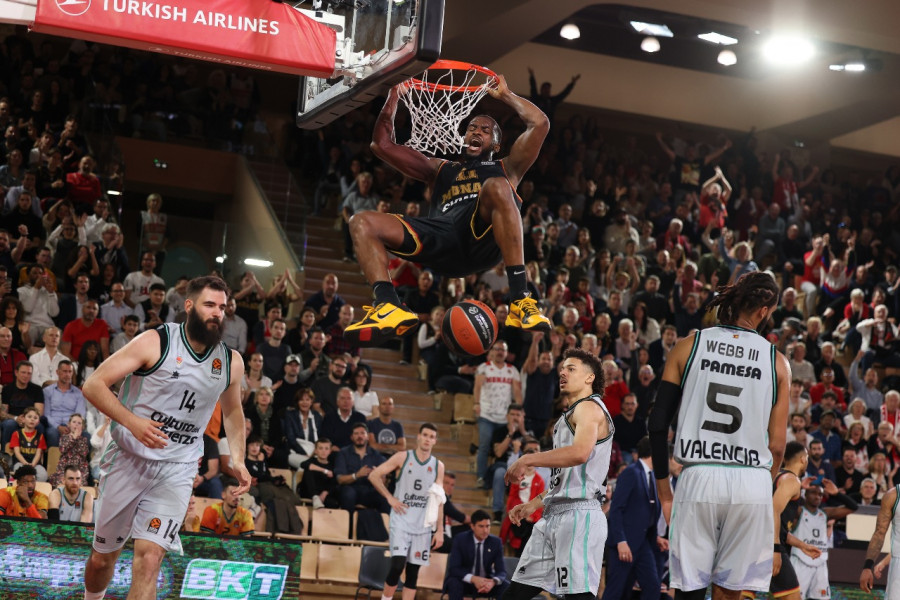 It looked like Monaco wouldn't turn up for their big night in the opening actions. Indiscipline proved costly as their Spanish opponents looked to spoil the party at the Salle Gaston Médecin.
Sasa Obradovic was forced into an early timeout, which had little to no immediate effect. Monaco were trailing in Valencia's wake, but having got into their slipstream late in the first quarter, they overtook them in the second.
Matthew Strazel (13 points) produced the game-changing moment with one of his three three-pointers before Jaron Blossomgame (14 points), and Yakuba Ouattara (six points), who scored back-to-back three-pointers, created a decisive break with a 12-point streak (45-34).
No James, no problem
From there, Valencia were playing catch-up, and whilst their efficiency outside the key throughout kept them within striking distance, the lead was never cut sufficiently to put pressure on Les Monégasques. 
Any progress made by Valencia was followed by a capitulation, notably on the return from the dressing rooms when Strazel completed an unreplied 10-point streak with a sumptuous three-pointer.
This was yet another collective masterclass from Obradovic's men, and once again in the absence of Mike James. The club announced on Thursday that James was going to be reintegrated into the team, but not before the issues that led to the initial suspension were sorted.
The American's absence, however, wasn't felt. Without him, the Roca Team are unbeaten. In March they are yet to lose and are on a 10-game unbeaten run. Seven of those wins have come without James.
The latest was one of the more comfortable victories, with the game easily wrapped up before the final buzzer (90-79), which marked Monaco's official qualification for this season's playoffs.
Target top four
Despite what Obradovic termed "a great achievement," which allows them to "dream big," there was an underlying sense that this is a job half-done. "We want home-court advantage. We need to keep the rhythm with this tough schedule and still perform in the Euroleague," said Obradovic. The Serbian coach told Monaco Life, "There are goals and I repeat them every day. I believe in everyday processes to achieve them. I'm always on the ground, but dreaming big."
Monaco are currently fourth in the Euroleague standings, and should they remain there, they will secure that all-important home-court advantage, which perhaps cost them during last season's play-off defeat at the hands of Olympiacos.
Mike James set for return
Obradovic also provided an update on the returning James and reflected on his time away from the club. "He's back in practice, he's not out of shape. It's not easy to put him back in the game. It's a bit different now. The chemistry should be different. He has to understand that it's not just about helping the team one way; he has to integrate into the team in the best possible way, play basketball, play together, and share the ball. We talk about this a lot," said Obradovic.
"We need his quality, especially with the games coming up. I believe after these 10 days, we will have more from the player. He is ready to play in the next game. This break could have been good for him," the Roca Team coach concluded.
There is an element of the unknown regarding James' return. He is undoubtedly the most talented individual in the Roca Team's ranks, but in his absence, the team have produced some of their best collective basketball. Obradovic will hope that his return helps – and doesn't hinder – their current momentum.
Sign up for the Monaco Life newsletter. For the latest news, follow us on Facebook, Twitter, and Instagram. 
Photo by AS Monaco Basket