Planning to celebrate Valentine's Day with the one you love? Check out our guide to some of the fun things happening in Monaco this Valentine's Day.
Valentine's Day is the perfect excuse to get together with someone special and show them how much they mean to you, be it your partner, best friend or family member.
Here are some fun ideas on how to celebrate this year's international day of love.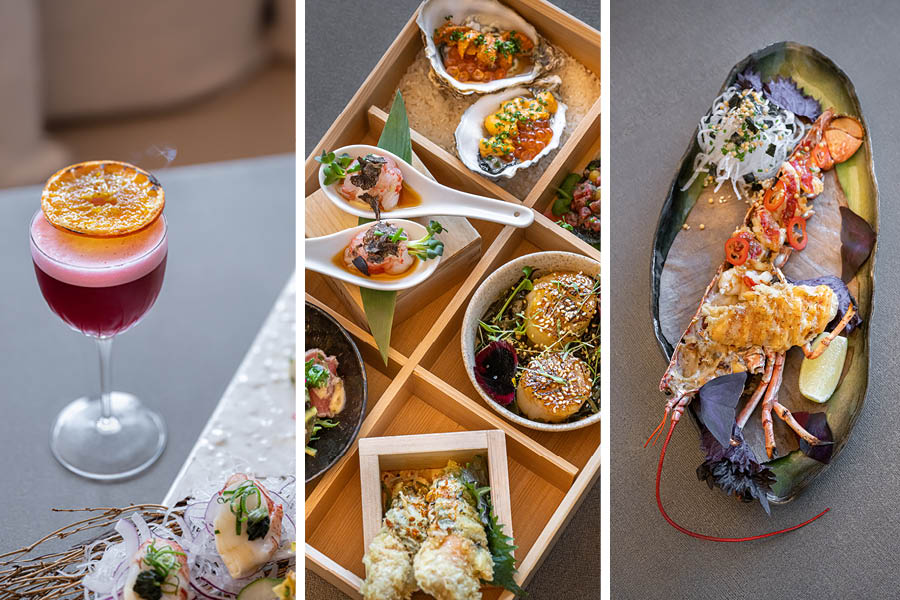 The Niwaki
This, one of Monaco's most popular Japanese restaurants, may not seem the likely choice for a Valentine's Day meal, but it would be almost impossible not to fall in love with the offering that the The Niwaki has planned.
For €185 per person, couples start with either a Takaramono Valentine's cocktail or a glass of pink fizz followed by a decadent sharing plate including fresh oysters, scallops, tuna, beef tartare, shrimp and langoustine.
Chef Shahar Dahan will then send out a sushi selection prepared especially for the evening, before the mains are served, which are lobster with red yuzu kosho butter or duck breast with daikon pickles and demi-glace. A chocolate rum and ginger soufflé finishes off the decadent meal.
If the set menu doesn't tickle your fancy, The Niwaki will also be serving from their a la carte menu.
The Niwaki Monaco, Le Palais de la Plage, 37 Avenue Princesse Grace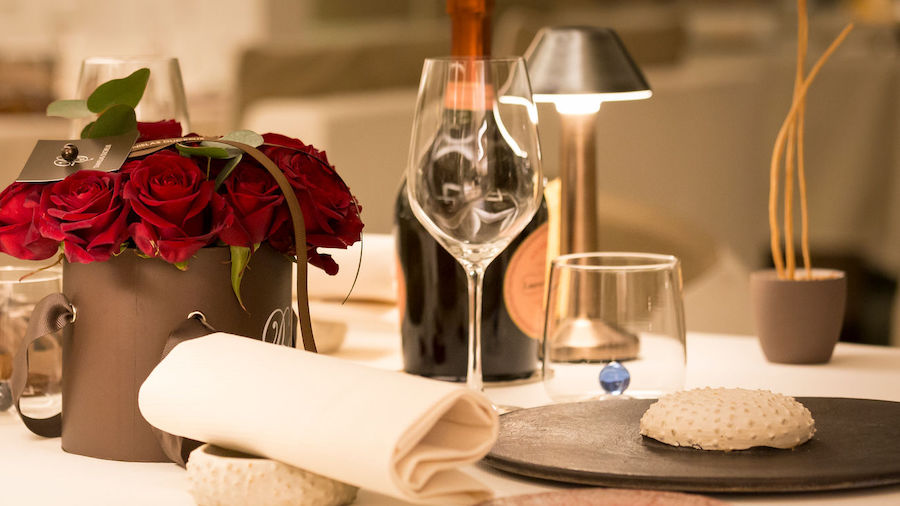 Blue Bay
Spice up Valentine's dinner by heading to West Indian Chef Marcel Ravin's Blue Bay at the Monte-Carlo Bay Hotel and Resort.
The special evening at this two Michelin starred restaurants starts with a half-bottle of 2012 Veuve Cliquot La Grande Dame Prestige to wash down a gorgeous tasting menu featuring a delectable selection of flavours.
Dishes include perles de Monaco oysters, mushrooms in a millefeuille crust with sugar cane vinegar, artichoke hearts stuffed with foie gras, a slow cooked egg with caviarmoringa leaves, potato stuffed with creamy smoked bacon, and grilled prawns with Colombo spices.
The highlight is a modern take on a Martinique classic, called a chicken Creole trempage, normally a bready, saucy bit of heaven but in Chef Ravin's case, served with a truffle risotto on banana leaves.
Desserts are autumnal figs, a chocolate assortment and physalis, which is made with rose petal milk and fruit crackers.
Price is set at  €485 per person.
Blue Bay, Monte-Carlo Bay Hotel & Resort, 40 Avenue Princesse Grace
https://www.montecarlosbm.com/fr/restaurant-monaco/le-blue-bay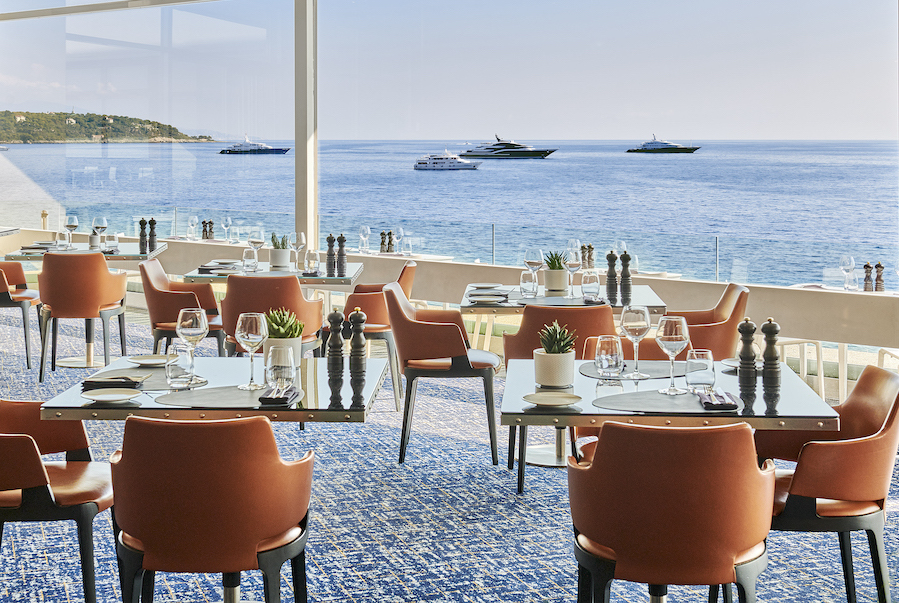 Lobby Lounge
The Lobby Lounge at the Fairmont has seen its fair share of romantic evenings, and with their Valentine's Day menu, it will be taken to another level.
Lovers can enjoy sea views by the romantic flicker of candlelight, and a reasonable €90 per person menu that is made for two. It features a four-course dinner of fresh and smoked tuna ceviche with Menton lemon and basil, Arctic char confit with citrus fruits, and sole and Jerusalem artichokes, before finishing with a selection of dark chocolate with raspberries.
This memorable evening will be capped off with the chance to win an 18-carat gold necklace with simulated pavé diamonds by JEM Paris, the first ethical jewellery house in France.
If that doesn't create the right mood, nothing will!
Lobby Lounge, Hôtel Fairmont Monte-Carlo, 12 Avenue des Spélugues
https://www.fairmont-montecarlo.com/en/dining/lobby-lounge/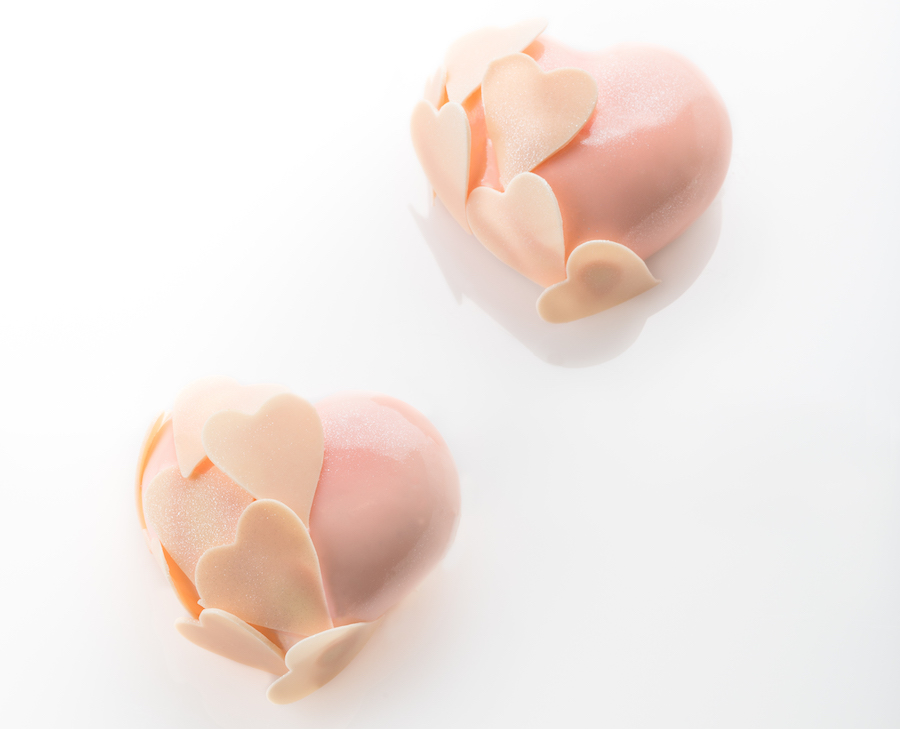 Sweet treats
For some sweet heartfelt gestures, there is the Patisserie Riviera Monte-Carlo who have adorable biscuits spelling out 'love', some heart shaped and some with 'x's and o's'.
Cova (feature picture) is creating all-red cakes and boxes stuffed with Valentine's themed treats, and delicious love cookies that can be ordered ahead of time and enjoyed on the day, or any other day for that matter!
And Rampoldi is cooking up a special citrus sponge cake with Madagascar light cream and a rose-scented litchi in the shape of a heart. Adorable, right?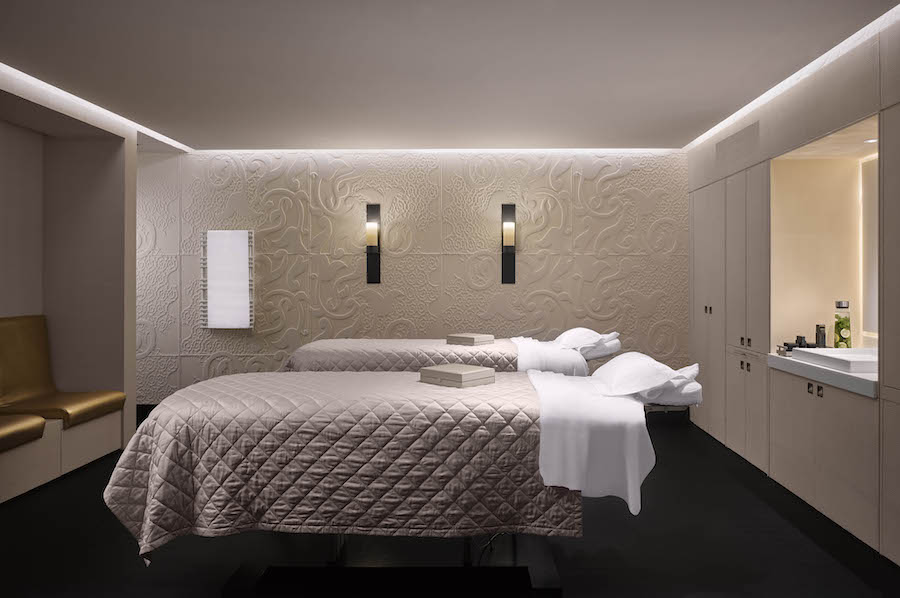 Couple time
For some relaxation time together, why not take a couple's suite at the Spa Metropole by Givenchy. This special treat, available for the whole month of February, includes the privatisation of a suite for one hour, a jacuzzi bath, fruits and juices, a private sauna, one hour 'divine harmony' massage per person, and access to the Heat Experience (hammam, sauna, caldarium, sensory showers) and relaxation room.
Price is 515€ for 2 people.
Afterwards, enjoy a cocktail in the lobby bar – a Valentine's Kiss or or Valentine's Passion, only available on the 14th February.
Spa Metropole by Givenchy, Hôtel Metropole, 4 Av. de la Madone, 98000 Monaco
https://metropole.com/fr/spa-montecarlo/spa-metropole-by-givenchy/
Featured photo: Valentine's Day cookies at Cova, by Monaco Life