Charles Leclerc has been handed a 10-place grid penalty for the upcoming Saudi Arabia Grand Prix, after a fortnight in which the Ferrari team have been unsettled by a swathe of troubling reports. 
Leclerc had looked to be on course for a podium in Bahrain just under two weeks ago, but a mechanical failure put pay to his chances of scoring any points in the curtain-raiser to the Formula 1 season.
Leclerc receives a 10-place grid penalty
That failure will prove yet more costly. Leclerc's Ferrari is already on its third gearbox of a 23-race season, which is just one race old. As a car is only allowed to have one gearbox change in the whole season, Leclerc will therefore take a 10-place grid penalty for this weekend's race in Saudi Arabia.
Ferrari's new team principal, Frédéric Vasseur, expressed surprise at Ferrari's gearbox issues, saying, "We never encountered these automatic gearbox issues in the factory."
However, whilst trying to focus on improving the performance of a car that he rightly admits isn't as fast as Red Bull's, Vasseur has also been forced into addressing the media amidst rumours of fractures appearing at the Italian manufacturer.
"It all comes from unfounded rumours"
The French team principal, who previously worked with Leclerc at Sauber, first had to fend off rumours of a fractious relationship with President Benedetto Vigna.
"My relationship with Benedetto is transparent," began Vasseur. "Everything is working perfectly between us and I have full freedom to work according to my wishes and the team's needs. It all comes from unfounded rumours."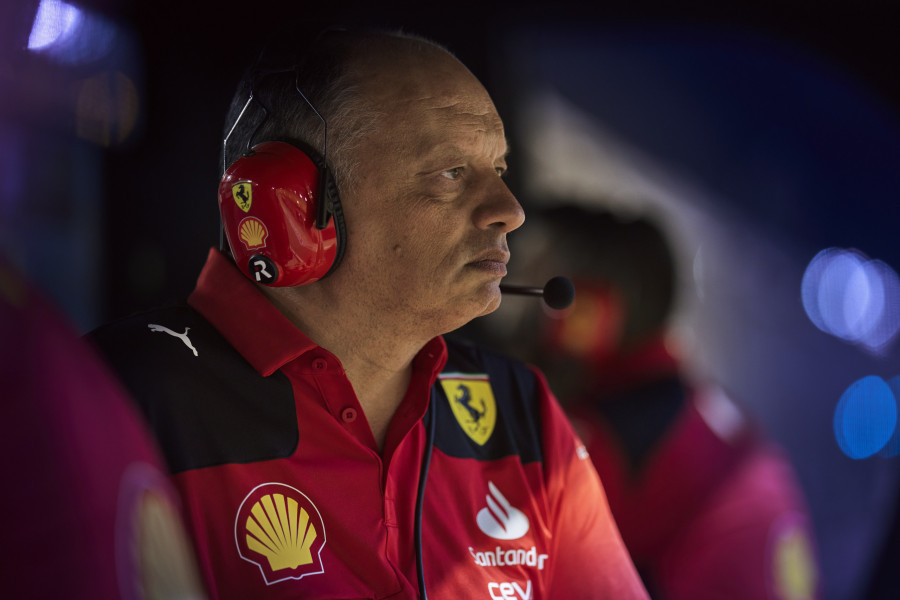 In between these two races, David Sanchez, one of the engineers who worked on the SF-23 model, departed Ferrari. Despite his role being out of the public eye, Sanchez's departure has sent shockwaves through the Italian press, especially since the information came at the same time as rumours of Laurent Mekiès' potential departure emerged.
Mekiès' departure would be a blow for Ferrari. He is appreciated by Vasseur, who described Mekiès as "a pillar of the team" upon his arrival as team principal at the start of the year.
A media circus?
Since the underwhelming performance in Bahrain, which nonetheless provided some crumbs of hope for the remainder of the season, there has been a relentless flow of destabilising information. Each day, a new story has hit the headlines.
Jean Todt, a former Ferrari team principal, revealed in an interview with L'Équipe earlier this month his shock at a Gazzetta dello Sport journalist, who "camped in front of the factory doors, morning day and night".
Seemingly little has changed, and the intensity and virulence of the Italian press has certainly polluted the atmosphere at the team's Maranello base and ultimately led to Vasseur addressing the press. However, despite having to get to grips with a new team, whilst also facing almost intolerable scrutiny and at times misinformation, Vasseur isn't feeling the heat.
"I'm handling the pressure well. I'm used to it. What matters to me is ensuring that the employees don't suffer and that they can work calmly. They're really motivated and my job is to allow them to work in the best conditions possible," said Vasseur.
The scrutiny of any Ferrari team principal is unrelenting, but criticism can certainly be dampened. The only way to achieve that is on-track. Ferrari, and in particular Leclerc, have their work cut out in Saudi Arabia with not only a faster competitor to compete with, but an unreliable car to contend with.
Given Leclerc's grid penalty, Vasseur and Ferrari may have to tune out the media circus for a little longer, but as the team principal has said, their car provides "an excellent base to work from", and the season is yet young. The points may not flow under the nightlights of Jeddah, but they will soon.
Sign up for the Monaco Life newsletter. For the latest news, follow us on Facebook, Twitter, and Instagram. 
Photo source: Scuderia Ferrari Press Centre