The Prince Albert II of Monaco Foundation and the Princess Charlene Foundation have joined forces to raise awareness about the dangers of plastic pollution.
As part of the Prince's Foundation's ongoing mission to raise awareness of the challenges of preserving the marine environment, they approached the Princess Charlene Foundation to jointly carry out to a morning of awareness events prior to the Water Bike Challenge on Saturday 12th September, organised by the Princesse's Foundation.
Participants in both Monaco and the port of Calvi on the island of Corsica took time out to collect masses of garbage that had settled in or near the sea. The Animal Fund, the Monegasque Association for the Protection of Nature, Eco Angels, Stars'N'Bars, the Monegasque Sanitation Company (SMA), divers of the Underwater Explorations Club of Monaco, the Corps des Sapeurs-Pompiers de Monaco, the Compagnie des Carabiniers du Prince and the Oceanographic Institute all took part in the event on the Monaco side together with the Foundation and were able to collect and characterise the found waste.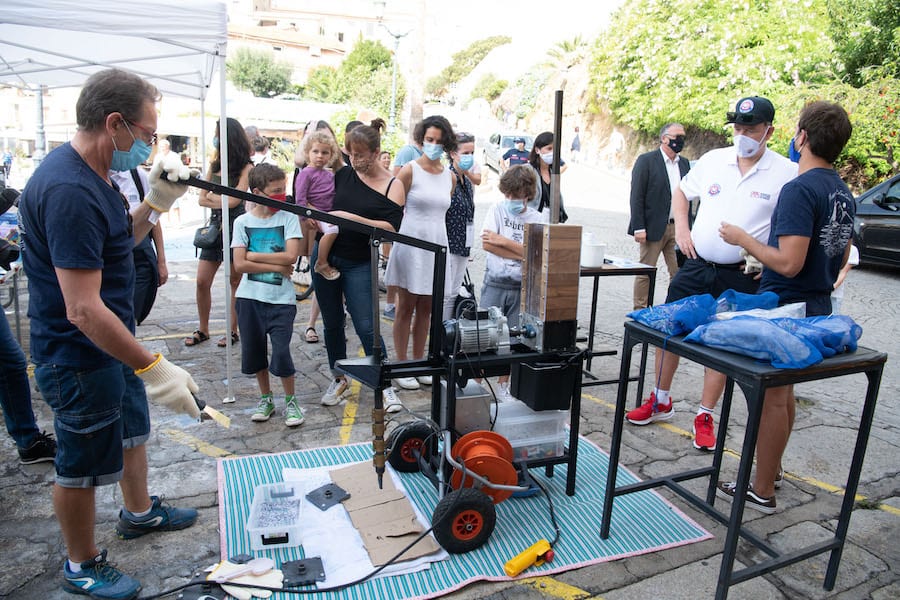 The top three culprits found on land were cigarette butts – of which there were nearly 1,400, food packaging and various pieces of plastic waste. Under the sea, it was an entirely different matter. There, some 70 bottles, 100 pieces of glass, 120 pieces of scrap metal, nylon fishing line and a scooter were fished out. 
In Calvi, the Corscian Association Mare Vivu, in conjunction with the BeMed initiative, carried out an awareness campaign that included a workshop aimed at encouraging young people to make works of art from collected and disinfected plastic waste.
A more technical workshop was also held which gave Prince Albert II a chance to see an experiment by Mare Vivu involving the local recycling of plastics collected on the beaches.
Plastic pollution is one of the most serious environmental problems affecting our seas today. Every minute, the equivalent of a garbage truck is dumped into the water, threatening both marine life and our health. The Mediterranean is particularly vulnerable as it is semi-closed and supports heavy maritime traffic, further amplifying the threats to it. Both the Prince and Princess's foundations are active in their support of environmental programmes aimed at protecting the sea.
Related stories:
What will you be doing on World Clean Up Day
Top photo: © Eric Mathon Palais Princier