It is T-100 days until the Monaco Grand Prix, so for fans who are making plans, Monaco Life is sharing insider tips on how to get the most out of the experience without splashing out thousands of euros.  
Arguably the most famous of the Formula One events, the Monaco Grand Prix's reputation is well deserved. The event is notoriously posh, with celebrities, millionaires and, of course, billionaires setting themselves up in every VIP box and on every yacht deck and balcony overlooking the circuit, some of which can go for €30,000 or more for just a few hours.  
But you don't have to be a mogul to enjoy the race and it's certainly possible to have an amazing time at the Monaco Grand Prix without breaking the bank. Let us tell you how.  
Tickets to the Monaco Grand Prix
The Monaco Grand Prix's Sector Rocher is one of the cheapest general admission areas in the world, with tickets going for €120 on race day and just over €300 for the whole weekend. The enclosure is standing room only and is located on the slopes heading to the Rock, with views onto La Piscine and the Anthony Noghes corner. To get the best spots, arrive early as there's no allocation.  
We've found the best place to buy tickets is officially through the Automobile Club of Monaco, which can be accessed by clicking here. But places are selling out fast, so don't waste any more time if you are considering going to this year's event.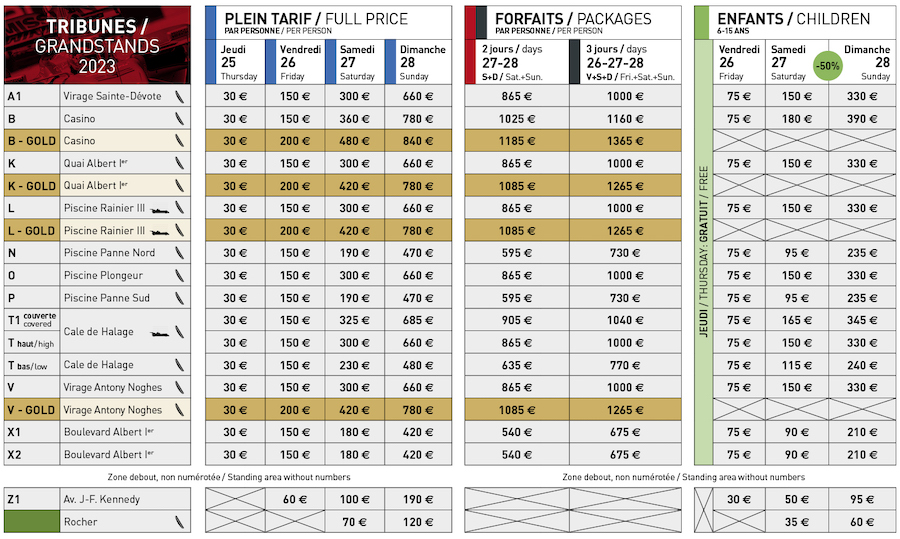 Accommodation near Monaco
 during race weekend
Staying in Monaco is handy, but perhaps not very practical for those on a budget. Rooms sell out for thousands of euros way ahead of the race so to get the best deal, try staying in Nice or one of the other towns along the train line, like Menton or even Antibes or Cannes.  
Don't discount crossing the border into Ventimiglia either, where hotel prices will be considerably less, leaving more money for fun.  
Transport into Monaco
Whilst arriving by helicopter may be more glam, coming by train has its charms as well. Train tickets are less than €10 for a return trip from Nice or Ventimiglia if booked in advance, although prices do rise for on-the-day bookings.  
The trip takes 20 minutes from Nice or 36 minutes from Ventimiglia, and each journey showcases one of the most stunning stretches of coastline the region has to offer.  
Fill your Monaco Grand Prix schedule
To really make the most of your trip, there are plenty of sideline activities to be enjoyed as well. If racing is all-important, there are two car events – the Porsche Super Cup and Formula 2 action – both the same weekend on the circuit.  
For car enthusiasts or just lovers of beautiful machines, the Car Collection of the Prince of Monaco can't be beat. More than 100 cars ranging from 1900 to now are included in this unique collection. It moved into its new modern setting in July 2022, next to the Rainier III water sports stadium, and entry is a modest €10 for adults. It's open all day from 10am to 7pm. 
For general sight-seeing, the Principality is pretty consumed by the Monaco Grand Prix during that weekend, but the beaches are still accessible and free. The villages of Beaulieu-sur-Mer and Villefranche-sur-Mer have retail opportunities and lovely cafés for a coffee or a bite to eat. Nice is worth a trip on its own, but even with limited time, there is no end to the wonderful bistros, bars, nightclubs and restaurants to check out.  
Sign up for the Monaco Life newsletter. For the latest news, follow us on Facebook, Twitter, and Instagram. 
Photo: Monaco Grand Prix, source: Scuderia Ferrari Press Office