Intimate images of one of the greatest F1 drivers of all time, Michael Schumacher, are being shown at Sotheby's Gallery in celebration of the Monaco Grand Prix.  
She has photographed some of the biggest names on the planet: Mick Jagger, Lisa Marie Presley, Claudia Schiffer, Sir Roger Moore, Fernando Alonso… As a Monaco resident for most of her life, German-born Vanessa von Zitzewitz has also produced multiple portraits of Princess Charlene and Prince Albert, as well as Christmas portraits featuring the young Prince Jacques and Princess Gabriella.
But this exhibition is particularly special to Vanessa, because it came about by pure chance: negatives which had sat in secret for more than 20 years were rediscovered and curated for a special show that will be launched on Thursday 25th May. It's titled 'Michael, Intimacy Behind Speed'.
I spoke to Vanessa von Zitzewitz as she and her team were setting up this unique photography exhibition at Sotheby's Monaco Gallery.
Monaco Life: How did this photo shoot of Michael Schumacher come about?
Vanessa von Zitzewitz: I studied at the Parsons School of Design, New York, and I was lucky to have very quickly found my path. I published my first book for Cartier when I was 23, so when I did the Schumacher pictures, I was pretty much set in my career.
I have lived here in Monaco for 30 years, and it was amazing the access you had with the right passes. To see the actual (Monaco Grand Prix) race, I remember walking around the whole track during the race seven times – including the tunnel – which today would be impossible, security wise. You would get pieces of tyres stuck to your face from when they were speeding by. I remember photographing Ayrton Senna driving by me in Place du Casino.
I had the right pass, I knew the right people, and I was actually on the circuit, not behind the barriers; I was in the grid with the drivers, everybody, it was sizzling hot.
One of my closest friends was Jean Todt, the head of Ferrari at the time, and he allowed me to come to several races backstage, so I had this huge privilege due to him.
What was the thought process behind these images?
I had asked Jean if I could come to several races and do some backstage images because what I find interesting are the details. What I wanted to do for Ferrari was to get all the details, the logos, the hand of the mechanics, Michael's shoes; like the picture you see here where he is checking on Mika Hakkinen's time… Details that had not been photographed before. That's what I always find challenging, moments that capture the sense of what's going on behind the scene.
What did you find were some of the most remarkable things about photographing Schumacher at that time?
This whole exhibition is an entire coincidence. I was still using film at the time and I was transferring all of my negative archive from one place to another when a picture fell out of the files. It's the one where you see Michael relaxing, having a cup of coffee and on the phone, smiling. It is the opposite of what people have in mind when they think about Michael Schumacher; they always think of him as very concentrated, with a helmet, not in a relaxed, intimate position. This intimate, secret side of him was never really shown.
Also, at the time there were no iPhones, so people had less access to images that showed him in a different way. When I found this picture of him sitting there – I can just imagine that he was probably calling his wife or his kids – I said to myself, 'Oh my God, I have to check if I have some more'. Suddenly, I saw this massive amount of contact sheets with pictures that I found very interesting. Sotheby's saw them and asked to have a show during the Monaco Grand Prix, and so that's how it happened. It was a pure coincidence.
Do you have any recollections of what Michael Schumacher was like as a person?
Yes, he was very polite, very precise, very kind, but very discreet and so focused. As you can see, these pictures were all taken when he was working very hard. Every second, every minute, people were talking to him, whether it was his team or the journalists. You didn't have time to chat with him. I remember just saying 'Hello', and smiling, and 'How are you? How's your wife?' because I also know Corinna, his wife. I photographed her on several occasions. But you had this distance. He made it clear that he was working. You would feel a lot of respect. That's what I remember doing these pictures. I would really try to be as discreet as possible, not to bother him. I remember that very well.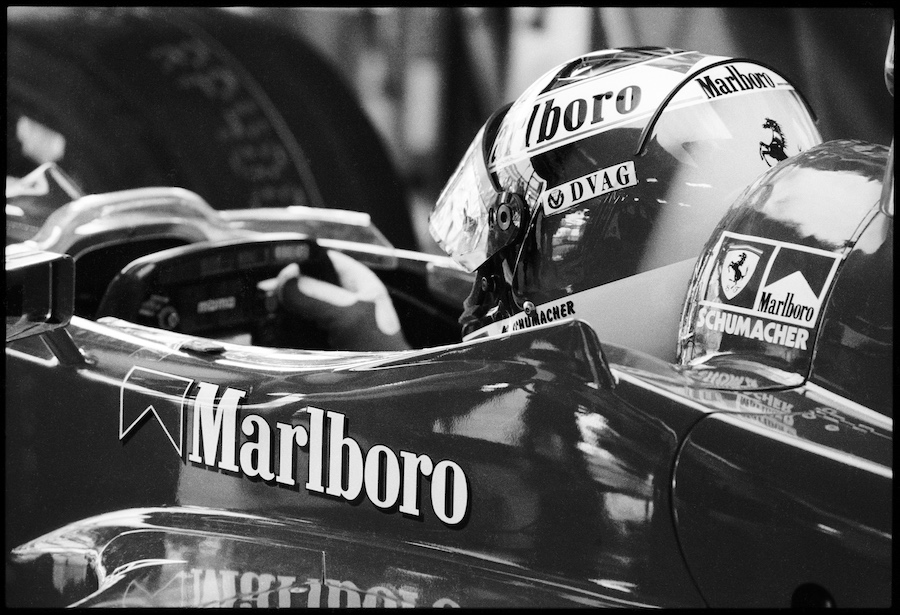 Indeed, you do get that perception when you're looking at these photographs, it does look as though you were blending in and capturing those moments as if it was all very spontaneous…
They're stolen moments, obviously, and that's what makes them interesting. What did Ferrari and Michael Schumacher represent? Speed. So, that's why I came up with this title for the show, 'Intimacy Behind Speed', to show that behind all of this crazy speed and loud moments, there are very calm moments. He was always very cool, very calm, very relaxed, very focused. It's the total opposite of what's then going on when he goes out of the pits and paddocks and sits in his car, and there are all these journalists and people watching and screaming. If you go around the pictures and look at them, it's like you have just turned off the volume, and then you get these moments that I photographed.
They obviously have extra significance now given the accident. Do you feel privileged to have captured these?
I've worked for several months on the show now, because as they're negatives, you have to blow them up and some old negatives had to be restored. So I've seen the images many times before they were printed and framed. But yesterday, when we put them all up on the wall, suddenly it was very emotional for me to see him there and remember the time that I took the pictures, but also the respect and what a man he is.
It's not that long ago, most of the pictures were taken in 1998, but you see a lot of sports people today and things have changed a lot. Everything today is about agents and publicists and advertising that tell you what you're allowed to do, what you are not allowed to do, or what you have to do.
You hardly have access to these racing drivers like you did at the time. So I'm not only privileged to have photographed him, but I'm also privileged to have had the opportunity to go behind the scene and to see things which probably today would be impossible to do because of all the regulations with sponsors saying, "Maybe she might see the inside of the engine and tell Mercedes what Ferrari is doing…" (laughs).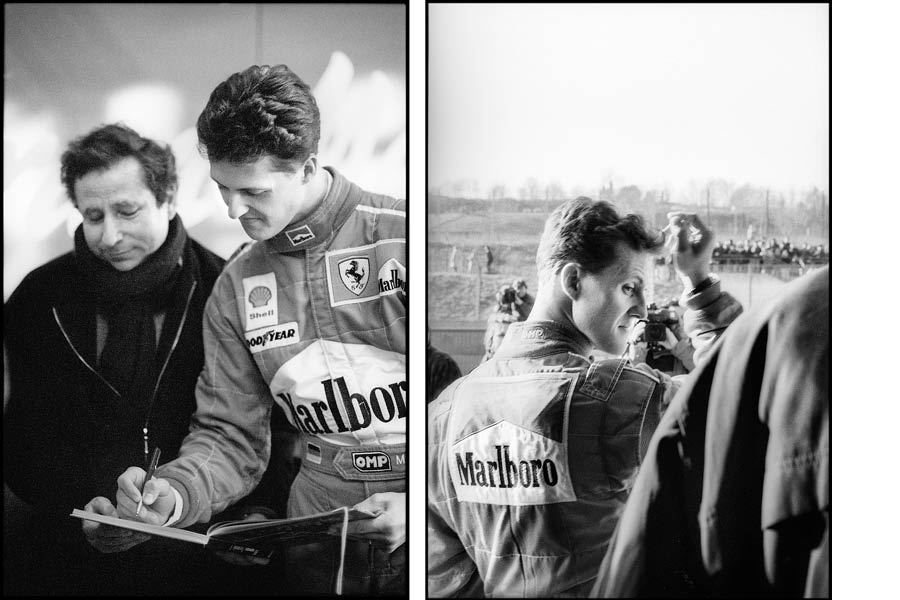 It is a does represent a bygone error, even traditional film photography itself is a dying art…
It is a dying art. And what makes me very sad, and it makes me laugh on the other hand, is on Instagram every second girl is a photographer, because obviously it's very easy now with an iPhone to take a picture. But I consider myself an ouvrier: I've learned how to process film, I've learned how to work in a dark room to develop my images. Film is expensive, so you wouldn't just shoot like crazy and then erase 95%. You used to think before you would photograph something because you knew it was going to be expensive to process. And also the light. Today they all have these little lights with them. Lighting has not been used in these pictures – maybe I used a reflector or something – but now everything is easier, and I don't think it's better.
What else have been career highlights for you?
What I think is amazing about my job is that I really went from one subject to another. I used to spend two months a year in the slums of Bangkok living at an orphanage and I came up with this book called Slaughterhouse Angels. And Caroline Scheufele from Chopard organised a big event in Switzerland where we sold my pictures and book and a piece of jewellery she did for this project, and we raised almost $500,000 that we gave entirely to the orphanage.
So I went from shooting children dying of AIDS, because in the early 2000s, children were actually dying around the age of 15 when they were born with HIV, to photographing very wealthy weddings in Middle Eastern countries: a very sad charity project to overwhelming pictures of incredibly well-dressed people with tonnes of jewellery and haute couture dresses. I like contrasts in life in general, and I think my work represents that. If I have my Canon in my hand, I can do whatever is interesting. There's not a specific subject that I really like or dislike, it just it has to be different.
Your exhibition is showing during this year's Monaco Grand Prix, so is this also a proud moment for you to have your work on show?
I'm very proud, and I'm also very proud that Prince Albert and Princess Charlene are attending the opening. I consider myself very lucky with their busy schedule, especially during the GP weekend. Jean Todt is also coming on Monday to see the show, so yes, I'm being rewarded by the attention of a lot of people coming to see the show, and as an artist, what more can you want?
I'm also doing a tribute to Michael through this show. The most special picture of all is going to be sold worldwide with Sotheby's for the 'Keep Fighting Foundation' of the Schumacher family.
'Michael, Intimacy Behind Speed' by Vanessa von Zitzewitz, is on show at Sotheby's Monaco Gallery from 25th May to 23rd June.
Sign up for the Monaco Life newsletter. For the latest news, follow us on Facebook, Twitter, and Instagram.  
SEE ALSO:
Interview with Charles Leclerc: "We're just at the start of the season, there is still everything to play for"