Monaco Life, in partnership with the Princess Grace Foundation-USA, is proud to present a monthly series highlighting the lives and artistic work of the Princess Grace Foundation-USA's illustrious Award winners.
In this month's exclusive interview, Princess Grace Foundation-USA's Chief Program Officer Diana Kemppainen sits down with Princess Grace Award winner Cassandra Trenary (Dance 2015).
Cassandra is a principal dancer with the world-renowned American Ballet Theatre (ABT), where she recently debuted in the leading role of Tita in Christopher Wheeldon's new full-length ballet, Like Water for Chocolate. In addition to her leading roles at ABT, Cassandra has made a name for herself working in the contemporary world performing Molissa Fenley's solo State of Darkness at the Joyce Theater, with Twyla Tharp's company at her New York City Center season, and recently with Tony- Award winner Sonya Tayeh.
In conversation, Cassandra speaks about her love of ballet, finding the human moments in iconic classical ballet works, and working through the pressure of being a principal dancer.
Let's start at the beginning. What inspired you to become a dancer?
I grew up in a Lawrenceville in Georgia and I was super active. My mom put me into everything to get me to calm down. Dance was one of those things; I started with ballet and tap combo when I was three. My first intensive in Alabama was when it clicked that I wanted to do this professionally. I fell in love and was surrounded by other young people who felt the same way. Up until then, I felt a little strange to love it so much and want to be the best I could be. The stars aligned, and I was offered a scholarship to ABT's (American Ballet Theatre) intensive. I was 12 years old; I felt the community and got to see the legendary videos of the dancers. I fell in love.
On coming to train at the Jacqueline Kennedy Onassis School (JKO, and the professional training school that is a part of American Ballet Theatre):
When I joined, I wasn't at the top level, and I was one of the older dancers in the level I was in. It was a humbling experience. I went from being a strong talent in Georgia to entering a world where everyone was so talented. It lit a fire under me to really work hard.
On getting her first contract with American Ballet Theatre (ABT):
I was offered an apprenticeship with ABT 2 and a few months later I was offered a spot in the company to fill in for another dancer. I was very lucky to have some brilliant choreographers notice me early on and give me opportunities. The path presented itself in an organic way and I had a lot of cheerleaders.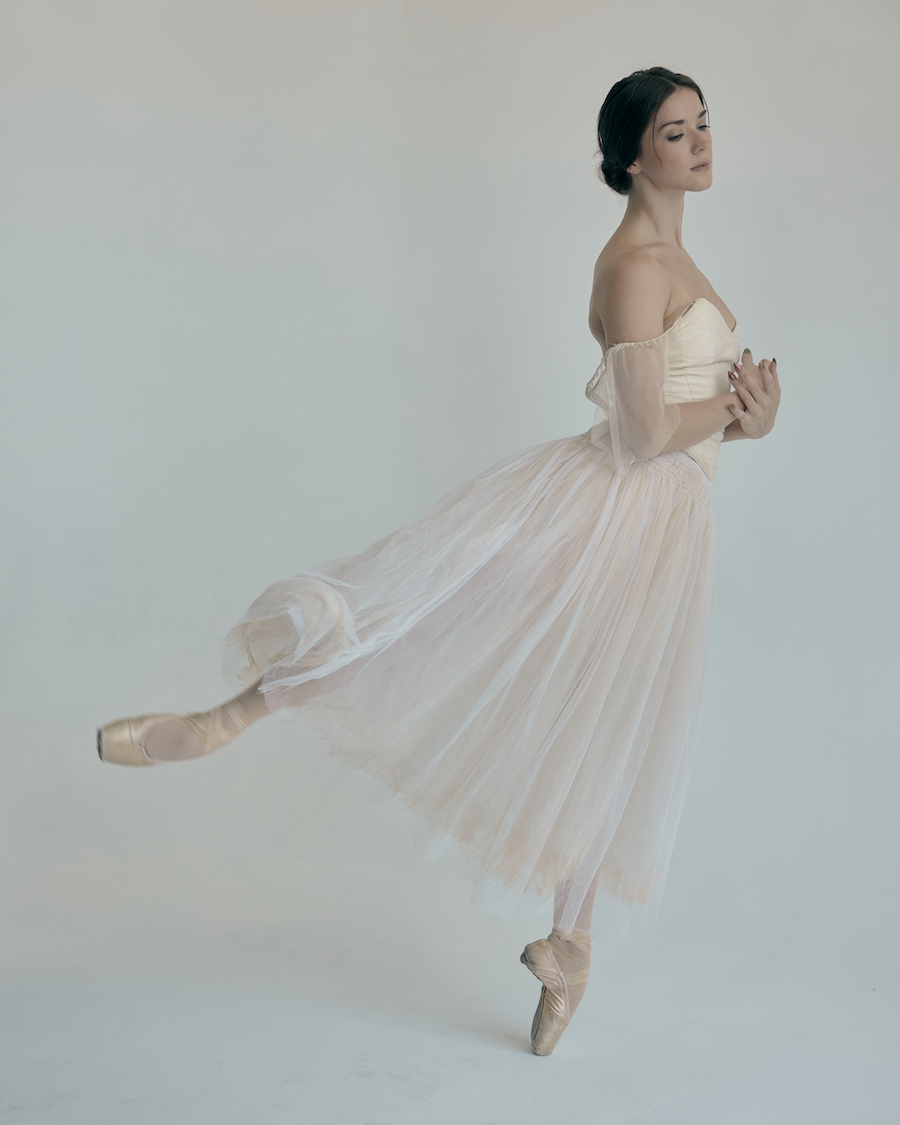 On her promotions to soloist (2015) and principal (2020):
Both promotions were a shock. In 2015 when I was promoted to soloist, I had been injured a lot in my first seasons with the company. I thought my path in the company would shrink a bit and I had to be OK with that. However as soon as I was healthy, the artistic team pushed me, and I ended up doing my first variation and following that did a lot of soloist roles.
Getting promoted to principal was the most shocking of all because it was in 2020 and we didn't even know if there was a company to come back to. I was leaning into ways to be an artist that didn't have to do with ABT and that felt really beautiful. I was dancing with Sonya Tayeh and in conversations with Molissa Fenley.
You have this idea of what it's going to be like when you get promoted – you're all in this one studio at the end of the Met season with your peers when the announcements are made. But when I got the phone call, I was in Kaatsbaan choreographing and producing a film. I was in the middle of nowhere with dancers and close friends I would never have met outside of the pandemic. We were cooking a meal together when I got the call. I was so thrilled because I didn't know what the future held.
On the pressure:
When I truly get to a place where I'm in my groove as an artist and comfortable, that's when I'm able to let go and technically develop. We did come back, and I felt much more equipped to be in this position with ABT after all of my experiences. As an actress and dancer, I'm much more comfortable discovering as I go. I feel like I'm starting over in this position [as Principal].
This season you debuted the leading role in Tony-Award winner Christopher Wheeldon's new full-length ballet, Like Water for Chocolate. Tell us what it's like to originate a role.
The Royal Ballet developed the material, so I had a lot of beautiful references. Being the first in North America and the United States and working with Christopher Wheeldon, I got to apply my own personal experience. Although Chris is very precise in this choreography and you have to be technically correct, he wanted it to feel fresh and I got to apply my own experience. The ballet is more like a play; the gestures are more human and it's a ballet largely having to do with Tita [Cassandra's character] suppressing desire and passion, things I can relate to. It was one of my favorite experiences; to open a new ballet in the title role at ABT is a once-in-a-career moment.
This season you'll perform in iconic classical ballets – Giselle and Romeo and Juliet, and many iconic ballerinas have performed those roles both at ABT and throughout the dance world. What's your process when you're stepping into these roles?
I haven't had the opportunity to perform the roles too much and every time I do, it feels like a major honor, and I approach with the feeling of gratitude.
It doesn't always work out the way I would like. I recently did Giselle [as part of ABT's National Tour], and I had spent so much time with "Like Water for Chocolate" I felt physically behind. For the first time in a long time, I felt an immense amount of pressure. But I had people to call upon and I focused on the story and being present. Even with these iconic ballets, there's a lot of space to be human and freedom in interpretation. When I'm not feeling my strongest technically, I can lean on that and do my character development. When I'm staying true to bringing my experience to those women it will come through. If I worry too much about technically, you psyche yourself out and think about that one thing.
I think back to when ABT was known for their superstars and I think gosh are we those people now? I think we're very different; we're very different artists, dancers, and humans. But the weight of those folks is in the space, and as an artist and technician, I want to do all those ballets to the best of my ability. But what will carry this artform into the future is if we do dance them differently. At the end of the day, I find that if I focus on the character, the dancing gets a little easier.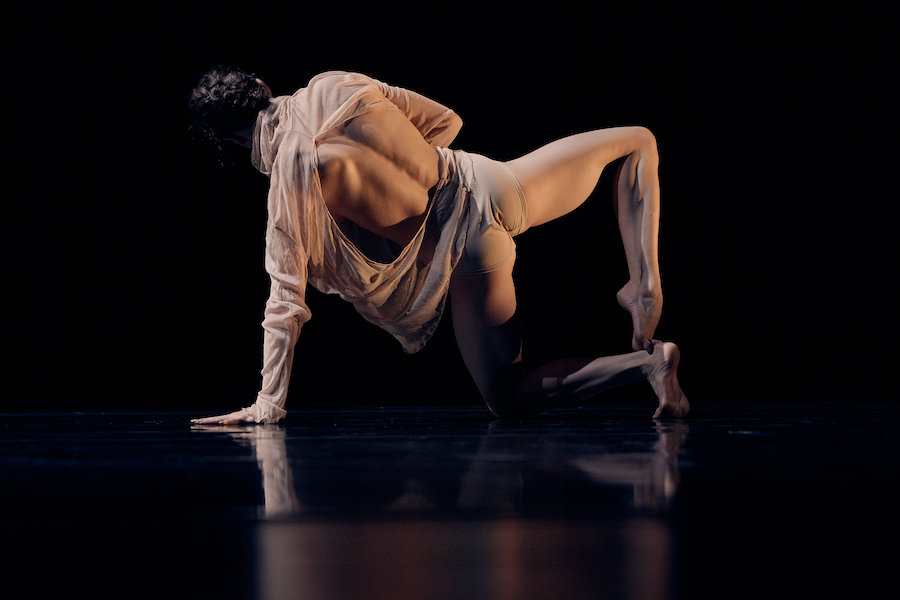 What is a role you have yet to do, that you really want and why?
Swan Lake comes to mind, and there are so many ballets I'd love to do – Onegin, Manon. We haven't done Lady of the Camellias in many years. Those are just the classics; there are many choreographers and existing work I would love to take on: Crystal Pite, Jiří Kylián, Mats Ek. This summer I'll get to do Le Jeune Hommes et la Mort with Alban Lendorf in Denmark.
Your work as an artist extends outside of your 'home company' ABT, you've performed Molissa Fenley's solo 'State of Darkness' at the Joyce Theater, with Twyla Tharp's company at City Center and in work by Sonya Tayeh. What drives you to find these projects?
I'm so privileged, they've always come to me. It started early on in my career. One of my  first projects was Daniil Simkin's Intensio. I was hired as everybody's understudy, and the project went on for so long; when I started, I was in the corps de ballet and was a soloist when it ended. I've always put myself out there as someone who is open to it. I'm not afraid of looking silly, I approach any new way of moving as a student. I love it and feel like it informs my classical work as well. The more I expand as a dancer, the more I learn about my body, being presence and music. It's really important to me and my process. In every off-season, I have a new job lined up. It's good old-fashioned working hard and having people excited about the work I'm doing.  
The choreographers she wants to work with:
Pina Bausch. She's a very important person and I would love to dance in her work. I'd love to work more with Twyla [Tharp], Sonya [Tayeh], and Jenn Freeman. But there are so many… I want to work with kind, authentic people; women and folks that haven't had a voice in a big way and have a lot to say.
On new leadership at American Ballet Theatre (former Principal Dancer Susan Jaffe recently took over from long-time Artistic Director Kevin McKenzie):
I've spent some really beautiful time in the studio with Susan, and she just announced the Fall season rep which I'm very excited about. I'm hopeful, it feels like a fresh start – exciting, scary and all the things that go with massive change.
Hitchcock once said Grace Kelly was like a snow-covered volcano; what classical ballet would you cast her in?
Like Water for Chocolate. Dramatically it's so demanding. You're trying to not show how you feel on the outside but inside you have all this passion. The saying itself, "Like Water for Chocolate," comes from Laura Esquivel, the writer of the book, and she said it was like, "…you're about to boil over; I'm right on the edge."
Where do you see yourself in five years?
I want to continue expanding. In a dream scenario, I'm dancing more of these iconic works I mentioned. It would be cool to act more and be involved in theater and film. I'd love to spend time abroad as guest artist. I hope that I push myself to create more – I kinda want to do it all.
Any final words for the Monaco community?
I hope to visit. There's such a rich arts community there. I know a few dancers in Ballet de Monte Carlo; they love it and it's such a fierce company. I'd love to check it out sometime. 
To learn more about Cassandra, you can follow her on Instagram (@cassandratrenary)  and read her cover story in Dance Magazine.
Sign up for the Monaco Life newsletter. For the latest news, follow us on Facebook, Twitter, and Instagram.  
Photo credit: Mark Mann