The iconic original superyacht Lady Moura has been sold after just a year and a half on the market for an eye-watering €105 million.
Camper & Nicholsons announced the in-house sale of Lady Moura on Friday evening. Listed exclusively with the company for 554 days, the sale represents the fastest known brokerage sale of a 100+ metre vessel in the last 10 years, as well as the largest yacht sale recorded by a brokerage house since 2019. Her asking price was €105 million (US $125 million).
"Camper & Nicholsons is extremely proud to deliver such an excellent result to the owner, who recognised in the company a combination of unrivalled heritage and industry-leading innovation that made it the only choice to entrust the sale of such a beloved yacht," said Camper & Nicholsons in a statement.
The legendary 105m motor yacht was delivered by Blohm+Voss in 1990 and was presented to the market for the first time a year and a half ago. Throughout the decades, her annual arrival in Monaco heralded the start of the summer season.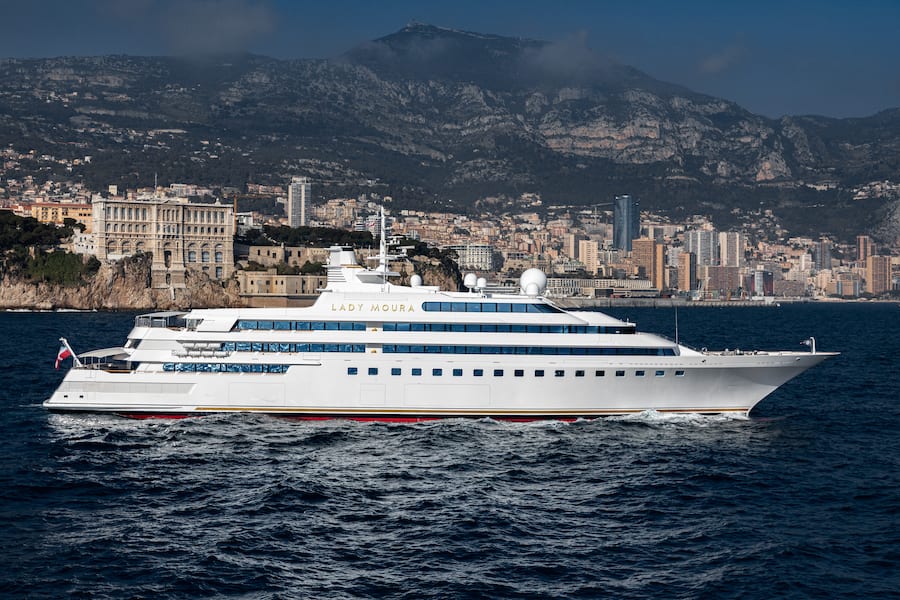 Lady Moura was the highly private vessel of Saudi Arabian businessman Nasser Al-Rashid and was built to host royalty and dignitaries, a family residence that became a point of reference in Monaco's Port Hercules. Until her listing, she had never welcomed brokers or charter guests on board. Much detail about her Luigi Sturchio-styled interiors had remained a closely guarded secret.
Catapulted into the list of top 10 yachts in the world upon her delivery, she has been called the original superyacht: the beach club, the hydraulic fold-out balcony and the tender garage were among her pioneering features. Incredible interior volumes — her beam is 18.5m — and a seven-deck arrangement are just two of her stand-out features. Her listing on the brokerage market generated plenty of buzz.


"I am extremely pleased we achieved such a result and the timeframe in which we achieved it makes it even more exceptional. I would like to thank all the people involved, across our Marketing, CRM, Legal, Brokerage and Management departments as this was a truly joint effort that makes me so very proud to work for this company, with every single team member we have today," said CEO Paolo Casani.
The sale was achieved by Sales Brokers Arne Ploch and Andrew LeBuhn representing the seller and Fernando Nicholson representing the undisclosed buyer.
"An iconic vessel that defines the world of gigayachting has been sold in-house and three very senior and experienced yacht brokers have been able to achieve one of the great successes in yachting in 2021 thanks to the dedication and organisation of all the departments of C&N, starting from the CEO down. This remarkable sale is thanks to truly solid and experienced teamwork," sad Senior Sales Broker Fernando Nicholson.

READ ALSO:
Inside the Lady Moura

Photos by Camper & Nicholsons