All too often for Charles Leclerc in recent weeks, the chequered flag has heralded commiserations rather than champagne. Ferrari's latest strategic error at Silverstone leaves the Monégasuqe in a precarious position.
Leclerc headed into the British Grand Prix declaring that he needed a "perfect weekend" to get his title challenge back on-track. With just over 10 laps remaining on Sunday, it looked like Leclerc would get just that. Despite suffering front-wing damage to his single-seater Ferrari on the first-lap, his race pace was unparalleled.
Meanwhile, further back, Max Verstappen's Red Bull was limping its way to just a smattering of points. Having run over debris after snatching the lead from Carlos Sainz, the reigning world champion damaged his floor and received a puncture.
When he emerged from his emergency pit-stop, it was clear that the Dutchman wouldn't be competing for the podium places. Prior to the late safety car, brought out by a mechanical failure to Esteban Ocon's Alpine, Verstappen was clinging onto ninth position. At that point, the points swing in Leclerc's favour would have been 23, but after the latest chapter in Ferrari's novel of strategic hiccups, the Monégasuqe driver only closed the gap by a mere six points. Leclerc therefore remains third in the championship and 43 points adrift of Verstappen.
It is another opportunity missed, and with a performative Red Bull and an improving Mercedes, he can't count on having too many more. For his part, Leclerc can hardly do much more. Since errors in the Emilia Romagna Grand Prix and then a litany of errors whilst attempting to catch Verstappen in Miami, Leclerc has driven impeccably.
However, that hasn't manifested itself in race wins. As it stands, Leclerc hasn't stood upon the top step of the podium since the Australian Grand Prix in April, whilst he hasn't touched the podium since Miami in April. That record isn't a reflection on Leclerc, but on the reliability of his machinery and the incompetence of the strategists.
Arguably, Leclerc is producing the best racing of his career. In the dying laps at Silverstone, having been left a sitting duck on his worn hard tyres, Leclerc defended impeccably from Sergio Perez and Lewis Hamilton, who had the pace on their fresh sets of softs. Even when he looked defeated, Leclerc pulled off one of the overtakes of the season on Hamilton as he went around the outside of the Brit at Stowe corner.
Although it will likely make the highlights reel of Leclerc's greatest overtakes, it was ultimately in vain. There was no resisting the charging Mercedes. To have held onto fourth position was an achievement in itself. The blame, as it did in Monaco, rests solely on the shoulders of his Ferrari team.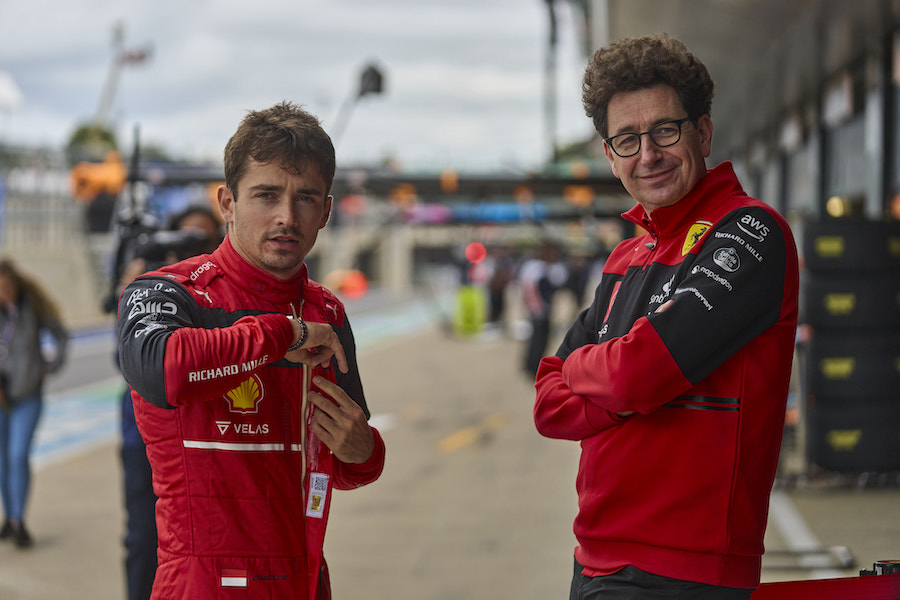 Post-race, Leclerc was pictured in discussion with Ferrari team principal Mattia Binotto; from the photographic evidence, it was seemingly a frank, intense discussion. Such conversations should have looked very different and should have taken place just prior to the Monégasque driver making the journey up to the podium. Instead, Leclerc and Binotto crossed paths on their way back to the paddock, the latter once again offering commiserations, whilst the former should have been savouring the champagne-flavoured taste of victory with another winners' trophy added to his cabinet.
Rumours surrounding the nature of the discussion proliferated upon the release of the images. Leclerc put them to bed, revealing, "He wanted to get my morale back up". Race victories have a greater effect than words in achieving that goal.
But Leclerc hardly needs a pep-talk, rather it is on his team to deliver. Asked about his team's mistakes in recent races, he replied, "It's not good. I have to say that I feel like I'm showing that every race it's not affecting me too much. But I would rather not have these problems."
As the season has progressed, there has been a reversal in doubt. Leclerc's performances in Spain, Canada and England in particular have extinguished doubts as to whether he is world champion material. Blessed with the best car on the grid, it is now the pit wall that is being called into question. Can they capitalise on the great work done in the factory to deliver their lead driver a title for the first time since Kimi Räikkönen in 2007?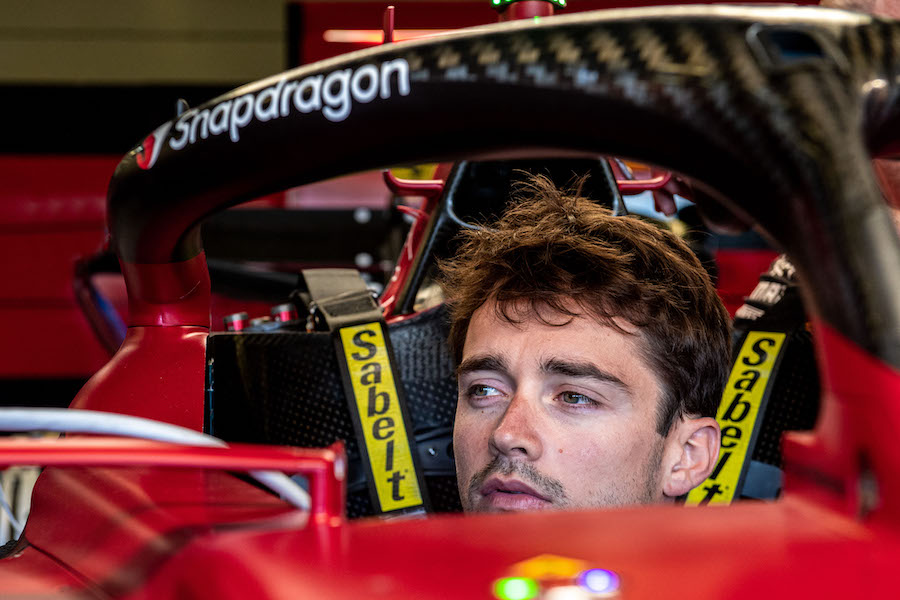 With increasing regularity, Binotto's post-race comments accrue greater importance and attention, and Silverstone was no different. On Sunday he said, "I knew that he (Leclerc) was disappointed and frustrated, which is understandable as he clearly led the race and was at ease at the moment at which the safety car was deployed. What I told him is that: you did a great race once again because you had a fantastic first lap where you battled. Then after the restart of the race following the safety car, the way that he drove and protected his position was surprising and exceptional. So, I told him to stay calm because his driving was fantastic."
A sign of a healthy team situation is one where the team principal's comments aren't scrutinised, mediatised or just generally so significant. Whilst it is easy to ask Leclerc to "stay calm", the act itself is being made more and more difficult, as the title slips out of reach due to circumstances beyond his control.
However, it isn't too late to arrest the slide. Binotto said that Leclerc was "once again unlucky" on Sunday. But the sooner the team accepts its own agency in manufacturing that misfortune, the sooner Ferrari can learn from the mistakes made in past races and endow their lead driver with the strategic nouse befitting a driver of such talent. Should they do so, Leclerc could yet chain together a string of those elusive "perfect weekends", claw back those lost points and posit himself once more as a genuine title-contender.
Photo courtesy Scuderia Ferrari Press Office