New buildings with private residences are cropping up all over the Principality, boasting fantastic architecture, eco-friendly building practices and interesting extra features. Monaco Life takes a closer look at what's on offer in the realm of new build real estate.
For a country only 2.1km2 in size, Monaco packs a big punch when it comes to housing. A number of high-end building sites are dotting the landscape, with the promise of giving residents old and new some pretty spectacular offerings to both buy and rent.
Here is a listing of the ones that are under construction, with off-plan apartments and villas already on the market.
MARETERRA
Arguably the most talked about of the new developments is the land reclamation project Mareterra (pictured above). This environmentally-minded neighbourhood in the Larvotto quarter features 110 impeccably finished apartments, penthouses and townhouses along with 10 villas, six of which are waterfront. A marina will have space for about 15 boats and will be encircled by cute and chic shops and eateries. The spaces will be move-in ready by 2025.
Special touches include swimming pools, a concierge, private parking and a gym at this Renzo Piano Building Workshop and Valode & Pistre Architects collaboration.
Beautifully landscaped with green spaces galore, the development was created to bring nature to residents' front door with mature trees, native plants and flowers, insect hives, bird's nests and plenty of shade to beat the heat on summer days.
The Portier Cove section is a pedestrian only zone and connects the area to the Grimaldi Forum and Larvotto Beach, while 600 metres of cycling lanes will make for ease in getting around.
The development's eco-cred is off the charts, with 4,500m2 of solar panels, rainwater recovery systems that ensure half the collected water will be recycled, and 80% of the cooling and heating will be supplied by renewable energy. Strict building codes have kept marine flora and fauna safe, and man-made reefs have been built so that any wildlife disrupted by the construction can find a new home.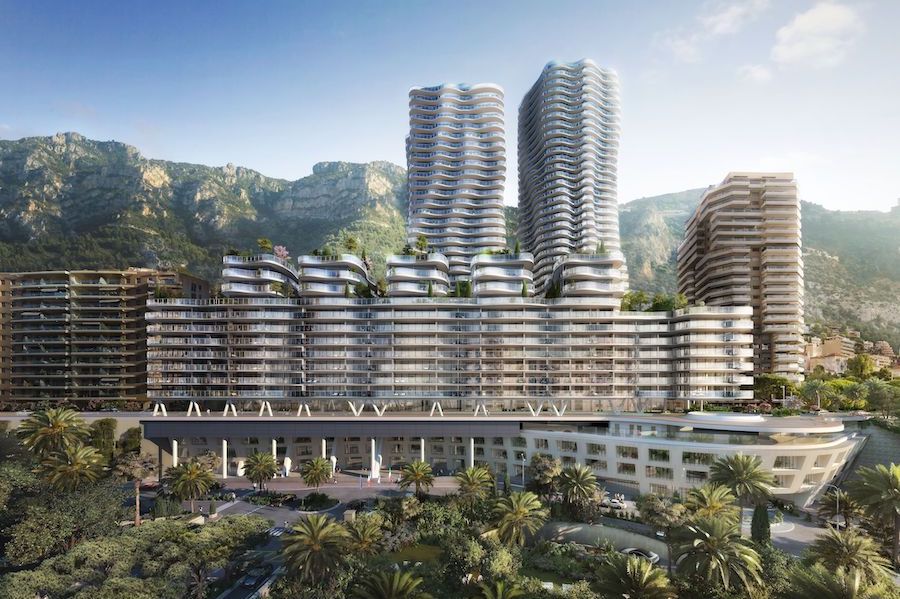 BAY HOUSE
Tied in with the Testimonio II project, the Bay House development has been built on the last large-scale plot in the country. Running from Boulevard d'Italie to Avenue Princesse Grace, the striking complex overlooks Larvotto Beach and is due for delivery in 2024.
Comprised of 54 apartments and five villas ranging from three to six bedrooms, this place was created for luxury living. Floor-to-ceiling windows and south-facing terraces offer stunning sea view vistas and the villas have their own roof terraces and pools to sweeten the pot.
Developed by Groupe Marzocco and VINCI Immobilier alongside Architect Alexandre Giraldi, everything is incredibly well thought out.
High quality finishings are coupled with high-tech automatic environment management systems, allowing owners and tenants to remotely control light, sunshades and air con, and the concierge benefits include housekeeping, dry-cleaning, valet and shuttle services. On-site parking is also included.
The spa is super-luxe and features massage rooms, steam rooms and saunas, a hair and beauty salon as well as state-of-the-art Technogym gym equipment.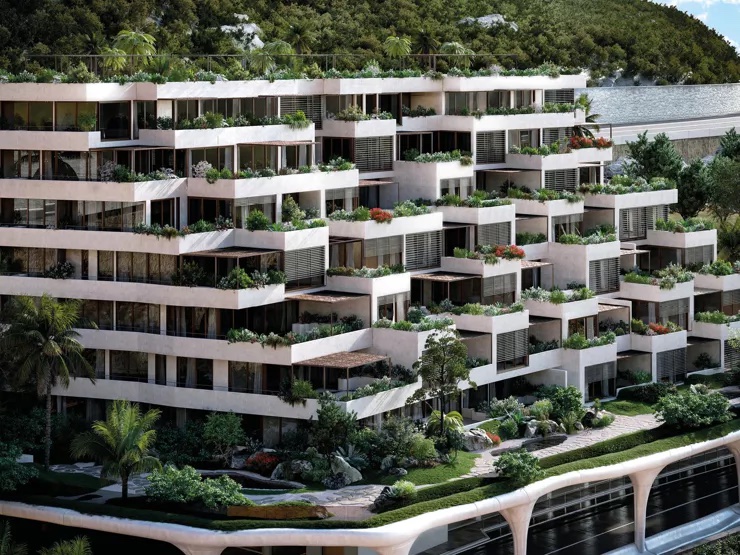 L'EXOTIQUE
L'Exotique is one that is due to be completed this year. Tucked away in the upper reaches of the Principality near the Jardin Exotique, this quiet oasis has 66 apartments over eight floors all with panoramic sea and Palace views.
Built into the mountainside with plentiful wood and stone features, the apartments enjoy lots of natural light, and were designed by award-winning French architect and engineer Rudy Ricciotti, the principal architect behind the MUCEM in Marseille, together with well-known local architect Fabrice Notari.
The building forms part of the dramatic new western approach to the Principality, inspired by the colossal entryways used by the ancient Greeks, and will also house a 1,800-space parking garage as well as commercial units.
Additionally, there are on-site indoor and outdoor swimming pools, a wellness centre and a gym to unwind in.
The piece-de-resistance, though, is L'Exotique's penthouse apartment: a two-storey, three-bedroom space offering tranquillity and luxurious comforts. The 420m2 terrace has a 360° view over the sea and terrain, and is elegantly draped in greenery.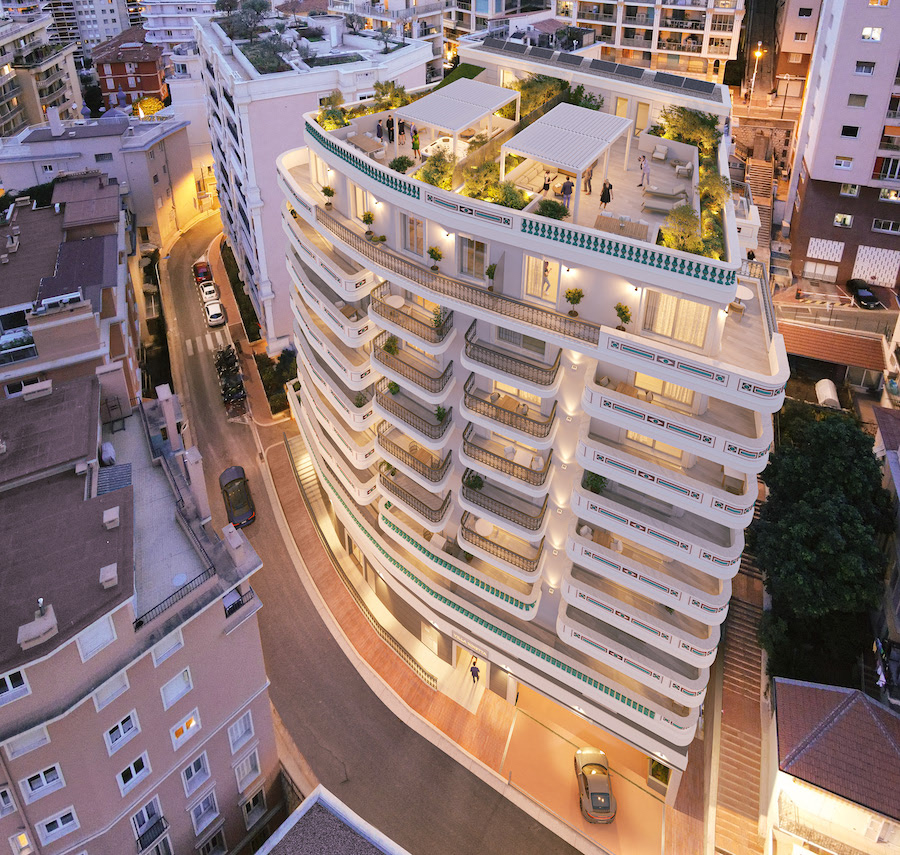 VILLA NINETTA
This Fabrice Notari building will feature a stunning curved façade that follows the bend in the road on the quiet Rue Malbousquet in the Jarden Exotique quarter. It will have 42 dwellings, including 33 studios, seven two-room apartments, one three-room apartment and one four-room apartment as well as 207.60 m² of offices and 74 private parking spaces set over nine-floors.
There will be high-end finishings and amenities such as a 24-hour concierge service and fitness room.
The first apartments at Villa Ninetta are set to be completed in 2024.
GRAND IDA
Primarily state housing, the Grand Ida's Building A does have 55 private apartments designed by Frédéric Genin, which will be up for grabs upon completion, set for this year.
The massive complex near the Jardin Exotique and Boulevard Rainier II will also include commercial premises, a crèche and a vast parking garage of more than 400 spaces for residents' convenience. A residence for the disabled has also been incorporated into the complex's design.
The construction has been certified Bronze Label under the environmental certifications of the Mediterranean sustainable buildings of Monaco, due to the vast 2,200m2 green spaces, solar panels on the tops of the roof terraces, and a direct link to the heating and cooling systems based at the waste recovery plant in Fontvieille. Thermal insulation and double paned glass will also feature.
ECRIN DE MALACHITE
Located both in the Moneghetti district and in the reserved sector of the Vallon Ste-Dévote, the Ecrin de Malachite project will be made up of three stand-alone villas with swimming pools and private gardens, and an apartment building with luxury homes all connected by glass covered walkways and an escalator.
Some features of architect Christian Curau's designed spaces will include thermally heated swimming pools and automated systems for residents to control heat, lights and the like remotely.  The project is set to be move-in ready in 2025.
VILLA LUCIA
Villa Lucia, on Pont Sainte-Dévote, is conveniently located adjacent to the entry to the train station in the heart of Monaco. The project was designed by the architect Alexandre Giraldi and will consist of 14 floors with nine apartments, including one apartment per floor for the first nine, then a quadruplex with a private swimming pool on the top floors of the building.
Tertiary premises will also be set up on the ground floor of the residence. Villa Lucia is set to be delivered in 2026.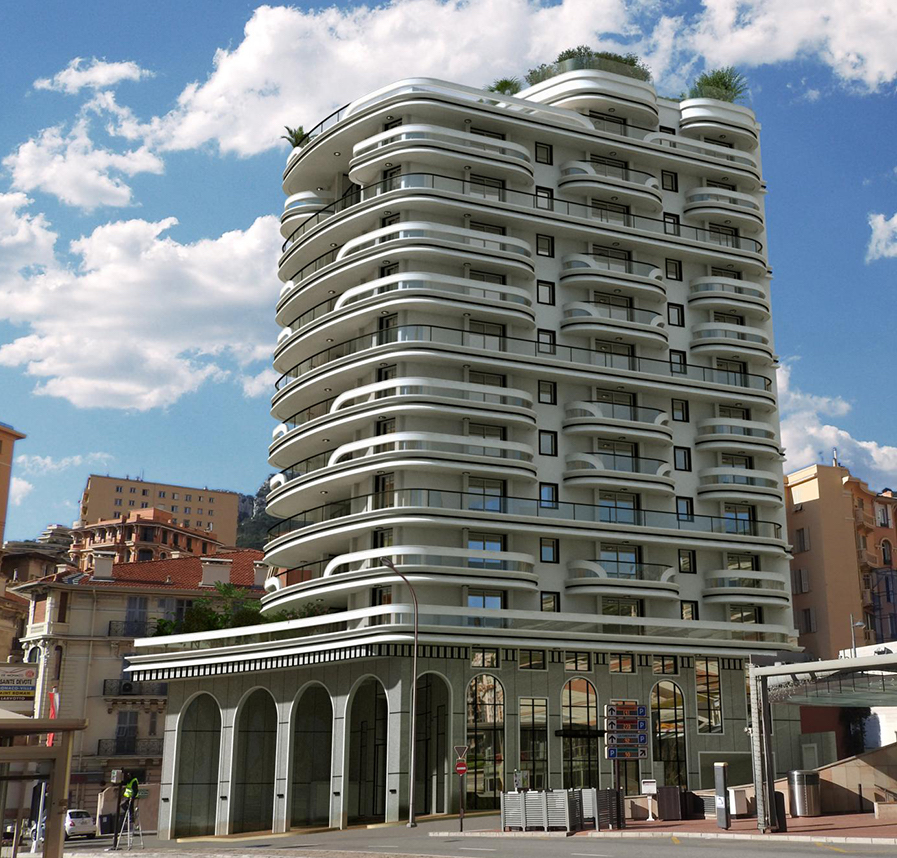 LES MELEZES
Not a new build per se, but partially so with the addition of two new floors that will house 14 apartments.
The many improvements to the building and integrated into the new apartments include some serious environmental works. They are looking to make it a Mediterranean Sustainable Building of Monaco by reducing energy consumption via thermal expenditure and acoustic protection.
Polluting oil heating will be replaced by a connection to the thalasso-thermic loop to save on heating and cooling costs for tenants, and modified elevators will provide access to new floors and consume less energy.
Sign up for the Monaco Life newsletter. For the latest news, follow us on Facebook, Twitter, and Instagram.
SEE ALSO:
Exclusive interview: Daniele Marzocco on building Monaco's landmark skyscrapers