There's a brand-new brunch spot to try out in Monaco: the Espace Calypso at Monte-Carlo Bay Hotel & Resort. Here's everything you need to know about its signature 'Champagne Brunch'. 
Food trends come and go, but one that's here to stay for good in the Principality is brunch. There's an art to this relaxed and informal in-betweener, and there are many great places to head to in Monaco if you find yourself hankering for a bite to eat with a mimosa or glass of bubbly on the side late morning. 
In fact, back in March of this year, Monaco Life took a tour around some of the Principality's best brunch spots, which you can read about here.  
But let's talk about the newest addition to the brunch scene: the 'Champagne Brunch' from Michelin-starred chef Marcel Ravin at the only recently launched Espace Calypso.  
"Original and inspired"
The Espace Calypso at Monte-Carlo Bay Hotel & Resort is a multi-purpose location. It's both a stylish restaurant and an events space, which can be fully privatised for corporate occasions, birthday parties, marriages and cocktail evenings.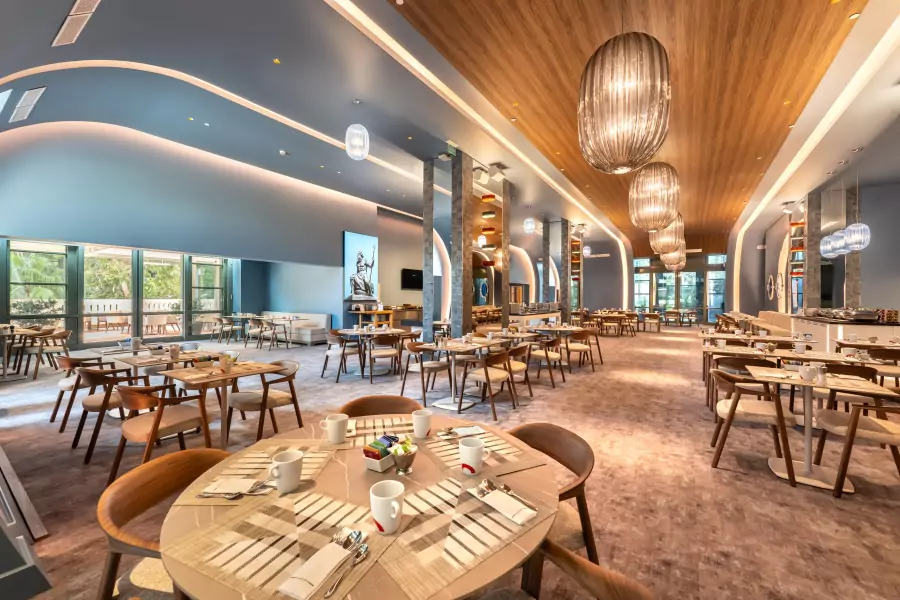 From 12.30pm to 3pm every Sunday from now until 30th June 2024, Calypso will be hosting a special brunch event costing €135 per person that's accompanied by Taittinger Cuvée Prestige. Monte-Carlo Société des Bains de Mer, which operates the establishment, refrains from calling this a "bottomless" brunch, but there's no official limit on the number of glasses and dishes guests can enjoy.  
Ravin, the Head Chef over at the two-Michelin star Blue Bay, is known for his colourful and creative cuisine, and the brunch experience promises a range of plates that's "rich, original and inspired".  
Alongside a variety of appetisers, salads and platters to share, there's also an oyster bar and a space dedicated to "show cooking", where Ravin and his team will cook up your food right before your eyes. Let's not forget the mouth-watering display of desserts and sweet treats on display too.  
Live music has been arranged for each brunch date, adding an element of fun and entertainment to an already very enjoyable occasion. 
Read related:
Make sure you're never left out of the conversation.
Sign up for the Monaco Life newsletter, and follow us on Facebook, Twitter, Instagram and LinkedIn.   
Photo credits: Monte-Carlo SBM