Passing by the window of the Ribolzi Gallery, one sees what seems to be a rubber Michelin tire on display. Upon further inspection, the viewer sees that it is, in fact, an intricately carved piece of black marble by the artist Fabio Viale.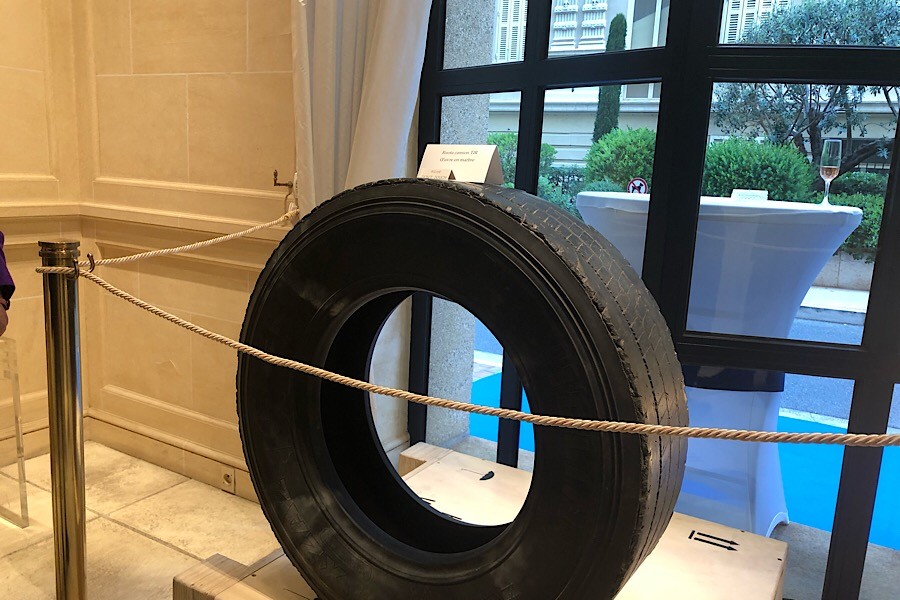 Colourful impressionist scenes of nature are displayed in the same room as contemporary sculptures with clean lines. Abstract figures of warriors are painted on larger than life canvasses. The gallery is filled with paintings and artefacts that show artists' playful use of mediums to generate a mood of curiosity. The variety, and synergy, in the collection is something that must be seen during Monaco Art Week.
The opening of the Ex Tempore exhibit at Galerie Adriano Ribolzi was attended by some of Monaco's most influential residents, including the Ambassador of Italy for Monaco Cristiano Gallo. Currently on display are works from four contemporary artists: Fabio Viale, Pablo Atchugarry, Mario Schifano and Sergio Fermariello. All but Mr. Schifano are alive today, and the works are a glimpse into Italy's contemporary art scene.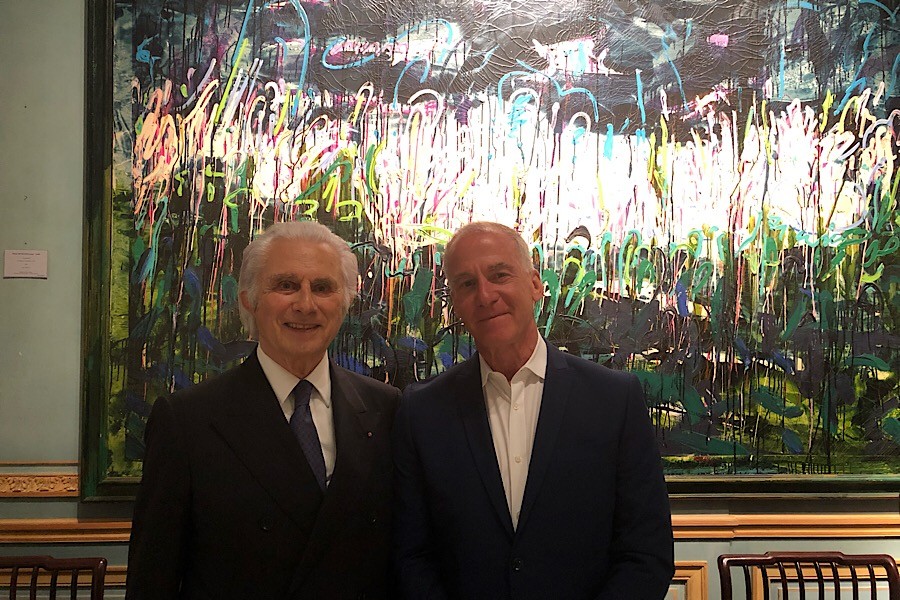 "This is the best piece in the show," said Adriano Ribolzi as he pointed to a colourful, larger than life painting with abstract water lilies that garnered the excitement of Spring. A handsome young Italian art expert visiting from Milan, who prefers to remain anonymous, shared stories of the tattoos on Fabio Viale's classical marble sculptures.
"It is not just painted on, it is actually tattooed into the stone, and the tattoos are from the Japanese Yakusa and Russian Mafia." He revealed that the tattoos are copies from two of the artist's lovers. The stories behind the art pieces were almost as interesting as the works themselves.
Viale's sculptures are particularly unique. Using marble, the artist plays with the medium to create objects that look like styrofoam, paper, rubber and even tattooed skin. Atchugary, also a sculptor working in marble, has a completely different style, using the highest quality Carrera marble available to create contemporary designs.
Schifano's work in pain focuses on nature. One of the most important Italian artists from the Post War period, the gallery has on display a large painting reminiscent of water lilies.
Finally, Fermariello's works are paintings with figures that can be interpreted as warriors.
Ex Tempore is on exhibition until 31st August at the Galerie Adriano Ribolzi, 3 avenue de l'Hermitage.
Monaco Art Week is being held from 24th to 28th April.