Imagine cruising the coastline between Monaco and Saint Tropez in this high-speed, low-altitude, zero-emission seaglider. It could happen as soon as 2025, and co-creator Billy Thalheimer tells us how.
It was during the recent Transition Forum in Nice where Billy Thalheimer, Co-Founder and CEO of REGENT (Regional Electric Ground Effect Nautical Transport), presented his company's new game changing vehicle. Created by a team of MIT-trained, ex-Boeing engineers, the seaglider is a wing-in-ground-effect (WIG) craft that operates a few metres off the water's surface and couples the high speed of an aircraft with the low operating costs of a boat.
"All of the heliports in Monaco today are near the water with a harbour right next to them, so you can imagine us fitting in perfectly to that eco-system, eventually supplementing these helicopter fleets with a quiet, completely sustainable, much lower cost of transportation for Monaco," Billy Thalheimer tells Monaco Life.
It has long been recognised that flight close to the water's surface is more aerodynamically efficient than flight in the free stream. The first WIG aircraft were developed in the 1960s, mainly for military applications, and since then, Germany, Russia and the United States have carried much of the WIG momentum.
But none have succeeded in taking these vehicles to the mainstream transportation market.
"WIGs have not been adopted historically because of poor wave tolerance, poor harbour operability, and poor safety records," explains Thalheimer. "However, we now have all of this new technology that has been developed for electric aviation and electric automotive – with electric propulsion and digital flight control systems on eVTOLs (electric vertical takeoff and landing aircraft) and sensors on self-driving cars, we can solve all three of those problems and for the first time unlock the WIG as a commercially viable form of transportation."
Seagliders are a new type of WIG vehicle that use hydrofoils and distributed propulsion systems. With existing electric batteries, the seaglider can travel at speeds of 300 kilometres per hour, with a range of between 300 and 370 kilometres. That would easily get you from Monaco to Saint Tropez, or at maximum from Nice to Corsica, fast. There is also potential to triple that distance.
"With some of the battery prototypes we are seeing today, we have the possibility to extend that range to around 800 kilometres," says Thalheimer enthusiastically.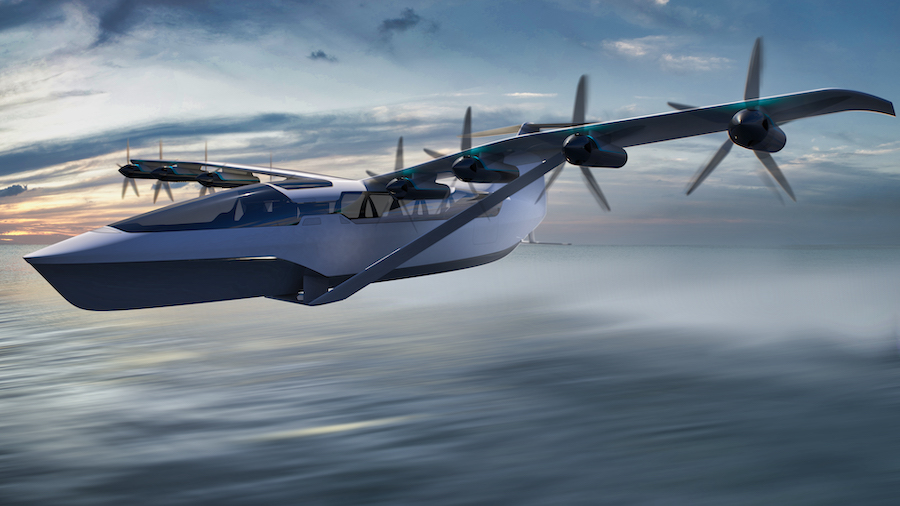 That puts a trip from Monaco to Majorca on the cards, travelling at aircraft speeds but with ferry prices. "Our approach is to initially take advantage of this shorter 300km range market because we can connect many routes with existing batteries, then expand that to the 800km range as the batteries come to market over the course of the decade. We are talking about servicing over 30 million people in the Mediterranean alone."
Brittany Ferries, which operates a fleet of ferries and cruiseferries between France and the United Kingdom, Ireland, and Spain, was first to place provisional orders with Regent for its cross-Channel routes. There's also been substantial interest from airlines in the United States, notably in the northeast corridor and in the south-east of the country. Nice has also shown strong interest.
"We are starting with a 12-seat vehicle that we expect to get to market by 2025, and moving on to a 50-seater. Some airlines and ferry lines are asking for a 100 to 150 seat class vehicle, which we can bring to market by around 2028, so that will start to replace fast ferries on routes because we will have the capacity to take 100 or more people dock to dock with aircraft-like speeds."
Thalheimer says his company has so far secured a sales book of over 4.6 billion US dollars from airlines and ferry companies for the first seaglider deliveries. They've officially selected their classification society from the International Association of Classification Societies – Bureau Veritas – and are scouting the world for potential uptake locations.
"There are four primary stakeholders that we need to enter a new region: an operator, which is typically an airline or ferry company, the local government for permits, community for acceptance and other local issues, and an energy company who will help us develop the charging infrastructure," explains Thalheimer.
But with many ports already moving towards electrification, Thalheimer says existing infrastructure is often enough to power a 12-seat vehicle, which requires about half a megawatt to fully charge in an hour.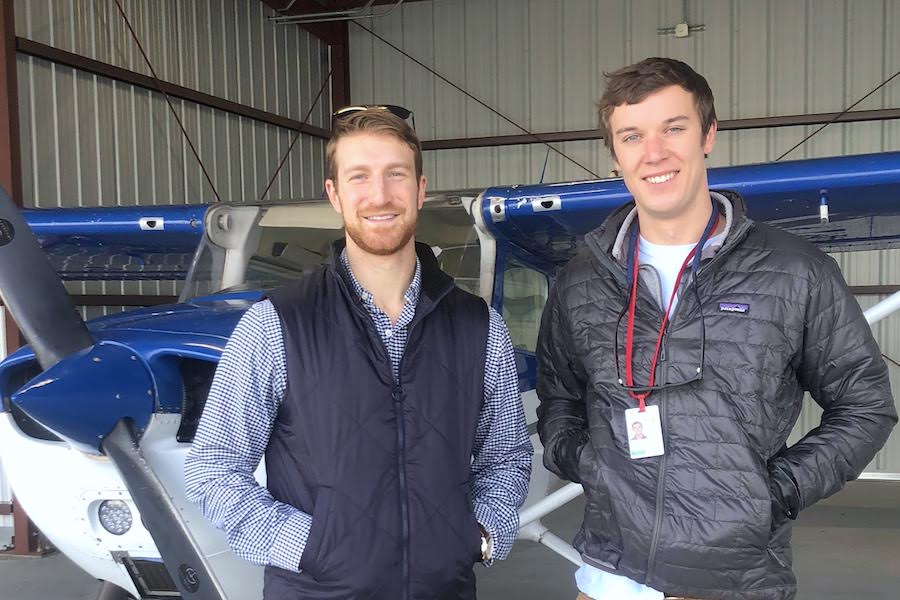 But why WIGs?
Billy Thalheimer never pictured himself developing a fleet of this kind of craft. He actually had aspirations to become an astronaut or fighter pilot. The self-proclaimed "aviation nerd" worked with engineering teams at aerospace companies Blue Origin and Virgin Galactic, then moved into electric aircrafts and helped develop an electric passenger vehicle for Boeing.
"But while the promise of what electric aviation can offer is fantastic – the elimination of emissions, reduced fuel and maintenance costs, and reduced noise – there were two main problems that were preventing us from bringing it to market," explains Thalheimer. "First, there's the length and cost of an aviation certification programme. A new aircraft takes about a decade and a billion dollars to certify.
"The other is the limited range of existing battery technology and the need for reserve fuel, which is half an hour's worth by day, and 45 minutes by night. With only an hour's worth of electrons in our existing batteries, it is crippling for our business case to say that half of our electrons are relegated to this reserve mission that we actually never expect to use."
So, Thalheimer dusted off the concept of the WIG vehicle and saw that it solves these two biggest challenges in bringing an aircraft to market.
"We are a type A wing in ground vehicle, meaning that we stay within about a wing span of the water, flying at altitudes of between two to 10 metres above the water's surface. That is what gives us that aerodynamic efficiency but also what allows us to be classified as a maritime vessel as opposed to an aircraft," he explains. "And because they're flying on this cushion of air and can always land on the water, they don't have the same reserve fuel requirements. So, we actually get double the range than an electric aircraft."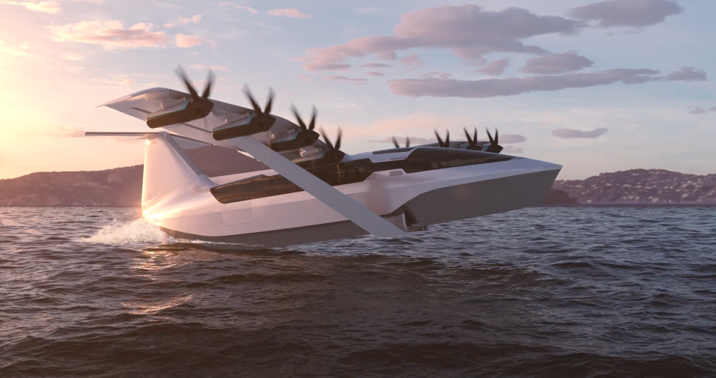 To overcome the problems of poor wave tolerance and poor harbour operability, Thalheimer says: "We will actually step up onto our hydrofoils at very low speeds of between 20 and 40 knots, similar to what you see on America's Cup boats, which will provide about a two-metre wave tolerance in harbour and make the craft highly manoeuvrable at intermediate speeds. We are a boat where it makes sense to be a boat. Then, once we get to the periphery of the harbour and there is no traffic, we will take off onto our wing and accelerate to 300 kilometres an hour."
In terms of safety, the Seaglider will have a captain and a digital flight control system that will sense and control its behaviour, as well as tracking radar systems and altitude sensors to detect things like terrain, wave heights, marine animals and other boats.
"Much of this is actually proven technology," says Thalheimer. "Meanwhile, we are flying radar systems on helicopters at speeds in excess of 200kms an hour, 15 metres over the water, to show not only how we can detect these vehicles, but also how much time we have to avoid them. The water is less crowded than the air."
With regards to timing, the company is on track for the first flight of its 1⁄4 scale prototype by Q1 2022. The Seaglider is then expected to be delivered for pilot programmes by 2023-24, "to prepare for commercial entry into service by 2025."
Monaco could very well be part of that pilot programme. Prince Albert has committed that his country will play its part in efforts to stabilise the global warming of the planet by reducing its greenhouse gas emissions by 50% in 2030, and 80% by 2050, by which time the Principality will be carbon neutral.
Zero-emission urban mobility is essential in achieving that goal.
Photos source: Regent. This article was originally published on 15th January 2022.